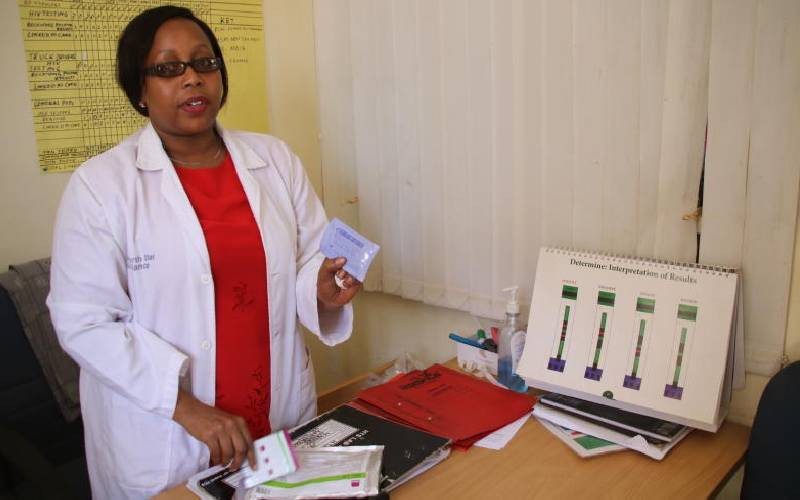 HIV testing kits are in short supply in Kisumu County, raising fears of mother-to-child transmission.
The Sunday Standard established that the worst hit hospital was Jaramogi Oginga Odinga Teaching and Referral Hospital, which ran out of the test kits one week ago.
Investigations reveal that the facility has no kits in the wards where they are used as the first line of treatment for pregnant women.
In addition, children born to parents with HIV are not being tested at the facility due to the shortage.
Health experts indicated that the most affected are pregnant mothers delivering without undergoing mandatory tests, as per the HIV prevention guidelines.
As a result, people with HIV through the Network for People Living with HIV (PLWHAs) in the county have protested the failure to conduct viral load tests due to a shortage of testing reagents.
The network's chairman Erick Okioma said screening for viral loads enables them to know the amount of HIV in the blood.
Further, he said babies born to HIV-positive mothers must be tested at birth because, without treatment, the mortality for those who contract HIV is highest in the first three months.
"With the current supply shortage, many lives are at risk."
Mary, not her real name, who has HIV gave birth a week ago at the facility. "We were discharged and medics told me to bring the child later for the test. "Although I am not breastfeeding my baby, I am not sure if the baby is infected with HIV."
Another HIV patient said he visited the facility to check out his viral load but was turned away.
"I wonder what my condition is, but I am optimistic that the test will be carried out when I return next week," he said.
Their concerns come at a time when doctors in Kisumu have decried the poor state of healthcare facilities in the county.
Chairman of the Kenya Medical Practitioners, Pharmacists and Dentists Union Nyanza Branch, Steve Onyango, stated that the hardest hit being curative care.
"We cannot continue like this. We need support and resources to effectively prevent and treat diseases in our community," added Onyango.
While acknowledging the challenges that come with implementing Universal Health Coverage, County Health Executive Dr Gregory Ganda said hospitals at some point face a shortage of medical equipment and supplies.
"We are working tirelessly to address this issue and secure the necessary resources our medical staff need."
Related Topics