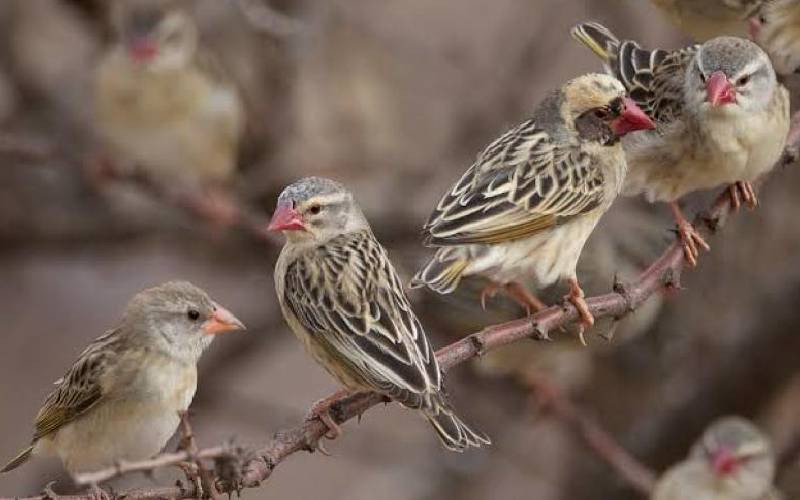 From the lush green and brown paddies, a rice farm is a sight to behold. However, tales from farmers depict a different picture.
A rice farm covering hundreds of acres of land is the source of livelihood for thousands of households in Ahero and West Kano irrigation schemes. Lately, millions of red-billed quelea birds have descended on the crops in droves, causing losses amounting to millions.
When farmers pushed for urgent intervention, the Ministry of Agriculture responded by using drones to spray the farms through an aerial control operation, aiming to kill up to 6 million birds.
While government officials declared war on the birds classified as 'least concern', experts warned that the move would harm other species of birds and wildlife.
This has left the government with the dilemma of saving endangered species or protecting the livelihood of the people.
When The Standard visited the farms, birds were still wreaking havoc on the crop despite the recent efforts to kill them.
Linet Achieng, a rice farmer, said the birds attacked the crops just before harvest and consumed everything on her two-acre farm.
Quelea birds are known for their voracious appetite for grains. According to Achieng, they arrive in large numbers, making scaring them away a full-time job for many farmers.
"The loss occasioned by this invasion cannot be understated. As of now we have rice in various stages but all is lost," Achieng lamented.
James Ochieng said rice farming is a continuous process; some rice fields are young, and others are ready for harvest. However, the birds seem to eat everything they come across.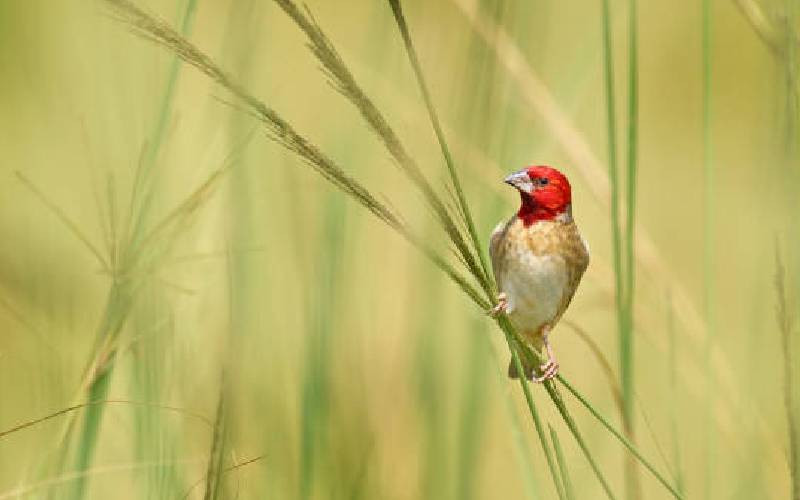 "We need airplanes to spray the farms. The drones are not doing enough. We have faced this problem before, but it has never been this serious," he said.
The Standard observed that farmers have now resorted to basic and crude materials to scare the birds. Those who cannot do this by themselves spend an average of Sh10,000 per week hiring people to help scare the birds away.
Peter Okello, another farmer, said because of the invasion, many farmers have rushed to harvest their rice creating a glut in the market.
"And because of this, the price of rice has dropped from Sh45 per kilo to Sh30 per kilo because these rush harvests lower rice quality," Okello said.
He said the losses incurred can never be recovered.
While making the announcement three weeks ago, Kisumu County Executive Member for Agriculture Ken Onyango, said two rice schemes are most affected.
"Our farmers have incurred huge losses as some 300 acres of rice fields have been destroyed by the birds with 2,000 more acres under threat," Onyango said.
Onyango said when they received reports from field officers, the county government sought help from the national government. A team from Kilimo House arrived in the county prepared with equipment and chemicals.
According to the survey, Nyando is the worst-hit, followed by Nyakach and Muhoroni. He said a number of birds have migrated to Okana Irrigation scheme from Kisumu East Sub-County, according to a report from Kisumu County.
He noted the operation will cover the National Irrigation Authority area in Muhoroni, Awach Kano, Ogange, Amboo, Okana, Ogongo, Kudho, Haro and Alara.
The official attributed the invasion to partial control by the crop protection unit noting that the last crop protection was done in March 2022.
His announcement led to a series of protests from environmentalists who termed the move brutal. This came against the backdrop of the world losing massive biodiversity in the last 50 years.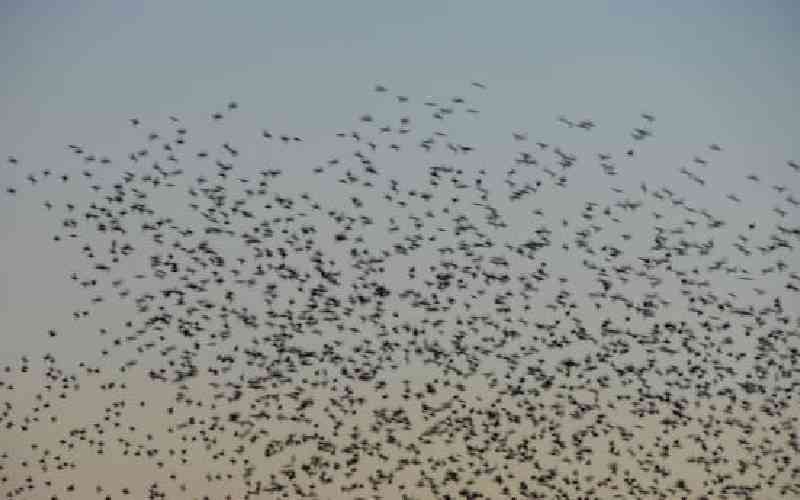 They called for more innovative ways to save birds while protecting the crop.
Professor Raphael Kapiyo, an environmental scientist at Maseno University said it is imperative to have a well-informed approach to controlling quelea as the proposed method can lead to environmental contamination and the massive loss of other birds and animalspecies.
According to scientists the Horn of Africa is experiencing a persistent drought. This has resulted in a decline in the amount of native grass that provides the main food source for queleas.
As a consequence, these birds are increasingly foraging on grain fields, endangering around 2,000 acres (800 hectares) of rice. Around 300 acres of rice fields have already been damaged by the queleas.
As per the Food and Agricultural Organisation (FAO), a single quelea has the capacity to consume up to 10 grammes of grain daily.
In western Kenya, farmers are at risk of losing almost 60 tonnes of grain to these birds. In 2021, FAO estimated that crop damage caused by queleas results in losses of around Sh6 billion.
In Africa, the spraying of fenthion, an organophosphate pesticide, has been the method of choice in battling pests. However, the chemical is toxic to humans and nontarget organisms, according to researchers.
"Fenthion can injure or kill generally, with resulting adverse effects on non-target organisms," Kapiyo said.
Kapiyo pushed for the need to enhance education and awareness on quelea control.
Related Topics