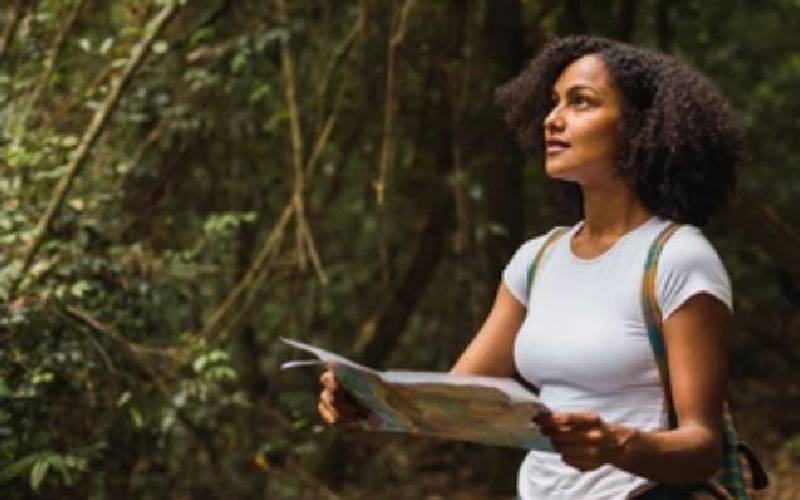 Listening to the natural sounds of swaying tree branches, flowing water, chirping birds or just relaxing to rejuvenate in a forest has ways of reducing stress, fatigue, anxiety, depression and anger - which mostly affect urbanites.
It is called 'forest bathing' and Sandra Thiaka, an environmentalist, has been an adherent. However, the practice is not common in Kenya where people working in congested towns suffer 'nature deficit', a situation made worse by the fact that they're mostly plugged into their electronic devices.
Thiaka recalls a time when she was sick as child but felt better after she lay down under a tree. This experience pushed her to find out more about the connection between nature and the human body. Three years ago, she took to forest bathing in the 40 acres of a reclaimed forest in Wamunyu, Machakos County. Though exercises like hiking or jogging are welcome, forest bathing is more about socking in the restorative silence in forests.
"When you forest bathe, you listen to nature, touch the bark of a tree, taste a plant if it's a guided tour (I would not advise you tasting all plant), stop and smell your environment," explains Thiaka, an environmentalist at Muthoki Lodge. "It is not a race, just a walk through the forest and being conscious of yourself and how your body feels."
She adds: "They say it reduces stress. I believe so because I forest bathe frequently here, and it has benefits that cannot be quantified."
Forest Bathing or shinrin yoku, was popularised in 1982 by the Ministry of Agriculture, Forestry and Fisheries of Japan. The purpose was two-fold; to offer an eco-antidote to tech-boom burnout and to inspire residents to reconnect with and protect the country's forests.
A study in Japan involving 155 participants classified into the depressive (37 percent) and not so depressive (63 percent) had outstanding results in 1990. The group undertook a day-long forest bathing session. The study measured their systolic blood pressure (SBP), diastolic blood pressure (DBP), pulse rate (PR), autonomic functions and profile of mood states (POMS)-and all returned betters scores.
The depressive hardly differed from those without depressive tendencies and Gary Evans, co-founder of the Forest Bathing Institute said: "It is a small study but the conclusions are dramatic… forest bathing is a very gentle entry point to deep relaxation for some of the most vulnerable people in society."
Dr Qing Li, a medical doctor at Tokyo's Nippon Medical School, in his 2018 book, Forest Bathing: How Trees can help you find health and happiness, notes that forest bathing can reduce your stress levels and blood pressure, strengthen your immune and cardiovascular systems, boost your energy, mood, creativity and concentration. Research by Dr Li, the world's foremost expert on forest medicine, revealed that 50 percent of the beneficial health effects of forest bathing come from the chemistry of forest air, especially the higher oxygen content of forests.
Trees also release chemicals known as phyntocides that can boost our immune system besides reduction of psychological stress, blood pressure and heart rate.
The steps of forest bathing are; finding a spot, not necessarily a dense forest but it could be a green area like an urban park, a trail or nature preserve. In Nairobi, it could be Uhuru or Central Park, the Michuki Memorial Park, City Park or the Nairobi Arboretum. There is also Karura Forest. Workplaces with mini parks are also ideal.
In the absence of forest infusion, essential tree oils can come in handy.
Sunny FitzGerald, a sustainable travel specialist writing for the National Geographic magazine in 2019, named Kenya among countries ideal for forest bathing. Others in her list included Costa Rica, New Zealand and Hawaii.
She listed the Kitich Forest Camp and Matthews Range in Laikipia County as appropriate for their ancient forests besides being "home to endemic plants, cedars, wild orchids, more than 350 bird species, elephants and one of the only populations of de Brazza monkeys in the country - all ingredients for a sensory immersion excursion."
Related Topics