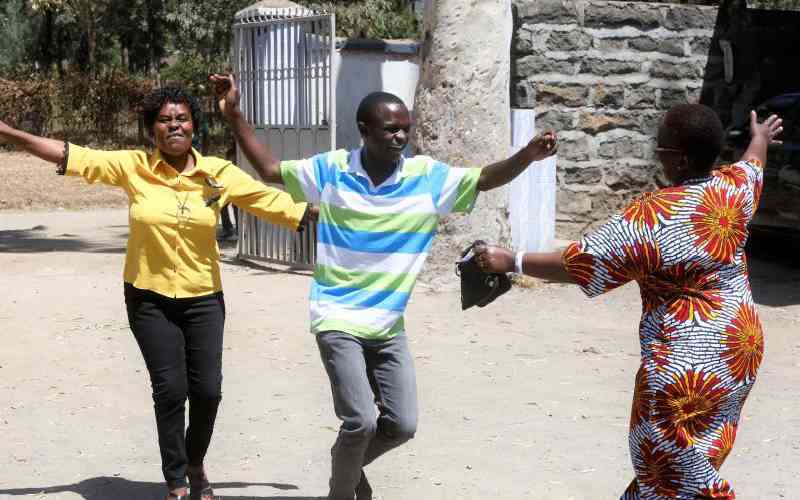 As expected, the recently released Kenya 2022 KCSE results has elicited raucous debates - some with overtones of impolite ethnic profiling - revolving around skewed normal curves, leakages, cheating, poaching of blue-chip high school principals, and so on.
The din has almost drowned two important features of this examination. One is our nation's addiction to the 'A' mean grade, a defeatist obsession which is bound to encourage cheating, and which greatly justifies the need to transit to the Competence-Based Curriculum (CBC).
The other one is the apparent passing of the baton of academic excellence from the traditional strongholds to climes previously considered rural, far-flung and inconsequential. Kapsabet Boys High School situated deep inside Nandi County stands out as the quintessential rank outsider who dared the proud kings to a duel. Today, I focus only on this second feature.
In Central Kenya, fond memories linger of the good old days when the kind of jubilation witnessed in Gusii and Nyanza following stellar performance of schools there, was a way of life. Though not vanquished, 'the mountain' is now a microcosm of regions with diminishing scholarly oomph.
Many factors are responsible for the decline - or stagnation - of academic fortunes, one being the relegation of boys to the fringes of the school system and society following years of well-intentioned affirmative action for the girl-child. Pandemic purposelessness is driving young males in droves into unproductive activities such as alcoholism, substance abuse and membership of outlawed groups.
With daylong binges routinely kicking off at cockcrow, the terms 'bar' and 'bench' have attained literal meaning in many sections of Mt Kenya. This culture of inebriation has prompted dependence on migrant labour to handle tasks - some reportedly quite intimate - which intoxicated homeboys no longer have the vitality to perform. Truancy and absenteeism from schools are further aggravated by child labour issues, especially in areas where coffee and tea are grown.
These conditions are fertile ground for calamitous consequences in the form of parent-school conflict, myopic worldview caused by lack of exposure, indifference by parents to their financial obligations to their children, a shortage of educated mentors and role-models in the society, and inordinate proliferation of day schools. Many youths have espoused a strange mirage that mundane businesses such as boda boda and charcoal burning are the epitome of success.
Elders councils' evangelistic promotion of the revival of traditional cultural practices as the panacea for societal decadence has contributed absolutely nothing towards preparing Mt Kenya youth for the global village. Clearly, technological training, networking and upskilling, would be more relevant for the 21st century youngster than animal-skin regalia, bakoras, snuff and ancestral dances.
Incompetent Boards of Management (BOM), which many school principals constitute while held at 'gun-point' by the local communities and other interested parties, especially politicians, are another significant stimulant of tuitional retrogression.
When school boards are weak, oversight gaps open, which nefarious principals exploit to micromanage schools, self-aggrandise and mistreat teachers. The domino effect is predictable: Financial haemorrhage, lacklustre commitment by teachers, lack of effective internal quality assurance mechanisms, and ultimately, poor syllabus coverage and performance.
Anecdotal talk is rife that in general, teachers from the Mt Kenya region can only dream of the fine motivational treats their counterparts from the academically resurgent parts of the country enjoy!
Dominant local churches are equally guilty of imposing clueless BOM members on schools - men and women whose only contribution is attending board meetings to pocket stipends. My view is that until schools are managed by professionals, academic excellence will remain completely elusive.
Although Mt Kenya's politicians' involvement in their constituents' educational challenges is spectacular in front of cameras, there is a gaping room for improvement in real terms. I recommend that they benchmark with fellow politicians elsewhere, some of whom are renowned nationally for the success of quietly and proactively hoisting entire young populations far up the academic ladder.
Just recently, Mandera Governor Mohamed Adan Khalif was in the news unveiling a Sh350 million plan to cater for nearly 60 per cent fees for all the 16,000 students in his county. Folks from 'the mountain' would not mind similar good tidings once in a while.
Although CDF funds have been crucial, and counties continue to provide educational bursaries, the missing link remains ensuring that only the genuinely deserving cases - not friends of the signatories - actually benefit. Similarly, motivational annual education days where the best-performing teachers and students are publicly recognised and rewarded can be great motivators.
Finally, parents in some regions have demonstrated great reluctance in letting their children join schools far away from home once they are placed there, opting instead to reroute them closer home. This is not good. It denies the next generation exotic experiences which could improve their academic fortunes and make them more cosmopolitan citizens of the world.
Addressing these issues will improve any region's fortunes. Central Kenya in particular might revive its intellectual edge, and stop relying on a single product called being 'vote-rich' for its national appeal.
Related Topics