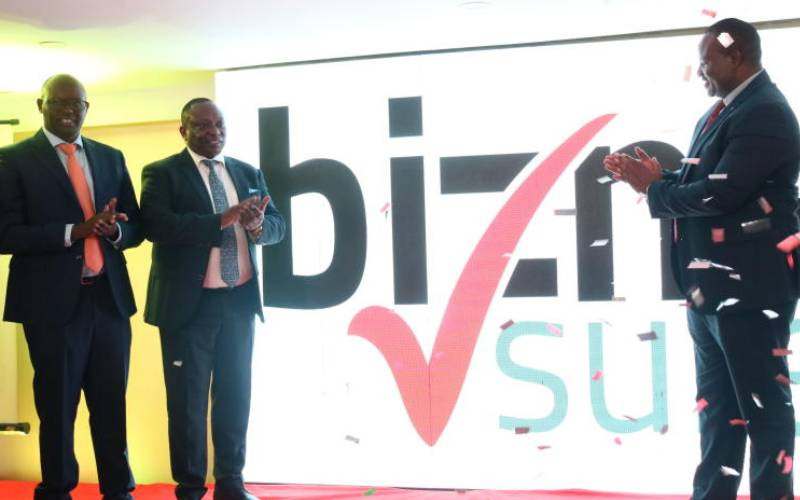 Minet Kenya in partnership with Fidelity Insurance has unveiled a cover to cushion Small and Medium Enterprises against business-related risks for as low as Sh5,000.
Dubbed BiznaSure, the cover has been customised to the diverse needs of small businesses.
The broad spectrum of risk includes losses in business, theft of cash or equipment, litigation from third parties, business interruption and deterioration of stock, among others. Minet Kenya Chief Executive Sammy Muthui said on Thursday it was necessary to combine the risks and sell them as one policy owing to the volatile environment SMEs operate in.
Mr Muthui highlighted the importance of SMEs to the economy, saying they contribute 24 per cent to the Gross Domestic Product (GDP).
"It only takes one peril hitting an SME and they are out of business," he said at the launch in Nairobi.
"Our product will provide adequate protection against the hazards they face." The new cover will be rolled out across the country through Minet's outlets.
Fidelity Insurance Chief Executive Richard Marisin described the product as a holistic solution to challenges faced by SMEs.
"We offer a solution that is unique, differentiable and customisable," said Mr Marisin.
He said the wording of the policy has also been simplified for ease of understanding by SME owners. "We believe insurance should be straightforward and easy to understand," said Mr Marisin. Insurance Regulatory Authority (IRA) boss Godfrey Kiptum said the regulator has provided an adequate platform for micro insurance companies to do business.
"Without adequate protection, you are as close to closing your business as you can be," he said.
Kenya National Chamber of Commerce and Industry (KNCCI) President Richard Ngatia said every business needs insurance amid rising uncertainty in the operating environment. He noted a lack of trust, affordability and limited knowledge of how insurance works as some of the reasons for low insurance uptake.
"To some of us, it may not look important because at the end of the year, nothing has happened and everything is okay. But what will you do one day when it happens?" he posed.
Related Topics