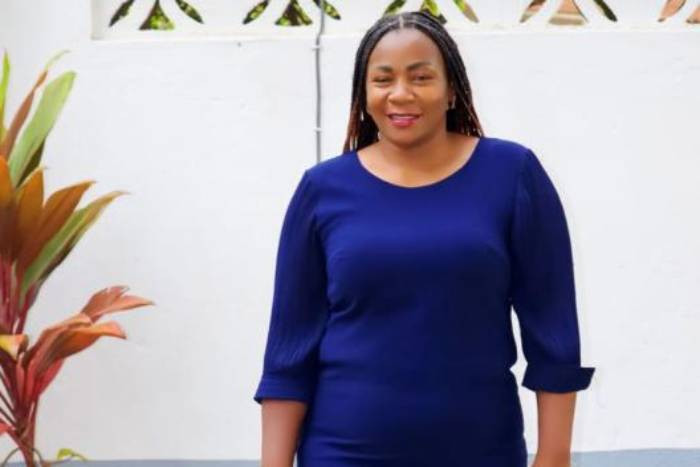 They say life begins at 40. On March 3, Evangeline Mukami turned 40.
A week earlier, on February 26, she had successfully undergone surgery to correct damages suffered from female genital mutilation (FGM).
"The surgery was successful. It gave me the opportunity to enjoy intimacy," she says. You heard that right: 'Intimacy'.
Mukami recalls vividly the day underwent FGM.
She says: "It was early in the morning. I was told to sit on banana leaves. I was held down by women – some of them my aunties.
"Someone got my left leg, another my right, another my arms, another my chest, another my head. They pinned me down. I couldn't move a muscle.
"Then I felt a sharp pain in my genitalia. It was a nurse injecting me with anaesthesia. The cut followed. There was blood everywhere."
Mukami says she was "very young; probably 10 or so years old."
Two months later her wound had healed and life went back to normal. However, when she was in class 6, something began to grow from the scar.
She did not pay it much attention until it ballooned to the size of a golf ball.
"When I joined campus in 2002, I came to the full realisation that it was not normal: that something was wrong," she says.
She attended a free medical camp that resulted into free surgery to remove the growth – doctors had determined that it was a 'cyst'.
The cyst grew back again. She cobbled up some money from doing small businesses and paid for a second surgery.
The cyst still came back. In total, by last year, she had undergone 4 surgeries to get rid of the cysts.
"Then I met Bernadette Loloju – the CEO of Anti-FGM board. She introduced me to Dr Adan Abdulahi."
Dr Adan is a plastic, aesthetic and reconstructive surgeon. He runs Platinum Surgery Centre (PSC) on Argwings Kodhek road in Nairobi. He also teaches surgery at University of Nairobi.
"We perform approximately 10 surgeries on women who underwent FGM every month. In the last one year we did 110," he says.
The surgery, he adds, is aimed at removing scarring and cysts that are synonymous with FGM.
Dr Adan also performs a 'miraculous' procedure to 'bring back' the clitoris; an organ that the doctor says is critical to women's ability to enjoy sex. He describes the clitoris as containing "billions of nerve endings".
FGM is categorised from Type 1 to Type 4: with ascending degree of damage. But all of them involve cutting of a section, or the whole, of the clitoris.
Dr Joachim Osur, a medical doctor who has specialised in Human Sexology, says that the clitoris is the most sensitive sex organ on a woman.
Dr Osur says: "The mechanicals of sexual intercourse proceed in a manner that the woman is first able to lubricate: which should happen naturally.
"Sensitivity of the clitoris almost certainly ensures lubrication. Without it the woman either takes longer to lubricate or is not able to.
"Which means that intercourse for them is painful and not pleasurable. Due to FGM, there are women who will never know what an orgasm feels like."
The primary reason people get married is intimacy, says Sheila Wachira, a counsellor and expert on marriage and relationships. "Each of the parties is expecting to be satisfied sexually," she says.
This state of incomplete intimacy, she says, would eventually cause strife between couples.
Indeed, this is the predicament Mukami found herself in.
"This year, around the time I was having the surgery, my husband and I were going our separate ways. Our marriage was on the rocks," she says.
A lot of their disagreements, she says, emanated from the fact that the FGM scars had strangled her self-esteem and denied her the ability to enjoy intimacy.
"The cyst was uncomfortable. I felt unattractive. I did not look forward to intimacy. I used all the tricks to avoid sex.
"Sometimes I would stay up late and wait till my husband was asleep before sneaking into bed. Other times I would start a fight; because once we fought I knew he wouldn't ask for sex. At some point he got fed up and just said, 'I can't keep begging for sex,'" she narrates.
Whenever the couple got intimate it felt like an obligation to her. All she felt was pain and discomfort.
Since surgery life in the bedroom just got tantalising for Mukami, she says. The couple have since patched up.
"I am now enjoying intimacy with my husband. In a way, the surgery saved our marriage," she says.
Dr Adan says: "For Mukami, the surgery involved taking out the cyst, removing scar tissue and propping up (to expose) buried clitoral tissue to the surface."
The clitoris is an extensive organ: what is visible on the surface, is literally, the tip of the iceberg.
"It is approximately 10cm long. A big chunk is buried in the flesh. The surgery is done in a way that allows the buried part to the replace what was cut," Dr Adan says.
The surgery, he notes, does not restore the woman's body to its original form. "Depending on the type and extent of FGM, the surgery gives back women the ability to enjoy sex to different degrees," he says.
The surgery costs between Sh120,000 and Sh150,000. Healing after surgery takes two months – a period when the patient cannot engage in sex.
"From our data, we can report 92 per cent sensitivity increased and about 55 per cent orgasm achieved."
Dr. Adan however warns that surgery has to go along with psychotherapy. "Nearly all FGM victims I have operated on tell me they don't feel whole; that they feel embarrassed; that they do not have confidence."
Mukami too got herself a counsellor. "I still go for sessions whenever I feel stressed," she says.
At 40, life has truly begun for this mother of three. For the first time she is enjoying intimacy in her marriage.
FGM has zero benefits to a woman
The stand of Kenya Obstetrical and Gynaecological Society (KOGS), a body of Kenyan doctors who handle matters of sexual and reproductive health, is that FGM has no benefits to women and to humanity.
"The science is clear: FGM neither helps the victim nor anyone else. In fact, evidence suggests that it places the life of an expectant mother and that of the baby, at risk, at child birth," says Dr Kireki Omanwa, the president of KOGS.
Prof. Guyo Jaldesa, a wonk in the field of obstetrics and gynaecology, has handled many pregnant women who have undergone FGM.
"These women struggle to give birth," he says, "sometimes resulting in foetal death and obstetric fistula."
This is even truer with women who have undergone FGM type 3 – infibulation – as they suffer from obstructed labour; caused by stitching of the vagina.
Recent estimates by organisations such as WHO and The World Bank show that in countries where FGM prevalence is highest, maternal mortality is equally high.
Sadia Hussein, a victim of FGM, had to be cut again (episiotomy) to successfully give birth to her first child, and even with her second born.
"With the third born I underwent an emergency C-section," she says.
Prof. Jaldesa, a member of KOGS, says that the organisation's position mirrors the position of International Federation of Gynaecology and Obstetrics (FIGO).
"FGM has no benefits to humanity. There is absolutely no reason, medical or otherwise, that would warrant a woman or a girl needing to undergo the cut," he says.
A 2017 study in which Prof. Jaldesa participated, titled, The 'heat' goes away: sexual disorders of married women with female genital mutilation/cutting in Kenya, surveyed 318 married women in Mauche Ward, Nakuru County.
The women – drawn from the Kipsigis community – were categorized into: cut before marriage, cut after marriage and the uncut.
Lubrication, orgasm and satisfaction were reported to be lower in cut women relative to the uncut. However, with other domains, such as desire, arousal and pain had little to no statistical difference.
For proponents who like comparing male circumcision to FGM, Dr Osur says: "In men, circumcision has shown some benefits – such as reduction in infectivity of sexually transmitted diseases like HIV."
For women FGM has always led to negative outcomes. Immediate complications include severe pain, shock, haemorrhage, tetanus infection, urinary infection, and tissue damage. Deaths, following the cut, have also been recorded in Kenya.
Long-term consequences include complications during childbirth, developing cysts and abscesses, keloid scar formation, damage to the urethra resulting in urinary incontinence, dyspareunia (painful intercourse), sexual dysfunction, as well as psychological effects.
Anti-FGM board notes that the cut has also contributed, directly, to early marriage, girls dropping out of school, and gender based violence against women.
The clitoris has only one function: pleasure
According to Dr. Osur the clitoris is the penis equivalent for women. The two organs develop from the same embryological tissues.
For men, the penis is biologically functional in procreation and urination. In women, these functions are not linked to the clitoris.
"The clitoris in women has the sole function of pleasure," says Dr. Osur.
All is not lost though, says the sexologist, for women who have undergone FGM.
"Ideally, the woman and her partner, in most cases, would need therapy, training (sex coaching) and counseling," Dr. Osur says.
The sexologist also recommends clitoris reconstructive surgery – wherever possible.
Marriage counselor Sheila Wachira says that women who have undergone type 1 FGM should experience little to no effect on arousal and achieving an orgasm.
"For type 1 FGM, the woman just needs to connect emotionally to their partners. I am not sure about the other severe types of FGM," she says.
In its analyses of FGM among Kenyan communities, the Anti-FGM board (AFB) has published findings showing that the cut is primarily meant to control women's sexuality: that it is linked to upholding of virginity and chastity among females.
"In most cultures, it is said that girls who undergo FGM are well behaved and not promiscuous; they are called 'good','" notes Bernadette Loloju, CEO at AFB.
According to Loloju, it is impossible that FGM to define a woman's morals.
"I am friends with a lady who is now 'promiscuous' because of FGM. She is struggling to achieve sexual fulfilment.
"She is always exploring new men to find the one who will get her an orgasm. And because she is not finding that man, the search continues.
"I can bet that there are many other women out there who are going through something similar. And this is just unfortunate," she says.
Sadia Hussein, a victim of FGM and an ardent campaigner against it, says that FGM, in itself, cannot prevent a woman from sleeping around.
"Sexual desire comes from the mind. A woman just needs to like a man and connect with him emotionally for her to sleep with him. FGM therefore cannot stop a woman from having sex outside marriage," she says.
As for marriageability, millions of women have successful marriages without the cut.
Related Topics