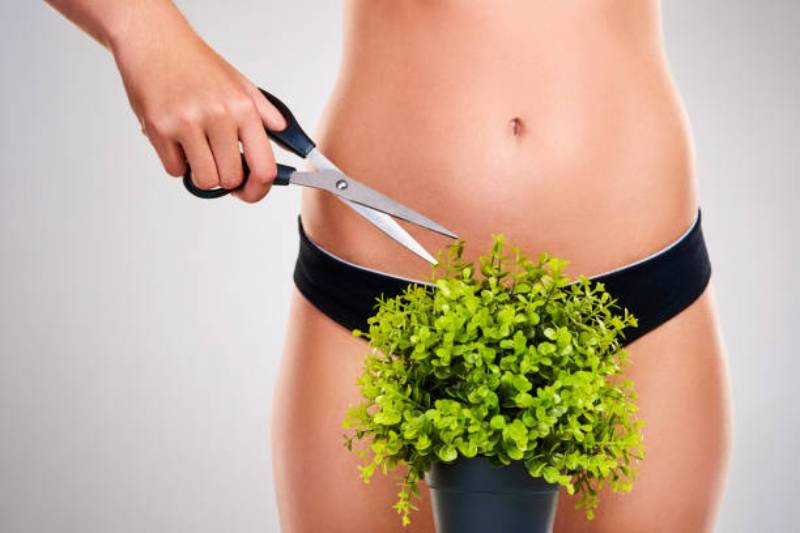 Traditionally, it was bikini models and porn stars who went the extra for designer pubis. Perhaps porn stars donned hairless genitals for more graphic shots, and bikini models shaved to remove stray hairs in their videos and photos. Whatever the reason, people in the mainstream have embraced shaving their pubes with considerable gusto. And much like woolly mammoths ceased roaming the earth, spotting a woolly labia is slowly becoming extinct. Many people now prefer their nether regions to look like a sore plucked chicken.
According to Sheryl Azumi of Corporate Spa in Hurlingham, women now consider grooming their vagina as part of their monthly beauty routine, along with manicure, pedicure, and eyebrow tweezing. "It is considered pampering to go for a waxing session," she says. But is waxing pampering, if the pain is anything to go by?
"I prefer a woman with a shave," responded a Twitter user to a tweet asking "whether to trim the pubic area or not." Another user said, "If your man does funny things to you and then spends half an hour spitting your hair, it's not nice. Clean jobs and no hair in nobody's mouth please." To which another responded, "If he's spending 30 minutes spitting out hair, then he's chewing on you, doing it wrong, or you have a moulting problem."According to an article by The Guardian, pornography consumption increases (4 million videos were uploaded to Pornhub.com in 2019), with more shaved pubes.It reads in part, "Back in the primitive 1970s, porn was an actual taboo. In the age where men were not yet brainwashed by porn and women were not yet influenced by the porn-warped male gaze, people were more comfortable in their own bodies." It went on to say that in the same way porn hyped anal sex, "It caused pubic hair removal to become a routine practice among young women."
Is hair below the neck is disgusting?An opinion poll conducted by The Nairobian asked what people think about shaving their private areas. A lady called Mary feels embarrassed during sex whenever she is not clean-shaven. Her situation is not unique. Society is notoriously known for policing women's bodies. "There's an unwritten rule that any hair below the neck, including armpit and pubic, is disgusting," says Catherine Holden, a sex psychologist. "As long as proper hygiene is maintained, how one chooses to wear their pubic hair should be personal, whether they trim, wax, shave, or let the pubes do their own thing," says Holden.Mary believes that removing her vaginal hair makes her 'cleaner,' a sentiment that recurred in most people interviewed by The Nairobian."Shaved pubes are nothing new and it's perfectly fine, but the fact that it is becoming a sexual deal-breaker for so many people is just evidence of how shallow beauty standards and society is becoming," says Holden.
Flawed beauty rulesFor Jacqueline Mbare, a banker, pubic hair is a mark of maturity. She jibes that people who prefer completely hairless privates should be investigated for paedophilic tendencies. Laura Wakio, 22, a third-year university student, says natural hair, on the head or elsewhere, reminds her of self love."It all boils down to the pressures placed on women to stick by these beauty rules to feel beautiful and accepted," she says. "A few months ago I broke up with someone I had pleased so much. I decided then, to follow what feels right for me. Part of it was growing out my body hair for the first time since leaving high school.""I don't judge those who shave," says Wakio. "But I think it all sums up to how healthy and comfortable, how well they take care of themselves and how clean one is, whether they grow hair or not on the intimate areas."
Celebs who rock the 70's vibeSeveral celebrities, including Amber Rose, Emma Watson, Solange Knowles, Thandie Newton, Ashley Graham, Gwyneth Paltrow, and Cameron Diaz, are also opposed to the ritual of shaving their privates.In 2010, Solange, Beyonce's sister, referred to waxing as an unnecessary evil."Who said bushes need to be gone?!" she said. Cameron Diaz is such an advocate for pubic hair that in her book, The Body Book, she dedicated an entire chapter, calling it "In Praise Of Pubes."In it, she asked readers all the pertinent questions: "Just like every other part of your body, your labia majora isn't immune to gravity. Do you really want a hairless vagina for the rest of your life?"Emma Watson owns Fur Oil, an elixir designed to nourish and hydrate the strands. Gwyneth Paltrow said on the Ellen Degeneres Show that she would never be that person scrambling for a razor.
"My pubic region rocks a 70's vibe if you know what I mean?" she said on the show.Ashley Graham said in an interview with Glamour that she proudly dons a full bush. Amber Rose, a self-proclaimed Patron of sex and body positivity, almost broke the internet when she posted a bottomless pic on Instagram in 2017 to promote her third annual SlutWalk. Instagram removed the photo for breaking the terms and conditions of the app, but not before a good number of people were exposed to Amber Rose's bush.On The Graham Norton Show, Thandie Newton said she doesn't alter her pubes. "Full 70s bush," she said. "They weren't waxing and stripping and plucking."
Related Topics