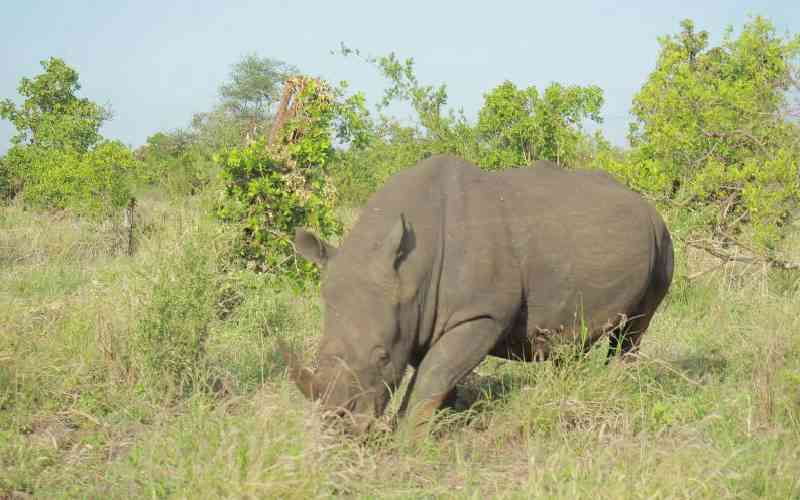 The Meru National Park is beautiful in a manner that defies description. Its ruggedness, remoteness, vastness (870 square kilometres), tall grass, lush swamps (in rainy seasons), and historical roots, all combine to make it one of the country's most sort after parks.
Its historical roots have a twist. It is a story about how a man's guilty conscience led to an act of mercy that turned out to be an award-winning book and film – Born Free, that put the national park on the international map, changing the fortunes of the park forever.
From a strategic position of my veranda at Elsa's Kopje Boutique Lodge, located in the heart of the park, the endless stunning picturesque scene awes me. The 360-degree views stretch from the 17,000-foot peak of Mt Kenya to the East, to virtual infinity to the east. The lodge is named after Elsa, the lioness upon which the film Born Free was based. It is located on Mughwango Hill (Kopje) above the site of the original campsite where Joy and George Adamson raised Elsa.
Welcome to Meru National Park, home to George and Joy and the Elsa, the lioness cub they domesticated and later released to the wild after training it.
"This is what brings thousands of visitors to Meru National Park – to see and experience first-hand the legendary story of George, Joy, and their adopted cub, they named Elsa, the lioness," says Grace Leonard, Elsa Kopje's manager, explains to me that the reverie I just witnessed is real.
Austria-Hungary-born Joy came to Kenya in 1937. She got married to George Adamson, a senior wildlife warden in 1944, upon which the couple made Kenya their home.
The lodge manager explains that in 1956, while in the course of his duty as a game warden of the Northern Frontier District, George shot and killed a lioness.
"What George did not know is that the lioness was protecting her three cubs, which he later found nearby in a rocky crevice," says Grace.
She goes on to tell of how George "out of a guilty conscious" brought the cubs to his home. His wife Joy was awestruck by the three cubs and the couple named the two largest cubs "Big one, and Lustica", while they named the smallest one whom Joy fell in love with "Elsa".
With time, says Grace, the couple found it difficult to care for the needs of the three cubs and finally agreed after an intense argument (Joy was convinced the cubs were born-free and not to be caged), to take Big One and Lustica to a zoo in Rotterdam, Holland.
After her sisters were sent to a zoo the couple raised Elsa together with Pati-Pati, their rock-hyrax pet and the pair would join their adoptive parents on safaris, travelling across the ancient dry lakebed of the Chalbi Desert, to the volcanic slopes of the Marsabit Mountains, and the white beaches of Kenya's coast.
Joy wrote about their devotion to Elsa in the book Born Free, which became an Oscar-winning film, released in 1966.
By this time, Elsa had been set free, rather than being sent to the zoo like her siblings.
Later, the Adamsons returned to England and upon their return to Kenya, a year later, found that Elsa was mother to three cubs and that she still remembered them.
"Elsa returned to her adopted home with three of her cubs, probably to show them off to her foster parents. However, the Adamsons were reluctant to pet them for fear of domesticating them," says the manager.
"Unfortunately, in 1961, when she was five years old, Elsa died from babesiosis, a disease resulting from a tick bite, the storyteller narrates with sadness in her tone. Her cubs Jespah, Gopa, and Little Elsa were released to Serengeti.
George and Joy also tell the story of Elsa in several books. However, it is Born Free that brought a new awareness of relations between man and animal to millions of people.
The story of the two conservationists that did so much to put Meru National Park on the map ends with grief. Joy and George were killed in separate incidents. In 1980, an employee murdered Joy, while George was killed in a Shifta attack in 1989 while attempting to rescue his colleagues who were under attack.
Joy was cremated and her ashes were buried in Elsa the Lioness' grave in Meru National Park.
As we make a tour of the expansive park Meru County tourism Chief Officer, Titus Murungi tells me that the historical ties to the Born Free tale created a lot of hype for the conservation work by George and Joy, which contributed to the wider picture.
I learn, however, the park lost this glory in the 1970s and 80s when it was severely affected by rampant poaching. The lions were not targeted though. Nevertheless, KWS helped to bring lawlessness under control.
Today the Meru National Park is recognised as having a greater diversity of animal species than any other park in East Africa. "It is rich in biodiversity and herbivores, so it is a perfect habitat for lions," says Murungi.
Designated as a stronghold for lion conservation, Born Free Foundation has been working closely with Kenya Wildlife Service since 2014 to bring Meru back to its former glory. There is now a stable population of between 60-80 lions living within the park, as well as a whole host of other wildlife.
As we conclude our two-day tour, I can hear the pioneering naturalist, author, and artiste, Joy reverberating sentimental words to future generations – "I not only wanted to breed animals under natural conditions so that they could survive after they have become endangered by man's influence... I also wanted to learn from them where a man can play a more constructive part in the balance of nature - and thus survive himself".
That, in our today's wildlife versus man conflict, is food for thought.
Related Topics