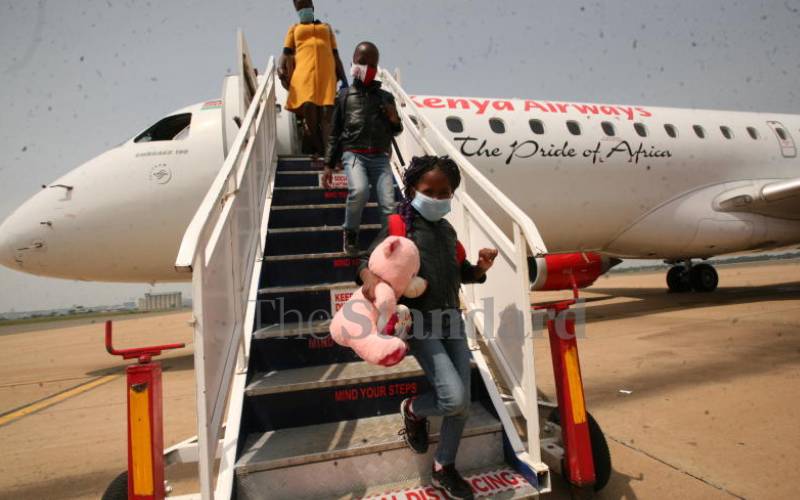 The Kenya Civil Aviation Authority (KCAA) has issued a strict travel advisory amid alarming Covid-19 infection rates in the country.
In a notice effective December 28, all passengers arriving from 211 countries must have a Covid-19 vaccination certificate with an exception of travellers below the age of 18.
In addition, passengers must have a valid Covid-19 negative test certificate conducted within 72 hours before departure regardless of the route of entry.
"Children below the age of five are exempt from this requirement. There will be no paper verification of Covid-19 test results and vaccination certificates upon arrival into Kenya," reads the notice.
The individuals will be vaccinated on arrival.
This comes at a time when infection rates have spiked, with the country recording a positivity rate of 34.2 per cent.
In an update on Covid-19 and response measures yesterday, 3,297 people tested positive from a sample size of 9,637.
The total confirmed positive cases are now 288,951 and cumulative tests so far conducted are 3,009,185.
The KCCA notice indicated that operating crew are exempt from Covid-19 test when on a layover between flights. They must, however, adhere to Covid-19 protocols from airport to hotel or residence and back to airport.
"All passengers with flu-like symptoms at the point of entry, or those who develop clinical symptoms within 14 days of arrival shall be placed into quarantine and be tested for Covid-19 at a government testing facility," the notice stated.
According to the Ministry of Health situation report, Nairobi County recorded the highest number of infections at 982, followed by Makueni 233, Siaya 226, Kiambu 165, Nakuru 115, Kakamega 114.
Yesterday 236 patients recovered from the disease – 173 from the home-based care programme and 63 from various health facilities.
The total recoveries stand at 250,963 of whom 202,075 are from home-cased care, while 48,888 are from health facilities.
Unfortunately, the ministry reported eight deaths, all of them being late deaths reported after conducting facility record audits in the month of December 2021, pushing the cumulative fatalities to 5,372.
In the KCAA advisory any person who tests positive on antigen RDT at any point of entry will be isolated at a Ministry of Health designated facility or at home for returning Kenyans and residents for 10 days at the traveller's own cost. Further, they shall be subjected to a Covid-19 PCR test before discharge.
"Diplomats and senior government officials will be exempt from quarantine but must be in possession of negative PCR test conducted within 72 hours before travel," reads the notice.
Passengers travelling out of Kenya will require a Covid-19 vaccination certificate. In addition, they will be required to abide by the travel, health and Covid-19 requirements of the destination country.
Pre-departure testing may be considered at the discretion of any of the airlines departing from or terminating in Kenya.
As of December 28, a total of 9,723,787 vaccines had so far been administered across the country.
Of these, 5,704,996 were partially vaccinated while those fully vaccinated were 4,018,791.
Related Topics