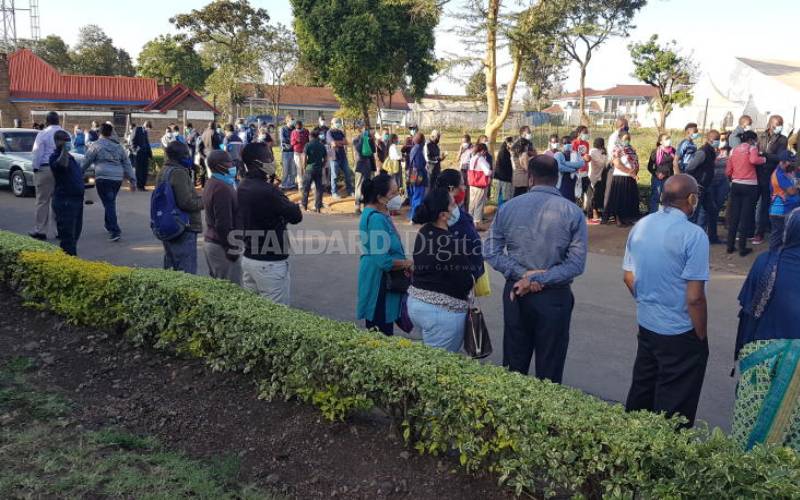 Some Kenyans who went for the Covid-19 vaccine at Mbagathi Hospital have claimed that they are being asked for bribes.
When we arrived at the hospital at 8am yesterday, we encountered a long, disorderly queue of Kenyans pulling and pushing each other.
Everyone wanted to be the first past the gate with weary Kenyans getting infuriated by their compatriots jumping the queue.
"There are many senior citizens here but as you can see, young people are going there and being attended to as the elderly remain in the queue.
"This is so unfair," says Patel who was there for the second day after forgetting his national identity card the previous day.
"There are so many people here getting the vaccine without an ID.
"They could have given numbers as one comes so that we don't have this push and pull," he says.
Past the main entrance, there is notice that reads: "Covid-19 Vaccination Phase 1. Eligible persons to get the vaccine are health officers, uniformed officers e.g. police, teachers and clergy. NOTE: Please provide work ID."
A security officer is called to help maintain the queue, but she is met with jeers and accused of failing to do her work.
A nurse tries to calm them down, telling them only four people can be allowed in at a time because of social distancing rules.
She is also booed away.
The irony is that on the queue, there is no social distancing.
Many people came only with letters and not job IDs as requested, and they were turned away.
Another nurse clarifies that people aged 50 and above will not be given the jab unless they fall in the four categories mentioned on the notice.
"The elderly have been scheduled for Phase Two in April, let me be clear on that. And if you are eligible, don't come here with your wife if she is not.
"If you are a teacher or pastor and aged 50 years and above and you have proof, you will get the vaccine, but if you do not fall in the category of the eligible, just go home," the nurse announces repeatedly.
Disappointed
After this announcement, some of the elderly who are not in the four categories walk away slowly, disappointed.
We meet an 84-year-old Caucasian woman with perhaps her granddaughter, holding her hand and leading her out after she was vaccinated.
"I am so happy.
"I came in the morning, I am a former teacher and luckily they allowed me to get the vaccine," she says.
Cindy, a teacher at PEFA School in Donholm, was here at 7am, and by 9am, she had not received the vaccine.
"Some people were bribing guards by sending them money and they were allowed in through a part of the fence that has no wire, and some of them do not qualify for the vaccine," says Cindy. "It was after we shouted at them that they told us to queue."
"There is misinformation on who should get the jab. Some elderly come and they are vaccinated.
"Yesterday, an elderly man came at 7.30am, but he was turned away after queueing for five hours."
A few metres away from the queue, a woman, who said she is a househelp, is waiting patiently.
She says her boss, who at the time was on the phone, was organising for her to get the vaccine.
A few minutes later, her boss asks her to go in and the security guard, who is manning the gate, does not stop her.
The woman then tells the security officer: "Thank you for allowing her to enter.
"I am out here waiting for two other people to come, I will let you know."
Three hours later, she comes back with a man and a woman.
She makes some calls and they proceed to get the vaccine.
Vaccination at Mbagathi Hospital started on Monday last week, and takes place between 8am and 4pm on weekdays.
Yesterday was the ninth day.
Hushed tones
We engaged a guard, pretending to be among those seeking vaccination but were not on the priority list.
The media is not allowed in and we could not reveal our identify.
The guard tells us to walk to his colleague at the gate and tell her that he had sent us.
We do as instructed and we are allowed in.
On our way out we ask the security officer if he expected any money from us, and he is non-committal, saying, it depends on us.
"If you feel like buying me tea no problem."
But for Everlyne, another lady who told us she is also a househelp, things did not work out and she had to go back home without getting vaccinated.
"I was here yesterday (Wednesday) but I was turned away because I had not carried my ID.
"Yesterday, everybody was being vaccinated without any restrictions or priority list.
"I have now to go back home, I have wasted fare and time for nothing," a dejected Everlyne tells us.
She says her boss insisted that she gets the vaccine.
A 50-year-old woman, who had come with her husband, blamed the hospital for miscommunication on who should be vaccinated.
"It was until I came here that I knew the elderly like us are not allowed. They should have made a clarification on who is eligible," she says.
"We only heard from other people that they came yesterday (Wednesday) and were vaccinated."
But she was lucky.
With the help of the security guard, she went through the gate.
A few minutes later, she was out, beaming with joy.
She had been vaccinated.
Related Topics