Home
/
Health & Science
Public hospitals host killer germs, new survey warns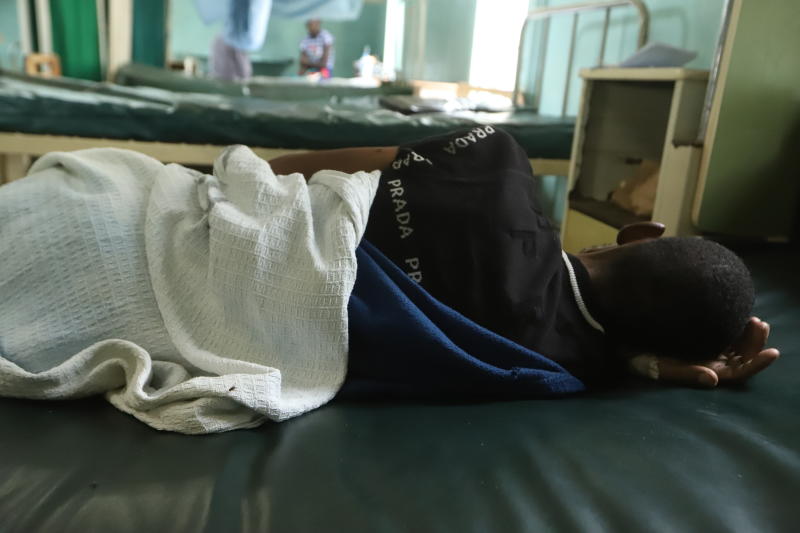 The public health sector is largely responsible for much of patients' suffering across the country, reports presented this week at a conference of the Kenya Medical Research Institute (Kemri), show.
Top researchers told of high levels of wrong drug prescriptions in public hospitals, lack of control of dangerous germs in health facilities and sale of dangerous medicines in chemists.
This combination, the researchers say has led to extremely high rates of drug resistance germs that have made Kenyans especially children expensive to treat.
A team led by Daniel Matano of the US Army Medical Research Directorate-Africa, reported top county public hospitals as dangerous places especially for children.
Matano and a team from Kemri had swabbed various surfaces likely to be touched by visitors and patients in five high volume county hospitals in Kericho, Kisumu, Kisii, Malindi, and Kombewa for disease causing germs.
The team had swabbed areas likely to receive a lot of touching in hospitals such as water taps and sinks, door knobs and others for five of top disease causing germs.
The team collected 555 samples which were tested at Kemri laboratories in Nairobi.
Germs known to cause meningitis, pneumonia, blood poisoning, diarrhea, food poisoning and inflammation of the heart and brain were all detected in the five hospitals.
The most contaminated surfaces were in the newborn units and the maternity departments.
"The items identified to be most contaminated in the hospitals were baby cots and couches, newborn incubators, room sinks and door knobs," said the team.
Life-threatening practices
These locations were found to act as potential reservoirs and transmission sites of dangerous diseases to patients and visitors. However, the team says this need not be the case because regular cleaning and disinfection of hospital surfaces as recommended, is known to drastically reduce such germs and the risk of disease transmission. Further reports showed most of the collected disease causing germs were highly resistant to common antibiotics used in the local health system.
The conference was told of increasing multi drug resistance typhoid strains in Nairobi due to misuse of available antibiotics.
A Kemri team led by Susan Mutile Kavai had collected samples from patients being treated for typhoid at four clinics in Nairobi.More than half of the samples, 55.5 per cent were confirmed to be highly resistant to available medicines.
"The isolates were resistant to all the first line classes of treatment and at least to one of the currently recommended drugs of choice," said Kavai.
The researchers blamed the growing untreatable typhoid to recent heavy misuse of antibiotics in the health system.
Data presented from Kenyatta National and Nanyuki referral hospitals, at the three day conference showed massive cases of wrong and irrational antibiotics prescriptions.
A study led by Christopher Kemboi Kibiwott at Kenyatta National Hospital had reviewed 714 medical cases attended to between June 2017 and May 2018. Of these patients 315 or about 44 per cent had received antibiotics, however more than 90 per cent of these prescriptions, the researchers said were inappropriate.
Even where laboratory evidence was available, 68.9 per cent were given inappropriate antibiotics.
For example, the researchers said even when laboratory results indicated patients did not require antibiotics more than half were still prescribed with antibiotics at KNH.
The dumbfounded researchers recommended that doctors at the hospital be re-educated on the rational use of antibiotics. "We recommend that doctors be educated on available set protocol for antibiotic use," said the investigators.
Similarly, at the Nanyuki Referral Hospital a team from Laikipia County health department, the Ministry of Health and Kemri had reviewed 678 files of children attending the hospital for the period July 2017 to June 2018. Inappropriate drug prescription was observed in 20.5 per cent of the cases with most of the mistakes done by medical interns.
"We recommend improved supervision of interns and continuous medical education to reduce irrational prescriptions," said the researches.
But the threat of life-threatening practices in the sector does not end at the hospitals. Millions of patients, prescribed to buy antibiotic prescription in retail chemists are also exposed to dangerous drugs.
A study showed most of the imported amoxicillin, a widely used antibiotic selling in many chemist shops in Nairobi is of poor quality and dangerous.
Amoxicillin, going by various brand names is used to treat a wide range of bacterial infections including pneumonia, skin conditions, bronchitis and infections of the ear, nose, throat and urinary tract. Researchers led by Lilian Chepngetich Koech of Kenyatta University, had evaluated quality and stability of amoxicillin selling in Nairobi County.
They had purchased samples from retail chemists in seven wards of Nairobi including the CBD, Karen, South C, South B, Zimmerman, Kayole and Kibra.
After laboratory analysis, nearly half, 46 per cent, of the samples were confirmed to be of poor quality.
Substandard amoxicillin was found in all sampled wards with the highest concentrations in Nairobi CBD and South C followed by Kibera and Kayole.
All the poor quality products, a study brief says were imports with more than a third, 33.3 per cent coming from India.
"Our findings highlight need for regular post market surveillance to inform on the situation of antibiotic quality in the Kenyan market," suggests the study.
It is the responsibility of the Ministry of Health through Pharmacy and Poisons Board to ensure drugs are safe for use.
Related Topics