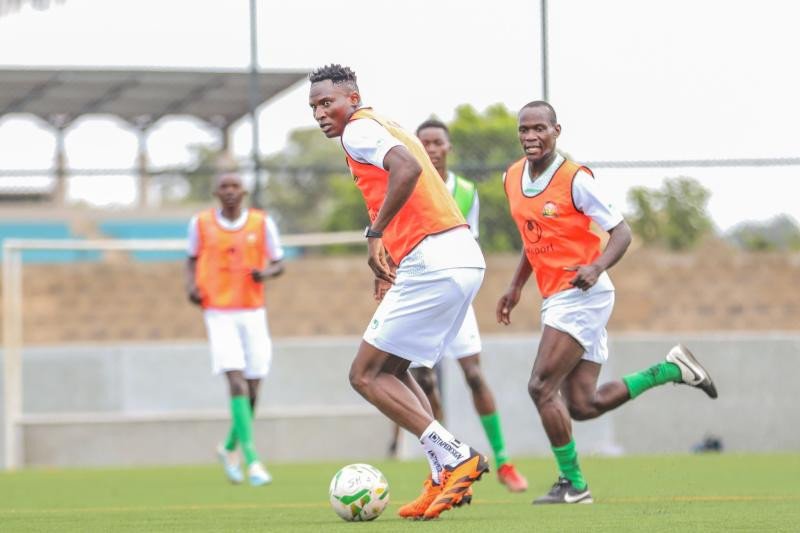 Harambee Stars captain Michael Olunga feels next week's four-nations tournament in Mauritius will give the national team a good training ground ahead of the 2026 African World Cup qualifiers set to kick off in November 2023.
The 23-man squad left the country today morning (4am) beaming with confidence as coach Engin Firat continues with his rebuilding process.
Kenya will battle with hosts Mauritius, Pakistan and Djibouti in the tournament that starts tomorrow and ends on June 18 at Anjalay Coopen Stadium.
This is the second assignment after their 2-1 defeat to Iran at Tehran's Azadi Stadium, since Fifa lifted the suspension it had imposed on the country in November 2021 due to government interference.
Though Firat will miss the duo of Belgian-based Joseph Okumu and Difaâ Hassani El Jadidi's Masoud Juma who is on loan at Dibba Al Fujairah in UAE, due to injuries, Olunga is optimistic of registering positive results in the tournament.
Finland-based Collins Shichenje, Azam's Kenneth Muguna, and Viborg FF's Daniel Anyembe are expected to link up with the rest of the team in Mauritius.
"It's another different assignment, a four nation team tournament, in Mauritius. We want to use it as a build-up and preparation for the World Cup and Africa Cup of Nations qualifiers that are going to start at the end of the year," said Olunga after yesterday's training at Mpesa Foundation, Thika.
"It's a fairly new squad, with a lot of fresh faces in the team. I think it's a good way and also an opportunity for the players who have been performing well especially in the local league to get a feel of the international level. It's going to be a good blend and hopefully we are going to post good performances.
"It's not just a one-day project, you have to build up something. So, it also requires a lot of patience. But as a captain I feel we have the quality and potential. We have seen great players come from Kenya, we have played in big matches and competitions, the last one being the AFCON and it was a combination of all the Kenyan players across the country."
Olunga, who has been linked to a number European clubs including English Premier League's Everton, Scotland's Rangers, Turkey's Galatasaray, Brazil's Corinthians and Netherland's Utrecht, as his contract at Al-Duhail in Qatar nears expiry, feels this is a new chapter to Kenyan football.
"So, I believe we have the potential and what it takes to compete with the best, just with good preparations and starting early. And now that the stand-off between FKF and government is over, it's a new chapter that we are looking forward to, and I believe we have what it takes to qualify for these major competitions and that should be the bare minimum for Kenya," said Olunga.
"Going forward we will try to give our best as senior players and try to guide the young boys, and make it a smoother and easier path for upcoming players in the future."
Just like his captain, head coach Engin Firat posits that this is work in progress.
"A tournament like this gives me a chance to see on the field also if they are able to play under stress. This is a different point, if you play well in the league, but under stress in the national team, how can they perform and adapt. But I'm hopeful for the boys, it's a chance for them and I hope they will take it," said Firat, who has enlisted the Turkish trio of Kennan Atik (assistant coach), Adem Koyuncu (physiotherapist) and Tolgahan Tuglu (team manager) into his backroom staff.
"Like I always say I'm not thinking for the day, I'm thinking for the future and I'm not only thinking for the World Cup qualifiers, but also AFCON qualifiers. I've to concentrate on some groups, this is one group and they are the players who are on top of their levels, and can help the national team at the moment."
"At the same time, a lot of the boys who are here are U23 and therefore one part of our strategy is to have some of them play in the CECAFA Senior Challenge at the end of July. This will give them a chance to gain experience and showcase their talent so that they can be ready when we need them.
He continued: "Therefore, we have a long term programme and we are focusing on players where we know that they will help us in the future. For example, it's me who put Timothy Ouma in this team, but I gave him time to adapt totally to Swedish football because we need him for our future assignments not now. We have a lot of players like Timothy, and we want to help them to reach that level. We will be happy with them in future."
Related Topics