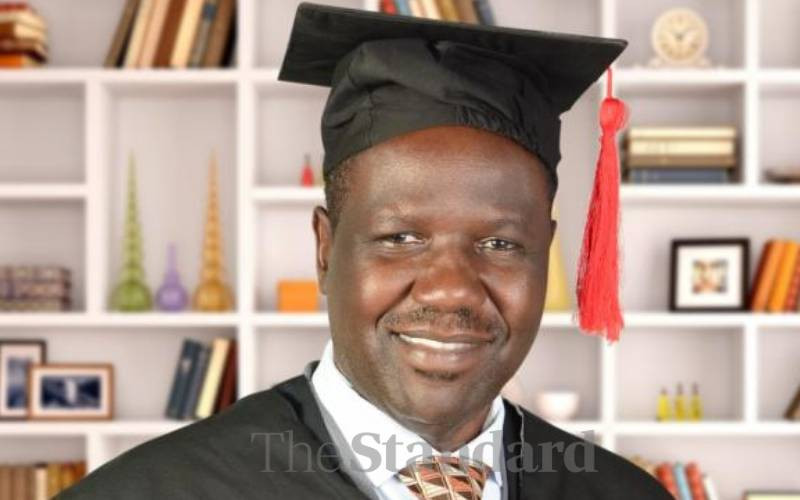 As over 5,500 students graduated from Mount Kenya University this weekend, one of them stood out as he described his two-decade effort to get his bachelor's degree in pharmacy.
Kisumu-based politician Dr Richard Guya Membo started his academic journey 20 years ago but a lack of resources forced him out of the university several times.
Born in Kolum village in Nyakach, Kisumu County in 1963, Guya attended local schools and sat his A levels at Cheptanya High School.
He then attended Kenya Medical Training College (KMTC) in Nairobi, where he acquired a diploma in pharmacy before being posted to work in a public hospital in Taita Taveta.
He had initially hoped to go to India, and had even applied for a loan of Sh60,000 to pay for his further studies in 1990. "But then after getting the loan I changed my mind because going would mean my family would be vulnerable and opted to go into the private sector," he said.
He worked in private pharmaceutical firms as a marketing manager. "I was living in Nairobi and ventured into the matatu business, the real estate sector and later on, moved to Kisumu and opened my first chemist," he said.
It's a business he continues to operate to date, with four branches across Kisumu county. In 2000, he travelled to the UK to further his studies at Aston University but was forced to return after his money ran out.
Guya came back to Kenya in 2002, where he joined politics. "I was unsuccessful during the nominations process and therefore, I had to step aside from politics," he said.
It was after this stint in politics that he joined the University of Nairobi in 2003 Chiromo Campus school of pharmacy. His plans were, however, disrupted when he fell sick and he quit school yet again to pursue some businesses including opening a school in Kisumu.
In 2017, he tried his hand again at politics and this time his lack of academic qualifications stood in his way. "I was locked out from being a running mate in Kisumu Gubernatorial seat as I did not have a degree," he said.
This prompted him to return to University in 2018 but he could not re-enroll at UON because his son was pursuing the same program in the same class.
He finally managed to graduate in 2022, after overcoming the challenges he faced in his businesses, and family.
Related Topics