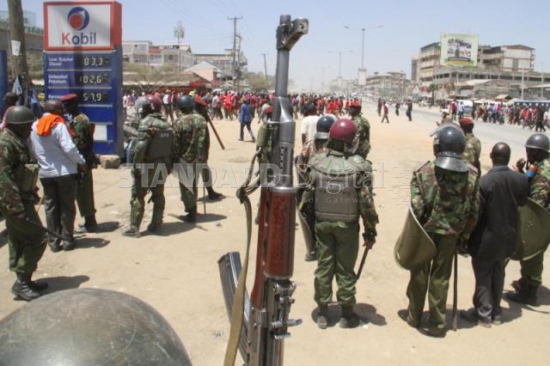 Kajiado county government has indefinitely closed the troubled Kitengela market until further notice.
Governor David Nkedianye and County Commissioner Kello Harsama made the announcement yesterday. The market was ordered closed following two days of skirmishes between two rival groups fighting over space.
Normalcy returned to Kitengela town following the running battles pitting the two groups. However, tension remained high in the town.
"We are ordering that this market be closed until further notice. We are giving the business people two hours to vacate as we address this matter," said Mr Harsama.
The administrator revealed that several people had been arrested including a licensed gun holder who shot at people during the confrontation.
"We are holding several people who are assisting us with investigations. Therefore, we are telling everyone to keep off the market," he added.
A contingent of anti-riot police officers drawn from the General Service Unit, Administration Police, and their regular counterparts made patrols.
However, many business premises remained closed for fear of attacks. Most people remained in-doors.
Mr Nkedianye who had earlier addressed a meeting attended by a section of Maasai morans who had gathered to retaliate, assured the residents that all was well and they should not panic.
IN CONTROL
"I am assuring all the investors in this county that all is well with them. We are in control and this matter will be solved amicably," said the governor.
"However, we want the police to investigate those who instigated the trouble by inciting the public against each other," he added.
On Wednesday, several people were injured when chaos erupted making Kitengela a no-go-zone.
Trouble erupted when two groups disagreed on how to share space after the county government demolished the market last month.
Business people who have been selling their wares at the market started re-constructing their new stalls as allocated by the county officials.
But a group of Maasai women arrived at the market early in the morning and demanded to have their share of the stalls. This did not go down well with those who had earlier been allocated space.
The situation degenerated into a physical confrontation as traders tried to push away those who they perceived to be intruders.
"We want everybody to have her share in a peaceful manner," said Mary Seneta, the county woman rep.
Related Topics