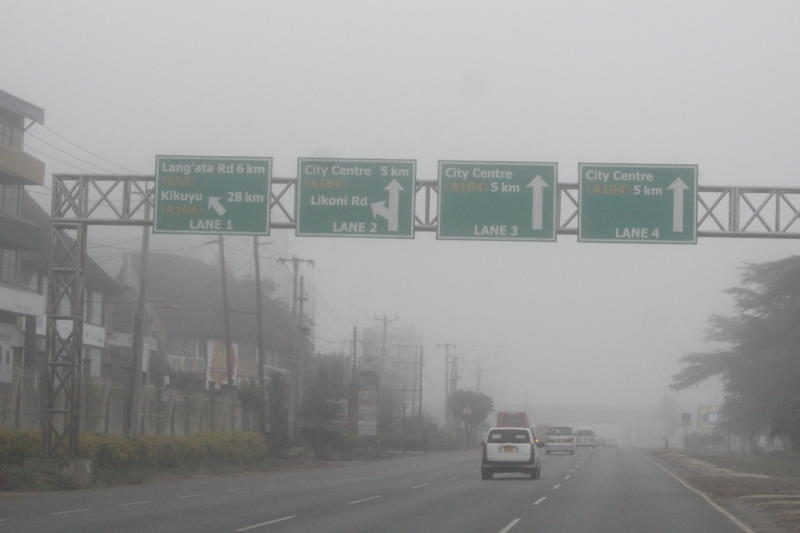 Inside the pediatric ward at Jaramogi Oginga Odinga Teaching and Referral Hospital are mothers holding their children pensively.
Some are shivering with cold and high fever, others coughing uncontrollably.
Linet Achieng is a worried mother. Every time the weather changes from hot to cold and humid her four-year-old daughter is diagnosed and admitted with difficulty in breathing and chest pains.
"She gets very sick and doctors say she is always affected since she is allergic and highly affected by cold weather," Achieng said.
Next to her is Jane Akinyi whose five-year-old son is suffering the same fate. "His fever has not changed, he has a running nose and complains of severe headache," Akinyi said. She longs for the hot weather and hopes that treatment will bring her bubbly son back to his feet.
Data at the facility indicate that the 80-bed capacity pediatric ward dubbed Obama ward is currently halfway full, with a majority of children diagnosed with respiratory-related illnesses.
Currently, in a day the facility attends to an average of 150 outpatient children with respiratory conditions attributed to cold weather. Medics at the facility say the number has increased from a daily average of 40 during hot seasons.
Health experts have cautioned parents against allowing their children to get exposed to harsh cold weather, as a way of averting respiratory diseases. This follows persistent humid and cold conditions, experienced across most parts of the country.
School closed for the end of year short recess, this week, with children risking being exposed to respiratory-related diseases as they partake in domestic roles.
Dr George Biketi, a physician in charge at Elburgon Hospital, Nakuru County said parents should keep their children warm while at home.
Common ailments, he said, are seasonal allergies, characterised by cough, sneezing, occasional difficulties in breathing, runny nose and fevers.
"Parents should keep their children physically active and minimise sugar. They should too keep them well hydrated," said the officer.
Dr Josephine Ojigo, a paediatrician said there is an increased number of children with cough and difficulty in breathing. Dr Ojigo said during cold weather, children with common colds, influenza, flu, breathing difficulties and those who are asthmatic tends to have their symptoms worsen.
The expert added children are also exposed to poisoning, majorly carbon monoxide, as several families use the jiko as a source of fuel.
"Parents should observe disease prevention protocol like basic hygiene, avoid overcrowding, and observe ventilation," said Ojigo.
Also, she said most childhood diseases are prevented by vaccination, which builds up their immunity.
The Chief Officer of health in Nyandarua County, Joram Muraya noted that cold weather poses risk to children and persons with respiratory illness. Some parts of the county like Mirangine, Njambini and Ngeta are recording low temperatures as low as 7 degrees Celsius.
"Parents should keep their children warm, stay indoors and ensure rooms are well ventilated," said Dr Muraya.
Common respiratory diseases in the county include pneumonia, flu, asthma, chest infections and upper respiratory tract. Bronchitis is also a common disease in children below the age of five, who cough continuously for more than two weeks.
But, there is no surge in hospitalisation.
"Children should be taken to medical check-ups, whenever they fall sick, for diagnosis and treatment. Currently, we are reporting normal admissions," he said.
Muraya added that community health volunteers have been engaged to help in sensitising the public on various diseases related to weather.
According to the Kenya Meteorological Department report, from June to August, reported an overcast condition accompanied by light drizzles, in Highlands East of the Rift Valley, including Nairobi, parts of Southeastern Lowlands and Highlands West of Rift Valley.
"Occasional cool and cloudy conditions with light morning rains/drizzles are expected to continue into August, 2021 over the Highlands East of the Rift Valley including Nairobi area, parts of the Southeast lowlands, Central Rift Valley and Southern Rift valley," reads part of the report.
The report added: In areas like Nairobi, Highlands East of the Rift Valley, Central Rift Valley and parts of the Highlands West of the Rift Valley, an increased cases of respiratory diseases will be reported.
Related Topics