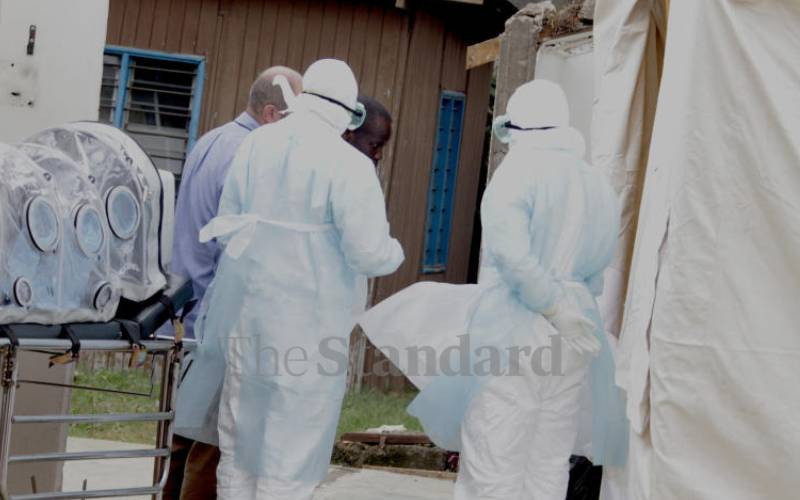 Health Cabinet Secretary Mutahi Kagwe has called on counties to enhance screening for populations at risk of contracting Ebola Virus Disease (EVD) near the Uganda-Kenya border.
The CS said travellers, truck drivers, bush meat handlers and healthcare workers operating near border points are among the populations at risk.
The alert by the Ministry of Health came following the outbreak of Ebola in Uganda.
Although Kenya has not reported any Ebola case, Kagwe called for vigilance and surveillance in counties.
"Uganda has reported Ebola in the past, largely influenced by frequent outbreaks in the Democratic Republic of Congo. The two countries share a long border that is mostly porous," the CS said in a statement.
"It is important to note that there is substantial human traffic between Uganda and Kenya for trade and other socio-economic activities," the statement added.
Although the main mode of transport to Uganda is road, air and water (through Lake Victoria), Kagwe said there are numerous informal land and water border crossing points.
Border points
Some of the formal land crossings include border points like Busia, Malaba, Lwakhakha, Suam and air travel through Jomo Kenyatta International Airport (JKIA), Kisumu International Airport, Moi International Airport and the Eldoret International Airport.
"All these put Kenya at high risk of disease importation and therefore the public needs to be vigilant and report any suspected cases," said the CS.
The government also called for active rapid response teams to support the identification of any suspected cases and make prompt reporting.
Kagwe urged relevant authorities to sensitise communities to identify suspected cases and sensitise healthcare workers in Infection, Prevention, and Control (IPC) measures, case management, and sample management.
"Although we do not wish people to go into any panic, I call on the public to take heightened precautions while visiting Uganda as well as Democratic Republic of Congo."
"The public is also advised to watch out for any person presenting with acute onset of fever and other main signs for Ebola, especially if in contact with persons with history of travel from Uganda and/or Democratic Republic of Congo within the previous three weeks," said Kagwe.
He also called for the mobilisation of all stakeholders to initiate prevention, preparedness, and response measures and to develop county Ebola Virus Disease (EVD) contingency plans.
Human transmission is through contact with infected body fluids. The main symptoms of the disease include vomiting, diarrhoea, abdominal pains, sore throat, fever, headache, and bleeding.
On Tuesday, Uganda's Health ministry confirmed the country's first death from the highly contagious Ebola virus since 2019, declaring an outbreak in Mubende District in Central Uganda.
"The confirmed case is a 24-year-old male who presented with EVD symptoms and later succumbed," the ministry said on Twitter.
A statement released earlier by the World Health Organisation stated that a 24-year-old man in Mubende had tested positive for "the rare Sudan strain" of the Ebola virus.
WHO said that the incident followed an investigation by the National Rapid Response team of six suspected deaths that have occurred in the district this month.
"WHO is helping Ugandan health authorities with the investigation and is deploying staff to the affected area. The organisation has dispatched enough supplies to support the care of patients and is sending a tent that will be used to isolate patients," read WHO statement.
According to WHO, eight other suspected cases are undergoing treatment.
The disease came to light in 1976 in the DRC (Zaire). The natural host of the virus is the bat.
Related Topics