Home
/
Health & Science
Unemployed to be exempt from NHIF in new changes
Health & ScienceBy Allan Mungai | Sat,Dec 04 2021 00:00:00 UTC | 2 min read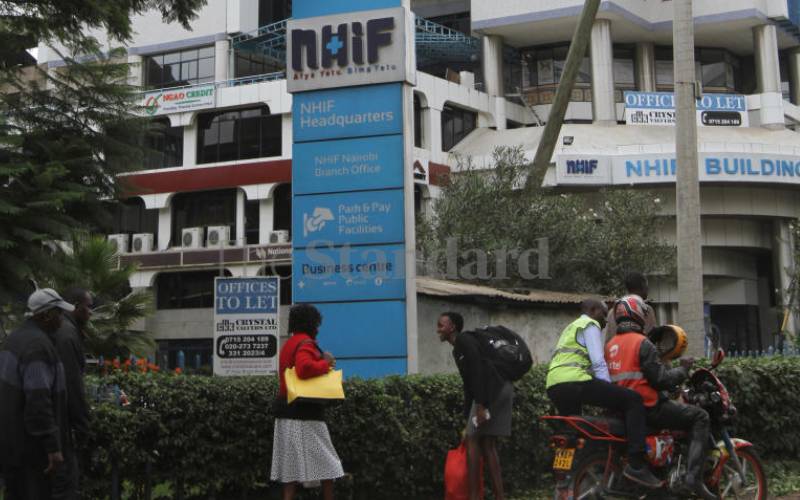 The Senate Health Committee has proposed changes to the National Hospital Insurance Fund (NHIF), which will reverse earlier changes that made it mandatory for all Kenyans to contribute to the fund.
If the amendments to NHIF (Amendment) Bill, 2021 are passed by the Senate, unemployed Kenyans will no longer be forced to contribute to NHIF.
The amendments will reverse proposals by the National Assembly that all adults be members of the NHIF, with employers topping up contributions of those who pay less than Sh500 monthly.
Should the proposals pass as they are, accounting officers could find themselves in trouble as the Senate wants them to be held responsible for costs that an employee will incur for late remittance of contributions.
The Senate has also proposed amendments that will make the national and county governments liable to a penalty for costs incurred by an employee for late remittance of contributions to the Fund.
The National Assembly debated and passed the Bill on September 29, suggesting amendments before the Bill was forwarded to the Senate, which forwarded it to its Committee on Health for public participation.
The Bill seeks to amend the National Hospital Insurance Fund Act, 1998, to establish the National Health Scheme and to enhance the mandate and capacity of NHIF to facilitate and deliver Universal Health Coverage (UHC), a key pledge of President Uhuru Kenyatta's administration.
The members of the Senate committee are Michael Mbito, Mary Seneta, Beth Mugo, Beatrice Kwamboka, Samson Ongeri, Abdullahi Ali Ibrahim, Fred Outa, Millicent Omanga and Ledama ole Kina.
The senators are also increasing the number of representatives from the Council of Governors in the NHIF Board from one person to two, as well as including a representative from the Kenya Medical Association.
The CEO of the Board has to possess at least a master's degree from a recognised university while corporation secretary should have been a certified public secretary for at least 10 years.
The changes proposed by the Senate Committee will exempt unemployed persons from mandatory contributions but will mandate employers in the private sector, same as the national and county government, to make matching contributions to the fund.
Related Topics