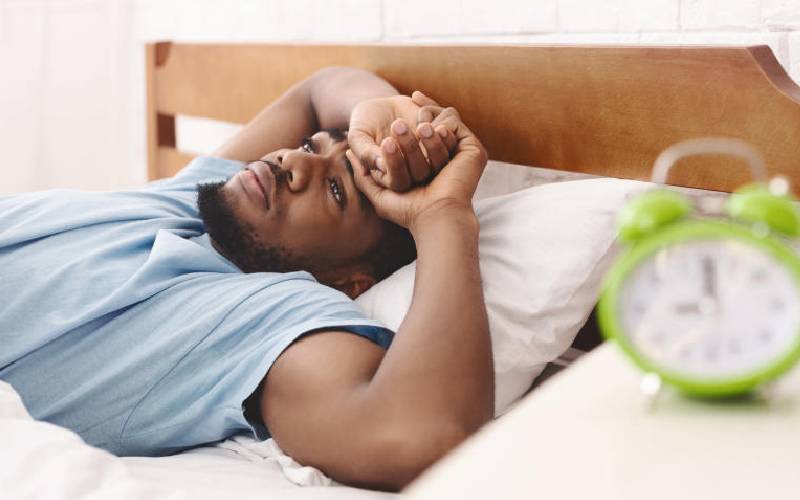 Sleep disorders mostly caused by family stress, financial frustrations, social disillusionment and the vagaries of Covid pandemic could cause or have implications on underlying health conditions.
Dr Joseph Aluoch, President, Clinician Society of Kenya, says insomnia affects about 30 percent of adult population and has a negative impact on energy, mood, concentration, and overall health.
In some cases, adds Dr Aluoch, it could be a symptom of other medical conditions including respiratory problems, colds, allergies and hormonal imbalances besides diseases of the urinary tract, arthritis, chronic fatigue syndrome, inflammatory bowel disease, headaches and back pain- with consequences when left untreated.
Dr Moses Mwangi concurs and argues that "economic hardship, hectic schedules, fear of job cuts, reduction of salaries are some of the reasons many suffer insomnia and other sleep disorder related illnesses," but the commonest causes are psychological: tension, anxiety, depression, mood swings from relationship challenges at home and workplace and psychological torture.
Severe physical pains from gout, body burns, stomach upset, hypertension and cancers might also precipitate sleepless nights and "elderly persons suffer from sleep disorders more and go to bed later than young people," says Rose Tamara Ochieng' a psychologist adding that "some medication may react negatively with the body and cause sleep disorders."
Tamara also includes sleep apnea, characterized by pauses in breathing during sleep, and which occasionally causes premature deaths.
Dr Mwangi adds that there is also narcolepsy characterised by repeated 'sleep attacks' while awake.
"Patients look frail, fragile and feel tired throughout. They become disoriented physically and their mental performances are passive. The results are being inactive, forgetfulness, sleepy headedness and above all being slow in everything including thinking," explains Dr Mwangi adding that "obese people with breathing problems, conditions linked to brain impairments, jet lag and people working in shifts display some degree of narcolepsy."
People suffer chronic (long-term), intermittent (monthly) and transient (a few nights) insomnia. Treatment of sleep disorders starts with underlying causes to inculcate proper sleep hygiene before prescribing psychotropic drugs.
Dr Aluoch recommends "lifestyle adjustments… along with medical treatments" besides diet incorporating more vegetables and fish, reducing sugar and stress and low carbohydrate meals before bedtime.
Other home-based solutions includes switching off lights, having normal room temperature, having clean bed-sheets and stable beds, new mattresses, observing particular sleeping and waking up times, avoiding excessive exercises and consumption of caffeine and alcohol before going to bed.
Daily sleeping pills are also to be avoided as they cause drowsiness and withdrawal often results in memory loss, confusion and epileptic fits.
Related Topics