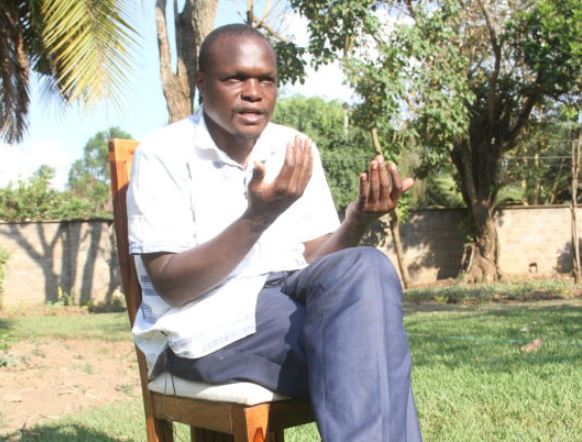 If you are familiar with Kenyan politics, then you know Norman Magaya. The fearless and vocal man was behind the National Super Alliance (Nasa) brigade in the 2017 General Election, whose role in the opposition caused the ruling party anxiety and sleepless nights.
While you might be familiar with the name, you may fail to recognise the face today if you met him. Mr Magaya's life has been a rollercoaster since 2017.
For more than two years, the man has kept off the limelight, only resorting to tweeting on social media to tell bits of his story. "Politics has a lot of issues," he says, even before we get to settle down for a chat at his Nairobi home.
He is frail, from the looks. The fierce and animated Magaya, synonymous with the Nasa and Coalition for Reforms and Democracy factions that drove the country's opposition, is no longer there in flesh – but in spirit.
"Before the heart complications started, I was 115kg. But the doctors said with the treatment regimen I was supposed to be at most 83kg. I am proud to say I am now 80kg," he says of the weight loss.
His ill-health
Since October 2017 Magaya has been in and out of the hospital with series of heart complications.
On October 27, 2017, Magaya fell ill at 1am at his home while holding his then new-born baby. He knew it was a heart attack, but he did not want to cause alarm. He struggled to place the baby in bed.
"In fact, I literally threw her (baby) in bed. My body was wet with sweat, and it looked like I had been rained on. I was struggling with shortness of breath," he recalls. "I tried to reach out for water, but collapsed."
Hours before that incident Magaya and other politicians from opposition and the ruling party had been in a meeting with the Independent Electoral and Boundaries Commission (IEBC). He says they stayed without a meal for the better part of the day.
"We used to guard ourselves against any mischief," he explains. Then evening came and they decided to take a random cup of tea. "That was the biggest mistake we did."
I ask why. Does he think he was poisoned?
"Absolutely yes," he says. "But as to who did it and for what reason, I do not want to speculate. I know I was a thorn to the regime at the time and my assumption is that this might have been done by someone at the highest level in the regime at the time."
While he says this without fear, he is keen not to speculate further. Just like the politician he is, he is still playing, his cards close to his chest – literally guarding his heart.
"I think the less we say of it, the better. I could speak about it robustly if I knew who committed the act," he says.
That night of October 27 Magaya had two more heart attacks – at Muthaiga and Haille Sellasie roundabouts - as he was being driven to the hospital.
At the hospital, he was put in the intensive care unit until 5am when he regained consciousness. The doctor advised for an angiogram to be done to determine if there might have been a blood clot.
"Fortunately there were no clots, but my blood pressure was out of control," he says. He was also put on a special diet, of which he chuckles from the irony that he was advised not to eat ugali yet he comes from the western part of the country.
After he was released from the hospital, he encountered another heart attack while on his farm in Kangundo at the end of that month. That was treated.
On September 3, after his trip back home from his farm, aware that he was not feeling well, he instructed his driver not to leave.
At 8pm, Magaya says, he collapsed when he got to the shower and had to be taken to hospital again. "It was a vicious one. I placed my hand on the chest but I could not feel any heartbeat." He was later diagnosed with coronary heart disease.
Sometime in September 2019, Magaya traveled to India, where he was subjected to a three-day sleep study under a team of 15 cardiologists, he says, and all were to come up with independent reports.
It is during this examination that it was discovered that he had clots at a junction of two arteries. The blood vessels were rotting. An operation was done to remove the clots and repair the rotten part before he was discharged in November.
His health problems were, however, far from over. In March 2020, Magaya had another episode of heart attack, which, he says, was the worst. He was diagnosed with atrial fibrillation, which is an irregular heart rate that can cause a stroke or heart failure.
"It is the worst that any person can go through. I was sweating, my speech was slurred and I was struggling for breath. When I got to Nairobi Hospital I was put on life-support," he says. The condition caused him to pass urine every 10 seconds or 20 seconds.
He was put on potassium supplements and medication to control his heart rate. He was discharged after seven days.
The politician, now on blood pressure and anti-anxiety medication, says the side effects of the drugs have taken a toll on him.
Despite his frailty, Magaya, also a lecturer, says he will still boldly and actively participate in politics. Magaya says all Nasa co-principals, led by Raila Odinga and Siaya Senator James Orengo, have stood with him.
[email protected]
Related Topics