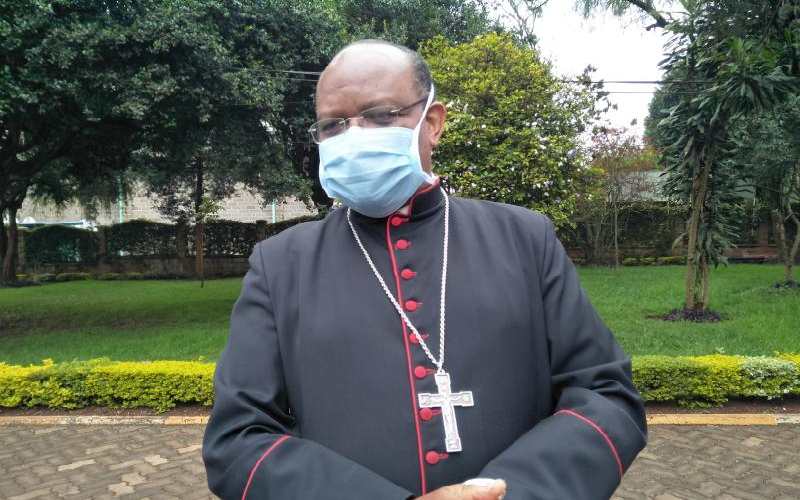 The chair of the Interfaith Council on the National Response to the Coronavirus has revealed he is hospitalised after contracting the virus.
Catholic Archbishop Antony Muheria appealed for prayers from his fellow priests and the faithful of Nyeri Archdiocese.
Archbishop Muheria called on religious leaders to pray for him as he battles the virus. He said the disease is real, and urged the faithful not to lower their guard in the fight against the coronavirus
The cleric said he is admitted at Mater Hospital in Nairobi.
"Thank you very much for your continued prayers for me during these days I am in hospital with Covid-19. God has shown me His love, and your love too, with a lot of prayers sent and promised for me and for so many other Covid-19 patients who are also our own in various hospitals and homes.
"I plead with you to continue praying for our brothers and sisters who may be going through a difficult time," Muheria said.
The bishop urged Kenyans not to lower their guard. "I have improved slightly and I can eat well and sleep well. But I am still on medical oxygen," he said. "Please become ambassadors of compliance in our homes, meetings and funerals. Please let us lead the way of responsibility.
Muheria recently led a team of priests, nuns and psychologists in setting up Good Shepherd Call Centre in Nyeri to cater for the needs of hundreds of people facing mental breakdown due to the pandemic.
According to Peterson Ndegwa, a Catholic priest in Nyeri, Muheria's state was of great concern to religious leaders and the faithful, citing his commitment in adhering to Covid-19 protocols in churches.
The council was asked by President Uhuru Kenyatta to formulate protocols to be followed in places of worship to curb the spread of coronavirus.
"He was so forthright on strict adherence to the protocols. The fact that he has gone down with the virus is an indication that we need to be more careful," Ndegwa said, adding that a Catholic priest based in Kitui County died of Covid-19 last week.