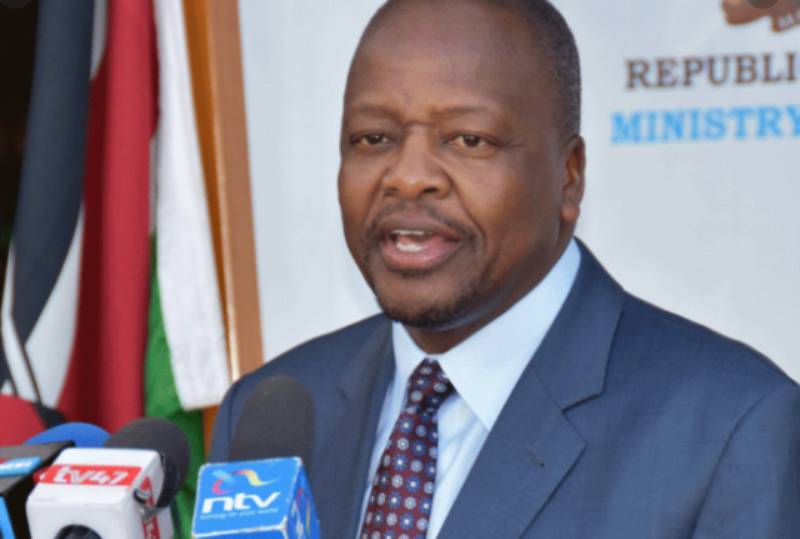 The Kenya Health Professionals Society has accused Health Cabinet Secretary Mutahi Kagwe (pictured) and the Council of Governors of excluding them in talks to end health workers' strike.
According to the society, Mr Kagwe and governors are only engaging nurses, clinical officers and doctors, but sidelining other 17 cadres. In a letter to the CS and CoG, society Chairperson Mohammed Duba says sidelining the other cadres will create disharmony and confusion in the management of human resources.
Duba says discriminatory negotiation is contrary to the provision of quality healthcare services amid implementation of the Universal Health Coverage (UHC).
"Through your letter, you have expressed biasness and inclined dialogue that exludes some health workers on basis of unlawful and unfounded excuses with an intention of demeaning them," reads the letter.
The society also complained of unfair renumeration that ignores laid down laws and excludes some cadres. In the letter, Duba says recruitments of healthcare workers under devolved units are not based on service need but "unfounded in?uences and historical risk allowances" that are not harmonised.
"We, therefore, wish to make it clear and elighten any office with a mandate to run its health sector at any capacity that world wide healthcare is an indivisible system that is run as an orchestra where every healthcare worker is impatient and incomparable to produce melodic symphony and ?ow of quality services," reads the letter.
"We therefore condemn in the strongest term possible the dicriminatory letter from Council of Governors dated August 22, 2020, that purports to exclude part of the health workers from the dialogue table." The society said exclusive dialogue will not only demotivate health workers but also create confusion and deplete any gain achieved in the sector.