Saada Hassan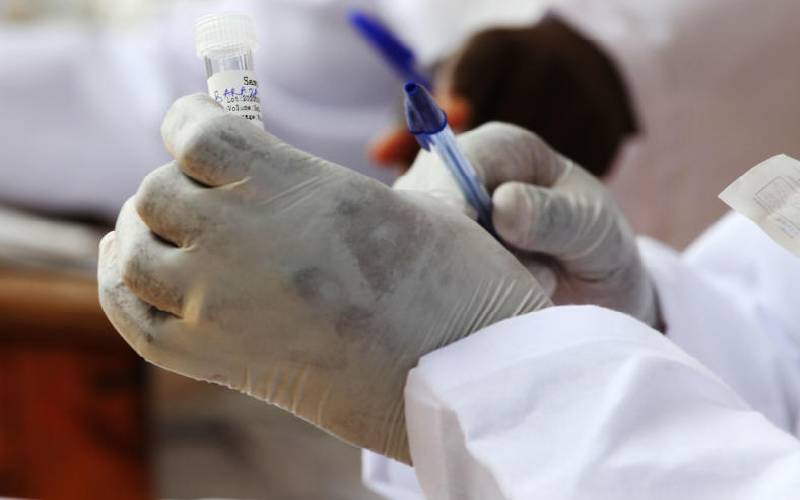 Covid-19 numbers appear to be on the downward trend according to data from the Ministry of Health.
In the last five weeks the number of positive Covid-19 cases out of the samples tested has been gradually declining.
The Daily Covid-19 Situation Report shows that Kenya is in week 33 since recording her first case, and since week 28, which presented the highest number of positive cases, there has been a decline of the same by 3.4 per cent.
Over the past five weeks, week 28 recorded a 13 per cent positivity ratio, week 29; 11.8 per cent, week 30; 12.6 per cent, week 31; 11.9 per cent, week 32; 10.8 per cent and week 33; 9.6 per cent.
In August, 17 tests had a positivity ratio of 8 per cent.
The Ministry of Health had earlier projected August to be the peak of Covid-19 cases in the country. In one of the daily Covid-19 status briefings, Health Chief Administrative Secretary Rashid Aman warned the public against disregarding coronavirus containment measures.
"We may be approaching a peak sometimes in July, August or September…it looks like going forward we are likely to see more samples testing positive," he said.
However, according to a projection by Rescue.co, an emergency response technology company, the peak will be experienced in September.
"Our adjusted model suggests 1.4 million people in Nairobi County will be infected with Covid-19 during its life-cycle, peaking in September. According to the adjusted model, 102,742 will show symptoms. A total of 8,755 people will need hospitalisation over the next year, with 1,505 passing through ICU facilities, while 928 will die," reads a report in their website.
South Africa has also recorded progress since the beginning of the pandemic. According to BBC, President Cyril Ramaphosa said that weekly confirmed positive cases had dropped considerably from more than 12,000 to an average of 5,000 over the past week.
In addition, active cases have declined to about 105,000 and the recovery rate risen to 80 per cent.
"As we look back at the past five months, all indications are that South Africa has reached the peak and moved beyond the inflection point of the curve," Mr Ramaphosa said.
Kenya has so far recorded 30,636 Covid-19 cases while 487 have died bringing the case fatality rate to 1.6 per cent.
At the same time, 98 per cent of positive cases are local transmissions and 2 per cent are imported cases. The genetic sequencing of Kenya's virus has been traced to the European strains. Majority of the patients, 93 per cent are asymptomatic while 7 per cent are symptomatic.
Among the symptomatic cases, 51 per cent present with cough, followed by fever at 37 per cent, difficulty in breathing at 27 per cent, headache 11 per cent, sore throat 8 per cent, running nose 7 per cent, chest pain 5 per cent, chills, general body weakness and loss of smell at 2 per cent each.
World Health Organisation recommends that countries should record a positivity rate of 5 per cent before returning to normal daily routines. "If a positivity rate is too high, that may indicate that the state is only testing the sickest patients who seek medical attention, and is not casting a wide enough net to know how much of the virus is spreading within its communities," states WHO
"A low rate of positivity in testing data can be seen as a sign that a state has sufficient testing capacity for the size of their outbreak and is testing enough of its population to make informed decisions about reopening," it adds.