Home
/
Health & Science
First consignment of locally manufactured PPE's released to public hospitals
Health & ScienceBy Saada Hassan | Fri,Jun 26 2020 14:01:08 UTC | 2 min read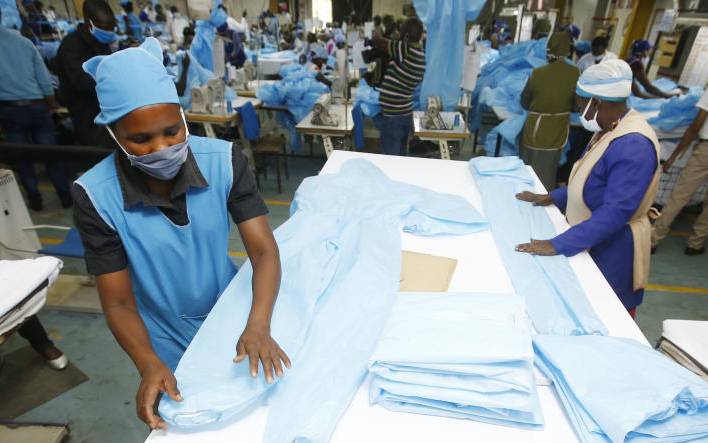 The first consignment of locally manufactured Personal Protective Equipment (PPEs) has been released by the Kenya Covid-19 fund board to public hospitals in collaboration with the Ministry of Health and Equity Group Foundation.
The batch includes 100,250 disposable gowns, 550,000 surgical masks, 54,000 N95 masks, 5,400 protective goggles, 1,000,000 nitrile gloves, 5,400 face shields, 54,000 head/hair covers, 45,000 disposable medical scrubs, 45,000 shoe covers, and 1,000 gumboots.
"With the global supply chain at risk due to the crisis, there is impetus to leverage and develop local manufacturing capacity for PPE production by considering all aspects of the supply chains, in order to meet both immediate needs of the crisis, as well as long-term demand in the foreseeable future." Chairperson of the Covid-19 fund board, Jane Karuku said.
The board through its health and procurement committees is mandated to foresee coordination and sourcing, quality assurance and distribution of PPEs for frontline health care workers at designated Covid-19 management hospitals.
"By coming together to provide PPEs this initiative has allowed for economies of scale, proper identification of the national priorities for PPEs and guarantees efficient and effective coordination while eliminating duplication of efforts in the provision of PPEs for public health care workers in the country."
According to Karuku, there is an opportunity for local manufacturers to create a regional logistics supply chain for PPEs which will serve Kenya and its neighbors.
The Committee has created a facility-based liaison committees in each of the 68 facilities across all counties which comprises of seven persons.
The committees will ensure there is rational use of PPEs as per World Health Organization and Ministry of Health protocols. It will also be reporting back on a regular basis to the health technical working group.
Furthermore, the committee has partnered with Fargo Courier to guarantee timely and secure delivery of the PPEs across the country.
Related Topics