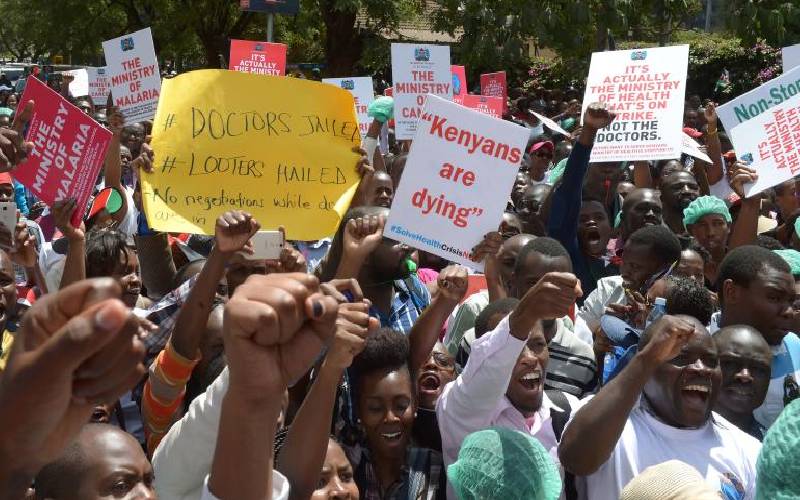 Doctors have issued a two-week strike notice over salaries as the medics renewed the push to have management of health reverted to the National Government.
The doctors said through their union that five counties are yet to pay healthcare workers their May salaries, with some doctors unable to meet their daily needs.
The counties are Mombasa, Tharaka Nithi, Meru, Trans Nzoia and Nandi.
Kenya Medical Practitioners and Dentists Union (KMPDU) said all the counties have been put on notice on the same.
"You have until July 5, 2020. If healthcare workers will not have received their salaries for both May and June, then we shall be forced to undertake industrial action," said KMPDU Secretary General Hamisi Mwachonda.
Dr Mwachonda said salary delays have been a norm in the counties, which raises the questions if the local governments can manage health services, especially human resources.
He said the same incompetency has been witnessed in implementation of the 2017 Collective Bargaining Agreement (CBA).
Mwachonda said issues on health insurance, working conditions and promotions have not been dealt with since the deal was signed on July 7, 2017.
The deal was signed between the union and the national government (Ministry of Health) and all the 47 county governments after a protracted strike that lasted for over 100 days.
"We have had a cat-and-mouse game with county governments and our branch officials in the counties, but some counties do not even have functional public service boards," said Mwachonda.
He said these are some of the issues that are fuelling their push to have health reverted to the National Government.
"It is not that we do not support devolution. We do. But we do not support mistreatment of healthcare workers by the county governments. The only solution is a Health Service Commission," he said.
By having a commission similar to what teachers have (Teachers Service Commission), doctors anticipate that all matters on training, remuneration, deployment and recruitment will be handled at the national government level.
"We do not want a commission or any other fake body that cannot resolve the issues we have. Let no one think of scraping the HSC from the Building Bridges Initiative," said KMPDU chairperson Samuel Oroko.