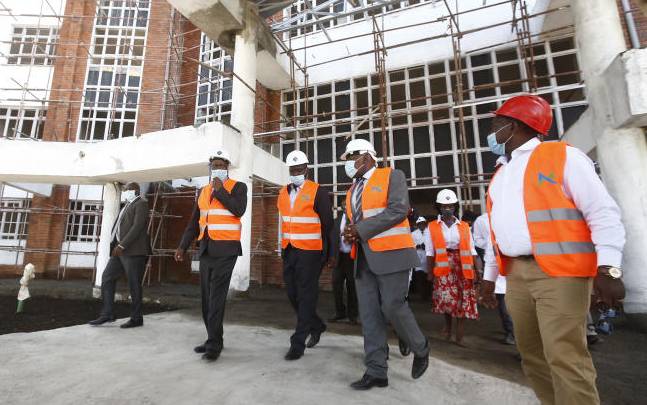 The newly constructed ultra modern out-patient department wing at the Rift Valley Provincial General Hospital will be converted to a Covid-19 centre.
Nakuru Governor Lee Kinyanjui said the centre will have a bed capacity of over 500 for coronavirus patients.
"This wing will temporarily be converted into a Covid-19 centre to address the pandemic until the disease is no longer with us," he said during an inspection of the facility after its completion.
The facility will be opened and operational in two months.
"We are approaching crucial times in the county and country at large with increased cases of the disease every day, and we have to be ready to curb the situation," he said.
The governor warned that the Covid-19 cases in Nakuru are bound to increase in coming months due to imported cases from truck drivers.
"We deal with truck drivers at Salgaa, Kikopey, Pipeline, Naivasha and Maai Mahiu meaning that we will experience many cases," he said.
He said to be prepared, all medical facilities within the county must be inclined to address the pandemic.
The Gilgil Maternity that is on verge of completion will also be converted to a Covid-19 centre. It has a bed capacity of over 100.
Conversion of the new wing comes as Nakuru registered 10 confirmed Covid-19 positive cases, out of which three have been discharged after full recovery. The county has 20 ICU beds and 40 ventilators plus 140 beds in all the facilities.