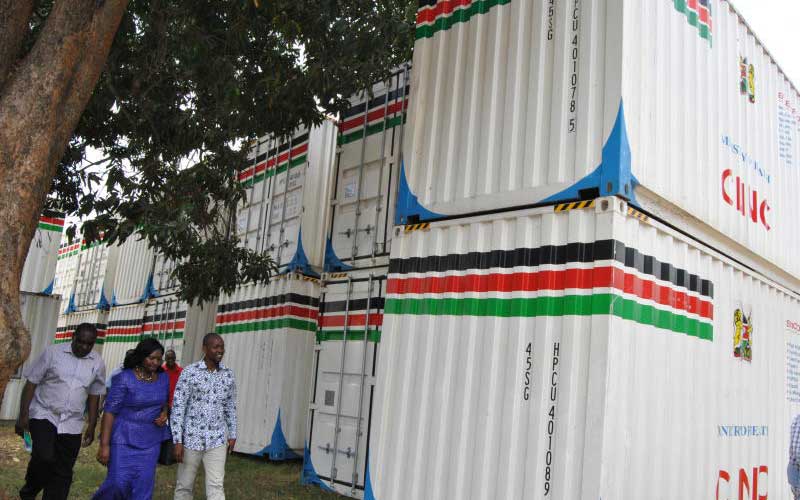 A senate committee is demanding answers from the Ministry of Health on how the Sh800 million controversial mobile container clinics were released to help in the fight against Covid-19.
The ministry is said to have released part of the 100 mobile container clinics, whose questionable purchase is under probe by the Ethics and Anti-Corruption Commission (EACC), to be used as centres for testing Covid-19.
Health Cabinet Administrative Secretary Mercy Mwangangi told the Senate Committee on Health chaired by Senator Michael Mbito that she will prepare and table a comprehensive report on the containers. The report is to also indicate if there is a court case or investigations ongoing regarding the equipment.
She said the special containers are primarily meant to enhance the Universal Health Coverage (UHC) in areas of primary health care to mitigate Covid-19 pandemic, provide quality emergency health services and improve access to essential health services in informal settlements.
A total of 33 counties had written to the Ministry of Health requesting for the containers after EACC allowed the ministry to distribute some of them and leave others as exhibits.
"We want to know how the clinics that are still subject to an inquiry on ethical issues were released and how many counties have received them," said Mbito.
The ministry is also to explain why the clinics have been budgeted for under the Sport Fund Board chaired by former Vice President Moody Awori.
Under the Public Finance Management Act of 2012, Awori and the other board members appointed in 2018 are to approve ceilings for funding under sports, arts and social development in each financial year.
This they are to do after reviewing guidelines on the fund priorities and criteria for allocation and disbursement of funds to implementing agencies.