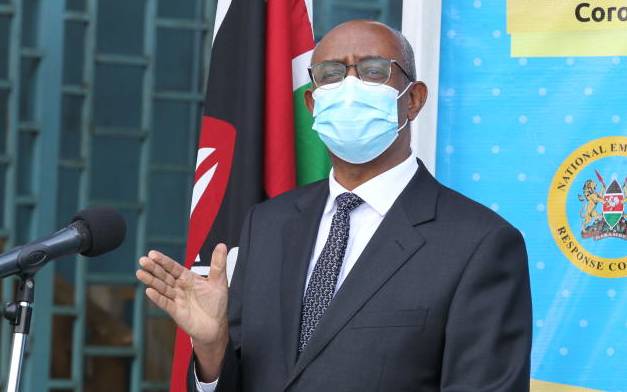 The government has urged Kenyans to turn up in large for Covid-19 mass testing that is on in Nairobi and Mombasa counties which it says is essential in the war against Covid-19. While addressing the press during the Covid-19 update in Nairobi, Health Chief Administrative Secretary Dr Rashid Aman appealed to the public to embrace the mass testing. Dr Aman
(pictured)
said that the government was determined to identify people with the virus so that it can trace contacts for containment and treatment. "The government shall meet the cost of treatment and quarantine…People should not be afraid to come out for testing," he said.
SEE ALSO: Madaraka Express passenger service resume on Monday
The CAS said that the government had resorted to doing away with the directive of quarantining people at their own cost after it emerged that it was scaring people and triggering escapes from quarantine centres. "The targeted mass testing is to identify those who have the virus for treatment and protection of the others," he said. He, however, urged those turning up for the tests to give accurate contact information for easier tracking and follow-ups. According to the CAS, cases in which patients become impossible to contact and treat can only jeopradise the progress made in the fight against the virus. He reiterated President Uhuru Kenyatta's message of remaining vigilant saying "the fight against Covid-19 is not yet over." Dr Aman also hinted at plans to relax health safety measures like partial lockdown and curfews should the numbers grow thinner and thinner. He lauded the co-operation of residents of Mombasa's Old Town and Nairobi's Eastleigh, which have been under partial lockdown after they posted a high number of infections.
SEE ALSO: Journalists catching the corona flu from sickly media
He, nonetheless, cautioned that the lockdown should not be perceived as targeting a particular social group of people. Said he: "The restrictions are not punitive and not directed at any particular community…They are for the interest of the public good to contain the virus." Dr Aman hinted at a possibility of locking down newer areas identified as hotspots for the virus. His statement comes after Kibra posted high Covid-19 infection numbers making the area to be subjected to scrutiny as the government weighs up more measures. Such a decision he said would be made based on the numbers of infections posted in various areas. Meanwhile, 22 more people have tested positive for the virus over the past 24 hours. According to the CAS, those who tested positive comprise 17 males and five females who were found with the virus after analyses of 1,108 samples.
SEE ALSO: Algeria tightens travel restrictions to limit coronavirus infections
This now brings the total number of Kenya's cases to 1,214. Out of the 22 cases, 10 were from Nairobi, 9 from Mombasa, one from Nakuru and two from Kwale and Taita Taveta. Three patients were discharged after successful treatment. The country also lost a 48-year-old man to the coronavirus in Mathare, Nairobi. This implies that Kenya has lost 51 people to the disease. The virus has now killed more than 340,000 people and infected more than two million people globally.