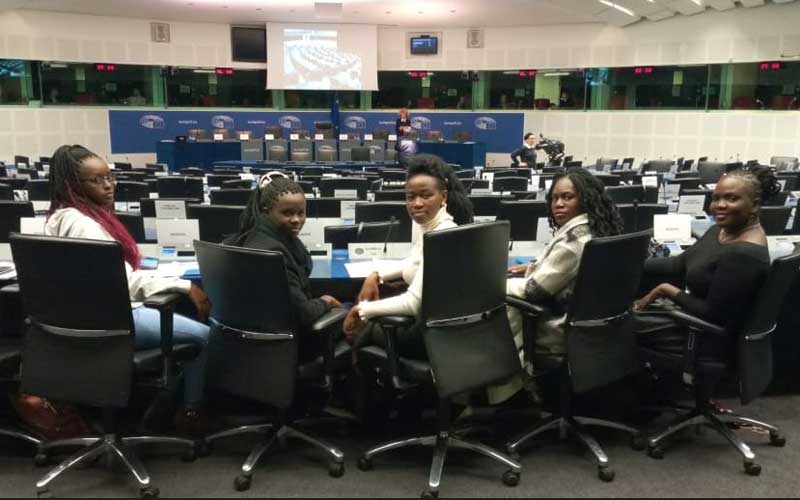 Health & Science
The five girls hope that more youth can join the fight against FGM
As the world marked International Day of Zero Tolerance against FGM yesterday, five girls were busy on their computers. They are putting the final touches to an application dubbed "i-Cut" to fight Female Genital Mutilation (FGM) ahead of its launch in March 2020. Ivy Akinyi, Marine Atieno, Purity Achieng, Stacy Adhiambo, and Cynthia Owuor aged between 18 and 19 developed the App during a Technovation competition. The completion tasked girls to come up with a technical solution to a community problem. The five formed a crew christened "Restorers."
SEE ALSO: Women hail victory as Sudan moves to ban FGM
They are hoping to connect girls from FGM-hit areas in Kenya and to nearby rescue centres through their innovation. "We identified FGM as one of the challenges that could be easily eradicated if the technology was used and rescue centres connected to the victims," said Purity Achieng. I-Cut allows users to choose from five main options: 'Help', 'Rescue', 'Report', 'Information on FGM' and 'Donate and feedback'. "The application has six main features, two of which are key. The first two are to help the girls report the cases; that's the call and report feature," Stacy Adhiambo said. Restorers also have an Unstructured Supplementary Service Data version of the application which will help reporting of FGM cases in places that do not have internet.
SEE ALSO: FGM cases rise as schools remain closed
The World Health Organization notes that FGM has numerous health risks including severe pain, excessive bleeding, genital tissue swelling, injury to surrounding genital tissue, shock, death among others. An FGM survivor Nampayio Koriata told Standard Digital how the cut has affected her psychologically since November 22 1999. "17 years later, I have never forgotten it because it is not an easy thing to go through," she said. According to WHO, more than 200 million girls and women alive today have undergone the cut worldwide with Africa recording the highest number of countries practising FGM at 30.
SEE ALSO: What I have learnt in my four years of research on FGM
In Kenya, according to UNFPA, 21 per cent of women and girls, aged 15-49, have undergone some form of FGM. Kenya is still a cohort of FGM, with the act being practised in rural communities that are associated with illiteracy. Tony Mwebia, founder of Men and FGM movement, is concerned that the illiteracy levels would inhibit the purposed function of the application. "Some of these communities may have a lower intake of the application or may not even understand what the application is all about," he said. He added: "But I believe this is a challenge that can be dealt with by lobbing liaising with key people and activists who are involved in the fight against FGM within those communities,"
SEE ALSO: FGM stems from human cannibalism, pastor tells court
The Restores hope that more youth can join the fight against FGM. "FGM is a problem that people have campaigned against it. We decided to add the use technology to ensure a swift fight against it," said Purity Achieng.