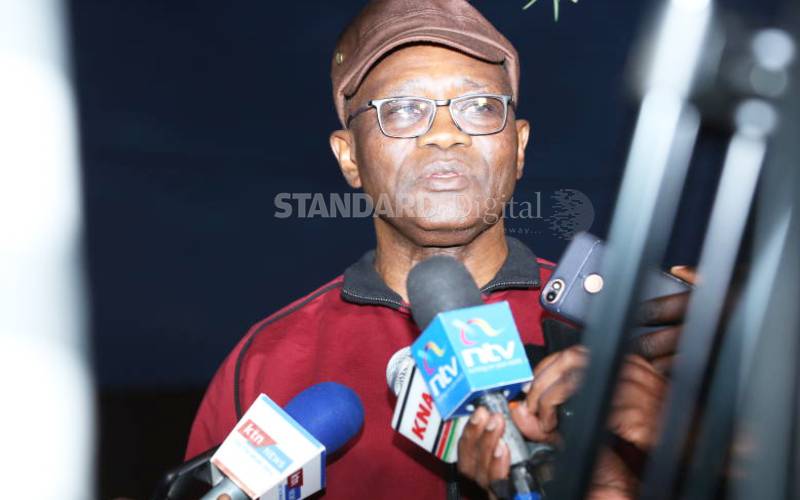 More than 70 specialist doctors will offer a three-day free medical camp starting today in Kisii and Nyamira counties. The free medical camps are organised by Gusii professionals and medics who hail from Kisii and Nyamira counties under the Inka Medics Association (IMA). Group president Dr Atei Kerochi said due to poverty levels and the high cost of medical care, many families in the region are not able to access quality health care. "Medical costs for our people remain high especially when it comes to chronic diseases such as cancer, diabetes, kidney ailments and hypertension, whose diagnostic and care services require huge resources even for those in employment," Dr Kerochi said.
SEE ALSO: Mother who sold own child for Sh14,000 arrested in Kisii
Kerochi explained that because of this challenge, local medics and other professionals from the area want to contribute and complement what the county and national governments are currently doing to meet medical needs of the people. The IMA boss told the media that the free medical camps will emphasise screening for non-communicable diseases. "We urge the local residents to take advantage of this initiative and come out in large numbers to be screened. Early detection of any disease is associated with better outcome and less costs in managing the disease," Dr Kerochi, a public health specialist, said. Dr Jane Nyakang'o, a member of the organising committee, said over 90 per cent of the resources received for the medical camps have been donated. "We have had donations coming in the form of medical equipment, medical accessories, medicines, mobile clinics and transport vehicles from different institutions," she said. Nyakang'o, who is also the chairman of Dedan Kimathi University of Technology Council, said medical personnel comprising specialists, general practitioners, clinical officers, nurses, medical records officers, registrars and others will offer their services for free.
SEE ALSO: Obure, 76, wants to be Kisii governor in 2022
Yesterday in a meeting with doctors, Kisii Governor James Ongwae noted the need to continue having a collaborative approach in dealing with heath issues in the country. "This is a major step in supporting the universal health plan launched by President Uhuru Kenyatta. Our wish is that we have a large number of residents turn out to receive the services. Provision of improved health services has been a priority in my leadership," said Mr Ongwae. Partners in the free medical camp include Kenya Medical Research Institute, Kenyatta National Hospital, Coptic Hospital, Kenya Medical Supplies Authority and the Pharmacy and Poisons Board. Others are Beta Healthcare, Angelica Medical Supplies, Kisii and Nyamira Teaching and Referral Hospitals, Kisii Eye Hospital, Hema Hospital, AMS Group and Dynapath Laboratories. The exercise will be launched by Interior Cabinet Secretary Dr Fred Matiang'i today at Gusii Stadium. The general medical camps will be held today and tomorrow at Gusii Stadium and Nyamira Primary School whereas the specialist medical camps will be on Tuesday and Wednesday at Kisii Teaching and Referral Hospital and Nyamira County Hospital.