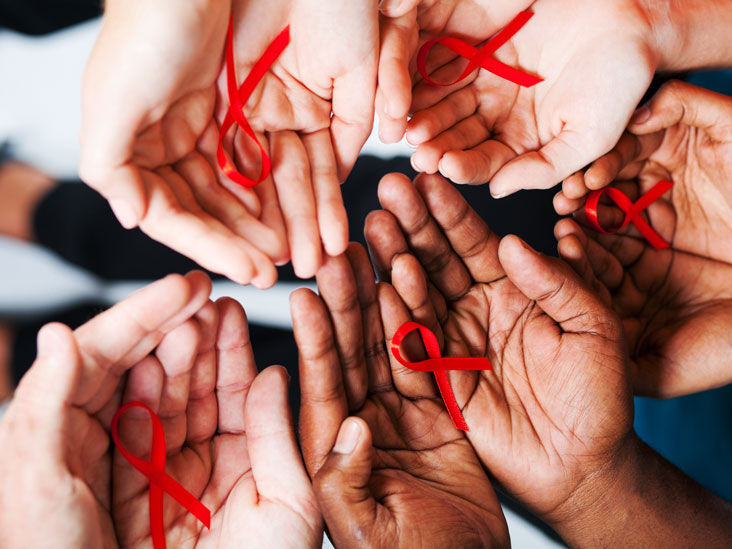 As the world marks World Aids Day tomorrow, Kenyans living with HIV are apprehensive over whether the Universal Health Coverage will cater for them. National Network of People Living with HIV Chairman Erick Okioma said frequent shortage of drugs for TB, ARVs and medication for non-communicable illnesses was a major setback for the affordable healthcare programme. Mr Okioma regretted that patients are forced to buy drugs while frequent health workers' strikes have led to some patients missing their ARVs, resulting in resistance to medication.
SEE ALSO: HIV cases likely to spike as male cut clients dip
He cited the lack of adequate information on how UHC should offer medicare for HIV/Aids patients. Okioma said reduced donor funding had affected health and counselling services. "Many patients with opportunistic infections spend a lot of time in the queue seeking treatment. Some get discouraged and end up stopping treatment," he said. Ms Betty Okero of Kisumu Civil Societies Network (CSOs) said facilities have been stretched and patients with cancer and HIV/Aids have no access to medication. "UHC is not comprehensive since the issue of commodity supply has not been dealt with comprehensively," she said. The CSOs want UHC to include sanitation, nutrition and environmental factors.
SEE ALSO: Don't neglect HIV patients in Covid fight
"The success of UHC requires that the government makes a commitment to ensure availability, affordability, and accessibility to quality healthcare," she added. Kisumu County UHC Coordinator Albert Odhiambo, however, said the programme was working well despite challenges. He noted that UHC has been covering all medical cases including opportunistic infections among HIV/Aids patients. Dr Odhiambo said that under the programme, user fees are not charged on HIV/Aids-related services. "We had ongoing programmes under donor support which hugely covered the opportunistic infections. UHC has been an additional relief to patients," he said.
SEE ALSO: Alarm as HIV drugs run low due to Covid-19 disruptions
He said all patients with opportunistic infections and who are registered for UHC accessed medication in good time. The number of patients attending public hospitals in Kisumu County since UHC was rolled out in September last year has increased. Kenya Medical Supplies Agency Western regional sales and marketing executive Kenneth Bukachi said most items they supplied for HIV patients are facilitated by the US government. Mr Bukachi said the US invested Sh65 billion in procuring ARVs, TB drugs, nutritional supplements, family planning and anti-malaria drug supplies. He admitted that donor funding was on the decline, and the effect of this will be felt in the next six months, especially in counties with a big burden of HIV/Aids. "We are supplying but not under UHC. With donor funding shrinking soon, we will feel the impact," said Bukachi. Turned away The excitement that welcomed the UHC roll-out in Kisumu is quickly dying down. Many patients visiting public hospitals have lamented over the services. Joyce Akello, 35, said for the past one month, she has moved from one public hospital to another seeking treatment for her three-year-old son in vain. The services have been affected by health workers' strikes, a situation that has seen patients turned away. Patients said most of the prescribed drugs are often out of stock. A recent report by Infrotrak found that patients take a longer time before they get treatment. Saturday Standard has established that most residents are yet to pick their UHC cards. Kisumu Governor Anyang' Nyong'o said 843,863 people have registered for UHC cover. The target is 1.2 million. "But still, a gap analysis done during the pilot identified certain challenges that we are addressing to meet the target," he said. Prof Nyong'o said UHC was the most viable means through which quality and affordable health care can be realised. Kisumu received medicine worth Sh217,383,080 from Kemsa for the UHC programme.