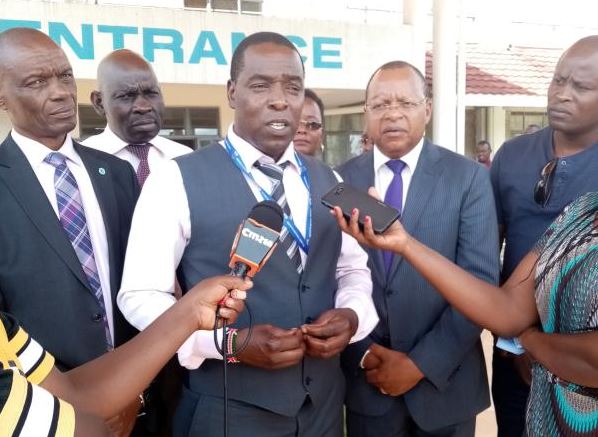 Kenyatta National Hospital has taken over the operations of the Othaya Level 6 referral hospital, which will now be named the Kenyatta Hospital Annex.
The takeover was announced during a tour of the hospital by KNH CEO Dr Evanson Kamuri, Othaya MP Gichuki Mugambi and his Kieni counterpart Kanini Kega.
"The KNH Annex Nyeri will cater for the eight counties in this region, offering services such as specialised treatment for children and kidney diseases," Mugambi said.
He said the hospital would operate an Intensive Care Unit and a pediatric ward, making it easier for residents referred to KNH in Nairobi to access treatment.
"KNH is the right parent for this hospital which will not only offer specialised treatment but also have a private wing for patients," Mugambi said.
Kega said the facility was a regional institution that would reduce the cost of referrals to KNH and ease the burden on patients and leaders who cater for medical costs.
Dr Kamuri assured the residents that KNH services offered in Nairobi would also be available at the Othaya facility, but only on a referral basis.
"We are hoping to use this facility to not only bring KNH services closer to the people of this region, but to also decongest the national referral hospital in Nairobi," Dr Kamuri said.
He said diagnostic tests would be carried out at the hospital, with the theatres operating 24 hours a day with the assistance of telemedicine between the main facility and the annex.
Lifestyle diseases
"We want to ensure that the current burden of lifestyle diseases such as hypertension and diabetes is addressed at the Othaya Hospital. We want to ensure that patients get other health services, including cancer diagnosis and treatment," he said.
Walk-in patients will, however, have a tough time accessing services as the facility will focus on referral cases usually sent to KNH from local facilities.
Dr Kamuri said the move to take over the hospital did not amount to taking over health services provided by county hospitals, but was aimed at offering access to those referred to KNH.
"We would like to discourage walk-in patients but we shall offer treatment to accident victims and emergency services," said Kamuri.
The hospital, which was named Mwai Kibaki Teaching and Referral Hospital, opened its doors to the public on August 6, but it could not fully operate due to personnel constraints.
Staff and facility
Three months, ago Public Service Commission chairperson Steven Kirogo visited the hospital for an inspection of staff and facility readiness for the opening.
Kirogo said the Commission had recruited 527 staff, including a chief executive officer, who had undergone interviews and were ready to report to work.
The hospital required a total of 1,347 staff to run at an optimal level.