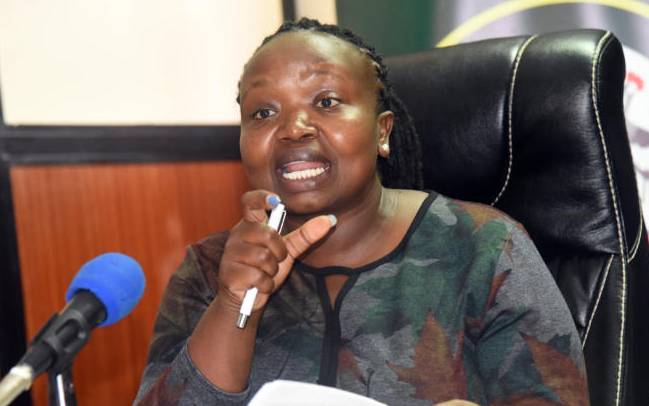 Patients were yesterday turned away as health workers' strike paralysed services in public hospitals in Nairobi. The paralysis follows Monday's strike notice by the Kenya Union of Clinical Officers (KUCO) and Kenya National Union of Nurses Nairobi. Branch officials accused the county of reneging on its promise to promote health workers. Outside Pumwani Maternity Hospital, The Standard met a distraught man who had been ordered out of the facility together with his pregnant wife.
SEE ALSO: Nyong'o ordered to promote medics
The 25-year-old man, who requested anonymity, said he had earlier taken his wife to Mama Lucy Hospital, but there were no services there either. "I took my wife to Mama Lucy when she started experiencing labour pains. The security guards told us there were no medics. I brought her to Pumwani, but the situation is the same. My wife is in pain and I don't know what to do," he said. There were no activities at Mbagathi Hospital yesterday and on Tuesday. Offices had been closed and some patients could be seen lying on the floor. An officer who did not wish to be named said there will be no services until the concerns the medics have raised are addressed. On Monday, KUCO Secretary General Tom Nyakaba and branch chairman Reuben Raboso said there will be no services in all county hospitals until their employer honours an agreement they had on promotions.
SEE ALSO: Kisumu medics defy return-to-work order
"Since the advent of devolution, only Nairobi County government has never promoted or re-designated clinical officers, nurses and other health workers. It's unfortunate," he said. Acting health executive Vesca Kangogo, however, said promotion of nurses had already been addressed and urged them to return to work. She said the county had honoured the return-to-work formula agreed on following a meeting with unions on last week. "A total of 2,153 staff across all the cadres have been promoted and re-designated as agreed with the unions. We have so far written 1,500 letters to this effect and we are urging the nurses to resume duty," said Kangogo.