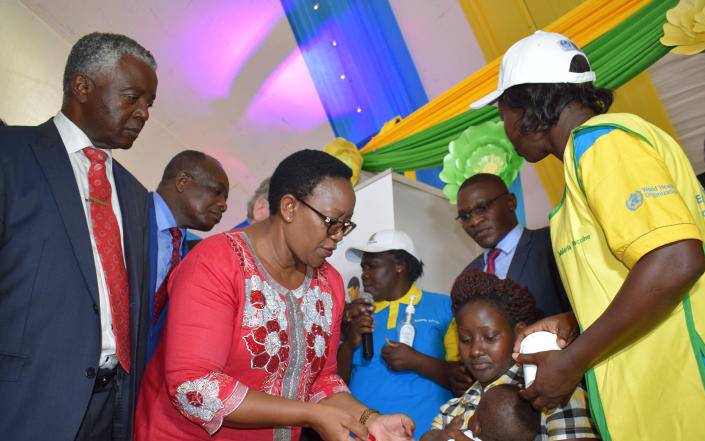 Children will now be given a malaria vaccine in a bid to fight the killer disease. The vaccine called RTS, S or Mosquirix will be injected to boost immunity. It will be administered on children at the ages of six, seven, nine and 24 months. The vaccine, which is the first of its type, was launched in Homa bay yesterday. Kenya is the third African country after Ghana and Malawi to start using the vaccine.
SEE ALSO: Court frees activist accused of stealing county documents
Health Cabinet Secretary Cecily Kariuki, Homa Bay Deputy Governor Hamilton Orata and representatives of development partners witnessed the launch in Ndhiwa town. "The vaccine will be given to children in health facilities and other immunisation centres designated by county governments," said Ms Kariuki. She dismissed claims that the vaccine could be harmful to children, saying it had undergone clinical trials to ensure it safety.
Logistical arrangements
"Nobody should be worried about the vaccine. The government has undertaken all clinical tests required to prove it is safe for human use," said Kariuki.
SEE ALSO: If only Pamela Jelimo could turn back the hands of time
The vaccine will be added to the routine vaccination schedule, and more than 300,000 children are expected be vaccinated over the next three years. The CS added that the government will still continue with other malaria prevention measures. "This vaccine does not mean we are going to stop other prevention measures such as use of mosquito nets and residual spraying among others," she said. The launch was done to mark the first phase of immunisation that covers eight counties along Lake Victoria region. The counties are Homa Bay, Migori, Kisumu, Siaya, Busia, Kakamega, Vihiga and Bungoma.
SEE ALSO: FKF elections could head back to court
"The vaccine is adequate for counties where it has been rolled out today. We are also going to roll out it in other counties through phases as soon as logistical arrangements are made," she said. Orata said his county had made proper arrangements to enable county residents acquire the vaccine. He said the vaccine will be offered at hospitals in three sub-counties in Homa Bay namely Ndhiwa, Homa Bay and Rachuonyo East.
First phase
Other speakers urged the county government to invest in more community health workers to ensure use of the vaccine succeeds. Sh300 million will be spent on the first phase. The programme is a joint contribution of the of the government and a number of health promotion partners, including PATH and the World Health Organisation.