Home
/
Health & Science
Two embryos stored to save rare rhino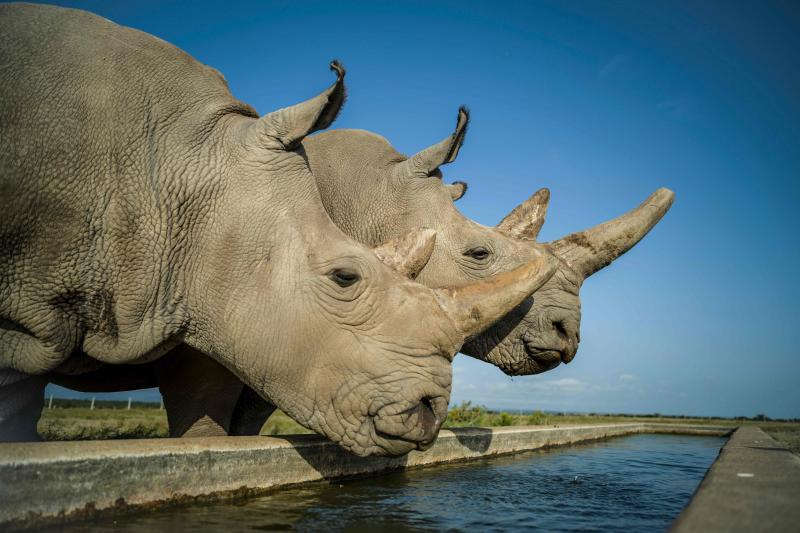 Two embryos of northern white rhinos have been successfully created in an Italian laboratory using eggs harvested from two remaining subspecies from Kenya.
The milestone, undertaken by researchers and scientists, raises hopes of reversing imminent extinction of the endangered species.
In a press statement released from Italy, the researchers noted that the first ever in vitro embryos may mark the turn of the tide in the tale of nearly extinct northern white rhino.
"For decades, the story of the northern white rhinoceros has been a tale of decline. The number of individuals shrank down to only two in 2018, rendering complete extinction as only a matter of time," the press statement read in part.
The international consortium of scientists and conservationists achieved the milestone in assisted reproduction, a move that has been praised as a pivotal turning point in the fate of the subspecies.
The scientists used eggs collected from the two remaining northern white rhino females and frozen sperm from deceased males to successfully create two embryos.
"The embryos are now stored in liquid nitrogen to be transferred into a surrogate mother in the near future," the researches noted.
The milestone was achieved at Avantea Laboratories in Cremona, Italy, using the eggs which were harvested on August 22 from Najin and Fatu, the two female rhinos at Ol Pejeta Conservancy in Kenya.
"Today we achieved an important milestone on a rocky road which allows us to plan the future steps in the rescue programme of the northern white rhino," Prof Thomas Hildebrandt, one of the researchers said.
"This is a major step forward in our efforts to recover the northern white rhinos. All concerned are to be hugely congratulated," said Richard Vigne, managing director of Ol Pejeta Conservancy.
New ground
"The Kenyan government is greatly encouraged by breaking of new ground in the assisted reproduction technique and remains committed to facilitating the pioneering process all the way.
"It has been a decade of race against time and we are excited at the progress in reversing the hitherto bleak outlook for the northern white rhino," said Tourism and Wildlife Cabinet Secretary Najib Balala.
"The pioneering in vitro embryos of the northern white rhino is a strong testament to what committed partnership can achieve in pushing the frontiers of science to save a creature from extinction," said Brigadier (rtd) John Waweru, the director general of Kenya Wildlife Service.
Related Topics