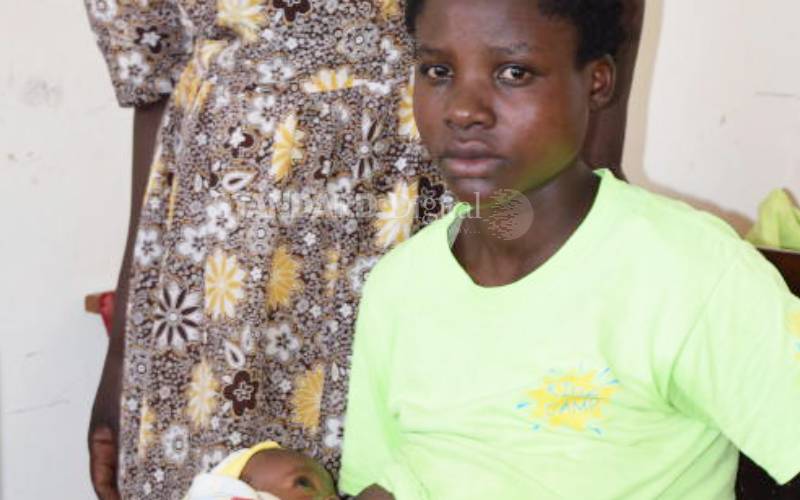 The family of a newborn child whose bottoms and leg were burnt by a heater at Vihiga Health Centre is appealing for help to save its life. The family from Emanda village says since the June 15 incident, they have been traumatised and have accrued huge bills travelling to various hospitals seeking medication. Christine Vugutsa, the child's mother, says she went to the hospital on June 14 and gave birth the following morning. "Immediately after I gave birth, a nurse came in and took her to another room. When I went to the room, I found her (baby) near a heater," said Ms Vugutsa.
SEE ALSO: Relief as Sh600 million out-patient wing ready
She says the infant was healthy when she gave birth, and wonders why it was placed near the heater. What puzzles her is that her
shuka
was not used to wrap the infant after a nurse whisked it away, only to put it close to a heater for over 30 minutes. "Following what happened, I could not be discharged but was referred to Vihiga County Referral Hospital in Mbale at about 4pm the same day. There I stayed for two days and the child was given medication," she says. On June 17, she was referred to Moi Teaching and Referral Hospital (MTRH) in Eldoret, where she stayed for two months. The baby had two surgeries. According to the doctor's report at MTRH, the child sustained second degree burns that affected some of her internal organs.
SEE ALSO: Standard, Safaricom in pact to sell digital newspapers
Alice Kanaga, Vugutsa's grandmother, says the last three months have been the most troubling to her following the incident. "When she finished school last year, I thought she would be able to go to college after giving birth because she sat her exams while pregnant. She has given birth and now we are forced to go to hospital every now and then. We don't know what will become of the child," Ms Kanaga said. She asked the Government to help her take care of the child, who is taken to hospital daily for dressing of the wound. "The child's future has been shattered. We do not know whether she will heal completely or be disabled. I want her to get justice," she said. The child is expected to be taken to MTRH again in October for check-up. Zeno Anido, the in-charge at Vihiga Health Centre, and Vihiga County Referral Hospital Medical Superintendent Vitalis Juma declined to discuss the matter when contacted by
The Standard.
They asked us to seek clearance from County Director of Medical Services, who by the time of going to press had not returned to his office. A medical officer at the health centre, who did not wish to be named, however, said that was an accident like any other and that the facility did its best and referred mother and child for further assessment. "The mother did not come with the required clothes in which the child could be wrapped. A cloth the child was wrapped in is the one that caught fire and the child sustained some burns on the leg," the medic said.