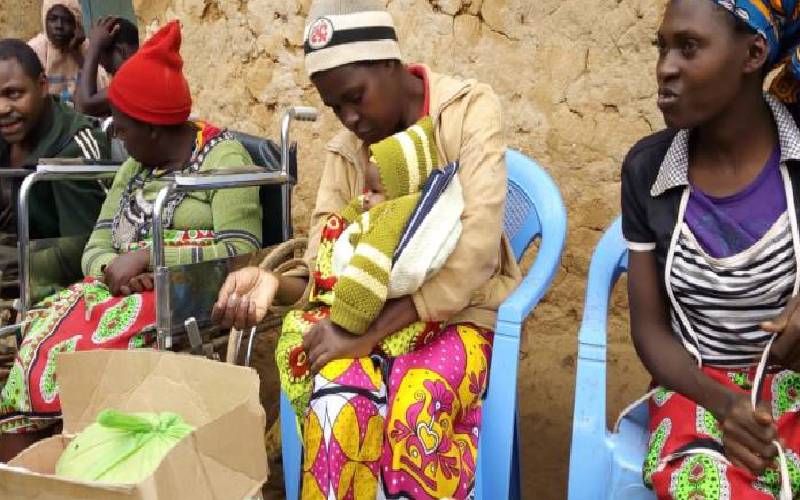 Health & Science
She says her efforts to establish what caused the condition have not been fruitful.
The bright day does not mean much to Katinda Muthenya who is struggling to understand a strange disease that struck her family. At 60, Katinda says she hoped she would be relaxing as her children take care of her. However, the opposite is happening - she is taking care of her five grownup children, after they got crippled. She is also taking care of her 11 grandchildren. "When I got married to my late husband Muthenya Muema at 19, our plan was to get many children who would take care of us in our old age. It's the dream of every parent. However, this did not happened after five of my seven children got crippled in their 20s," she says. She adds: "The mysterious disease struck one child after the other. All of them are now moving around by crawling."
SEE ALSO: Makueni sand wars slowly returning under curfew
Those that have been affected are Magdalene Wavinya (41), Justine Keli (39), Anastacia Kambua (36), Margaret Katunge (31) and Jacinta Wayua (29). When
The Standard
visited Ms Katinda's home at Yioota village near Kyemundu hills in Mbitini, Makueni County, Katinda was attending to her disabled children. She says her efforts to establish what caused the condition have not been fruitful. "It started with my firstborn. I took it easy, hoping it would turn out to be another medical condition with an explanation and solution. However, as we speak, the disease has since spread to four others. They are now crawling like babies. I never imagined such a thing. Instead of making life easy for me, my children have become a major burden, and I am yet to find help," says a tearful Katinda. Mr Phillip Mulingwa, a neighbour, has been mobilising well-wishers to donate food to the family for years.
SEE ALSO: Makueni passes Sh45m supplementary budget for pandemic
"I felt I should help because they are poor. Even the three plastic chairs they are using are borrowed. The other two are lucky to have wheelchairs donated by a well-wisher," he said. From a distance, you may not tell they cannot walk as everything looks fine. In 2000, Mulingwa said he took Justine to a medical camp in Machakos but doctors from Bethan, Nepal, who had organised it, could not establish what was causing the problem. "All they said was the condition is related to muscles. They said the muscles had become weak, from the knees to the hip, making it hard for him to walk," said Mulingwa. According to him, doctors only said the condition was in its late stages and could not be reversed.
SEE ALSO: Panic as Mombasa-bound passenger collapses and dies
"They advised those who had not been affected to go for medical checkup. They said that those affected should be given good home care," said Mulingwa. He adds: Our efforts to have his sisters taken to hospital have been futile since the family has no source of income. Things became so bad for the family, especially after the death of their father in 2006. They depend on well-wishers for everything." Tears rolls down Wayua's cheeks as she explains how her job as a bar attendant in Mombasa was cut short because of the illness. "My body started becoming weak. I went to hospital, but the examinations, including x-rays, did not reveal anything. I was not able to walk by the time I was brought back home," said Wayua. The rest of Katinda's children, Mary Muthini and Jackyline Kamene, said they are praying to God to protect them from the strange condition.
SEE ALSO: Mbooni shift focus to Eastern Region titles
Benedetta Kalunde, a relative, said the Ministry of Health should investigate the cause of the condition and help find a solution. "The disease started with dizziness and general body weakness before they lost the ability to walk. We have to do almost everything for them, including bathing them and taking them to toilet," says Kalunde.
Five children
Even worse is the fact that some of those affected have children. Magdalene has five children, Annastacia has three, Margaret has two and Jacinta has one. Dr Lugogo Athman, from Makueni County Referral Hospital, described the disease as acute Guillain-Barre Syndrome (GBS) that is autoimmune in nature. "The patient's immune system attacks nerves. It is a rare condition though, but the paralysis is rapid for those affected," he said. "The disease is not hereditary neither is it contagious? It is likely the family is exposed to the same triggers which can be bacterial or viral," said Dr Athman.