Home
/
Health & Science
Those succulent tomatoes and vegetables may mess your feast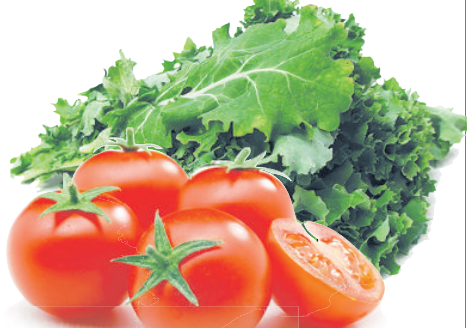 Food experts are warning Kenyans to be careful with vegetables especially tomatoes and sukuma wiki this festive season.
Whether purchased from kiosks, big open markets or modern supermarkets, they say most vegetables could make you sick.
The warning is based on two recent safety studies of tomatoes, kales (sukumawiki), amaranth and mangoes in Nairobi, Thika, Nakuru and Machakos.
Laboratory analysis confirmed most of the vegetables are tainted with either disease-causing germs, pesticide residues, heavy metals or excess nitrates.
The University of Nairobi researchers however say despite this and other numerous reports on food contamination, regulators have failed to protect consumers.
Consequently, the experts want Kenyans to take the matter in their own hands to minimise harm to themselves and their families.
With good food preparation by families and hotels, one of the studies led by Dr Catherine Kunyanga says can significantly reduce the risks of poisoning.
For example, while most tomatoes were confirmed to have high pesticide residues, this can be reduced to a minimum with simple household measures.
Cooking methods such as soaking, washing, peeling and blanching, the experts say can reduce pesticide residues to a minimum or at least to safe levels.
The team had assessed the safety of tomatoes, kales amaranth and mangoes sold in Nairobi, Thika, Nakuru and Machakos.
The study published last month in the Journal of Food Science and Quality Management had tested the foods for germs, pesticide residues, heavy metals and nitrates.
Pesticide residues
The assessment shows high presence of pesticide residues in all the vegetables. "Majority of the residues were found in tomatoes followed by kales, amaranth and lastly mangos."
Residues from six commonly used pesticides: Dimethoate, Bifenthrin. Metribuzin, Cyromazine Metalaxyl and Pyrimethamil were above the allowable limits especially in tomatoes and kales.
This, the researchers say is worrying because tomatoes and kales are among the most consumed vegetables in Kenya.
"It is especially of great concern because most people will eat raw tomatoes without washing as either whole fruits or salads on a daily basis," says the study.
In June, the Kenya Plant Health Inspectorate Service (KEPHIS), a body mandated to ensure food safety in Kenya owned that there is a huge problem.
During a scientific conference, Peter Kamuti of KEPHIS said some kale consumers are exposed to pesticide residues 71 times over daily acceptable levels.
Residues from the pesticide chlorpyrifos, known to affect the human nervous system, he said was two times over the acceptable daily intake in tomatoes.
However, Mr Kamuti has told Kenyans to take heart. "It has been demonstrated that cooking reduces exposure by an average of 90 per cent."
Apart from pesticide residues, the University of Nairobi researchers found the vegetables dangerously contaminated with disease-causing germs.
Among the germs analysed, Salmonella was detected mainly in tomato, mango, kale and amaranth leaves collected in open air markets in Nairobi.
The second study led by John H Nguetti of the University of Nairobi had assessed the contamination of tomatoes in Nairobi with E. coli and Salmonella germs.
The study found 94 per cent of tomatoes in Nairobi contaminated with E. coli and a third tainted with salmonella in rainy seasons.
Salmonella bacteria cause salmonellosis, the most common food poisoning presenting as diarrhoea, fever, chills and abdominal pain.
Escherichia coli or E. coli will cause severe abdominal cramps, bloody diarrhoea and vomiting but can also lead to pneumonia, urinary tract infections or breathing problems.
Most contaminated in the Nairobi study were tomatoes sold in Githurai, Kangemi and Wakulima open air markets, in that order.
"Githurai appears as the most contaminated site at 40 per cent followed by Kangemi 30 per cent, and Wakulima 20 per cent," says the report.
Kales sold in Nairobi, the larger study found to have the highest concentration of nitrates, more than twice the allowable levels.
The high levels of nitrates in Nairobi's kales are attributed to overuse of nitrogen fertilisers to increase yields.
The authors want kale farmers in Nairobi to balance between increased yield and the risk of excessive nitrates, a potential health risk.
The researchers however say nitrates can be reduced while cooking vegetables if the cooking water is discarded.
On a positive note, the studies say while they found traces of the heavy metals lead and cadmium especially in kales and amaranth, these were within the allowable safe limits.
The authors report blatant lack of compliance to food safety standards and hygienic practices, dangerously exposing consumers to health risks.
www.rocketscience.co.ke
Related Topics