Home
/
Health & Science
Juja MP Francis Waititu battling cancer and determined to win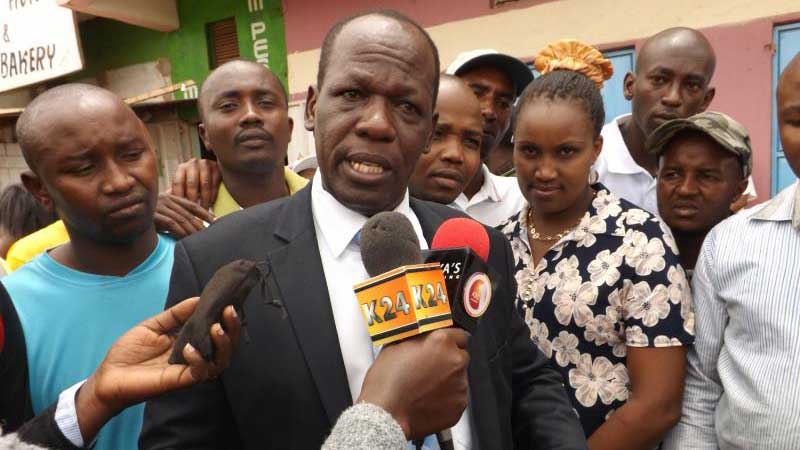 It begun with a death in the family, then a challenge to go for a medical check-up, and then the bombshell.
When he lost his sister to cancer in 2016, Juja MP Francis Munyua Waititu was devastated.
Mr Waititu, popularly known as 'Wakapee', was close to his sister and her death hit him hard.
Just months earlier, Cecelia Wambui, 60, had been diagnosed with stage four liver cancer.
In the course of her burial preparations, the MP urged his mother to go and get tested for the disease.
His mother agreed, and to everyone's surprise, she was diagnosed with stage two brain cancer.
Luckily, after 10 months of treatment she was declared cancer-free.
In the course of her treatment, she told her son to get tested. He took up the challenge with a positive mind. He was, after all, in good health and had not shown any signs of illness.
Then came the shocking diagnosis. "I was diagnosed with stage two brain cancer," said the MP.
In September 2017, Waititu resolved to fight the disease. Then followed weeks of intensive treatment.
Besides his family worrying about his health, Waititu also had to stay away from work for weeks on end, undergoing treatment in India. Upon his return he was also unable to serve his constituents as he would have liked after doctors advised him not to take on a heavy workload.
"I resolved that I was not going to let the disease put me down. I had to fight and God gave me strength and courage," he said.
The father of four stayed in India for seven weeks and returned home in March this year after spending Sh8 million. He said at least Sh1.8 million went to housing alone.
During his stay in India, the MP said he interacted with other politicians, senior Government officials and well-known businessmen being treated for cancer.
The lawmaker said many public figures were suffering from the disease and could not seek treatment in Kenya, partly because of the stigma associated with it.
"It is no longer a secret that many people are suffering in silence from cancer. Nobody wants to talk about it because of the stigma," said the MP.
He added: "The situation is serious. We have for example about 63 MPs (from the National Assembly and the Senate) and thousands of other Kenyans suffering from cancer. We must get out and talk about it boldly," he said.
He further said dozens of Kenyans taken to India for treatment, and their caregivers, sleep in the streets after running out of money.
"Kenyans seeking cancer treatment in India are suffering. They cannot find anywhere to lay down heads and end up sleeping in trenches because they cannot afford renting the expensive houses there."
The legislator and the burden of cancer was enormous, and "the country can no longer afford to bury its head in the sand".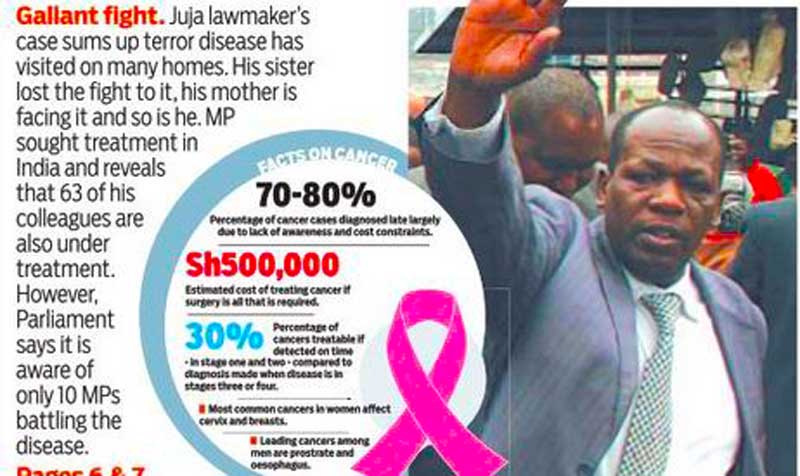 Early diagnosis
Waititu said if detected early, cancer was easier and cheaper to treat. The MP, who is now cancer-free, credits his successful treatment to early diagnosis, his family and the Kenyatta family's support. He worked for the Kenyattas before he joined Parliament
And in a bid to tame the killer, the MP is spearheading plans to build a cancer centre in Juja for early screening and treatment.
A local businessman has donated 50 acres near Mang'u High School for the purpose. The MP said President Uhuru Kenyatta had okayed the plan.
The centre would be a partnership between the national government, the Kiambu County government, doctors from India and local business people.
Irene Wangui, a resident of Kiambu, said she was encouraged by the way the MP battled the disease. "He has shown us how to be strong and courageous even when faced with serious challenges. People now know that cancer is not a death sentence," she said.
Waititu joins the list of leaders like Kisumu Governor Anyang' Nyong'o and Nominated Senator Beth Mugo who have gone public about their fight with the disease.
Prof Nyong'o was diagnosed with prostate cancer in 2010 while serving as minister for Medical Services. He was treated in the US and is now cancer-free.
Mrs Mugo, a former Health minister, narrated to a meeting of first ladies about three years ago how she tried to hide her diagnosis from the media. She was diagnosed with breast cancer in 2011 during a routine medical check-up. She was also treated and declared cancer-free.
Enormous burden
Two years ago she launched the Beth Mugo Cancer Foundation to mobilise support for access to breast, cervical and prostate cancer treatment.
National Assembly Health Committee Chairperson Sabina Chege yesterday told The Standard that the burden of treating cancer was enormous and urged the country to focus on prevention.
However, she disputed Waititu's figures on the number of MPs suffering from the disease.
"It is true there are members battling the disease at various stages, but the number is less than one being cited. They could be about 10," she said.
Laikipia Woman Representative Catherine Waruguru said she had prepared a Bill that seeks to have cancer declared a national disaster.
Her motion on the subject received the backing of a majority of MPs.
National Assembly Speaker Justin Muturi said cancer has hit Parliament hard, with the Parliamentary Service Commission (PSC), which he chairs, having to step in to help MPs pay huge bills for their treatment outside the country.
Muturi said at any given time there are a number of MPs or even their spouses on treatment abroad, prompting PSC to assist members when they exhausted their medical covers.
"We are worried whenever members go out of the country because the cost is enormous and the numbers of those seeking treatment for cancer is ever rising," he said.
Related Topics