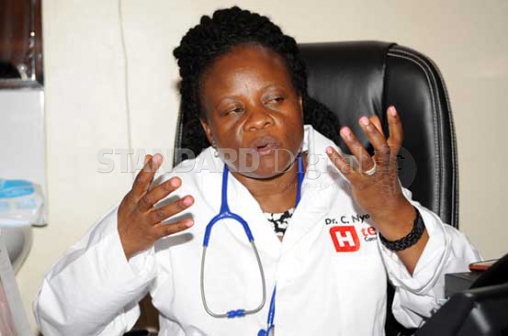 The doctors' strike entered day 40 this week, with union officials being handed down a one-month suspended jail sentence on Thursday if they do not call it off in the next two weeks. The Employment and Labour Relations Court had issued arrest warrants against officials of the Kenya Medical Practitioners and Dentists Union (KMPDU) and found them in contempt, after they failed to call off the strike as ordered by Justice Hellen Wasilwa. The union rejected a 40 per cent salary increase offer on Wednesday, which would see minimum salaries increase to Sh196,989 up from the current Sh140,244. But the doctors say the offer failed to take into account some core demands of their 2013 agreement with the government, which include the need to better equip hospitals, guarantee better working conditions, and address under-staffing of medical professionals in public hospitals. You might imagine that doctors are already high-income earners, a privileged group callously subjecting poor Kenyans to needless suffering. But that is not the whole story. The doctors' demands must be seen in the broader perspective of Kenya's labour market, and what they tell us about how we have structured our society, and what we value in people. You would find these in the annual Statistical Abstract published by the Kenya National Bureau of Statistics. It is a dry, dense, tedious 250+page document that can overwhelm even the most ardent data enthusiast. But every once in a while, it can drop some gems.
Monthly pay
For example, you probably didn't know that just 71,800 Kenyans – of the 2.47 million workers who receive a salary every month – earn more than Sh100,000 per month, the data shows. That translates to just 3 per cent of wage earners. But consider the fact that the informal sector dominates Kenya's working landscape. Those 2.47 million salary earners represent just 16.3 per cent of the total workforce – the rest are in some form of informal employment. In other words, if the informal sector is factored in, a mere 0.47 per cent of working Kenyans take home more than Sh100,000 per month, if we take that to be the threshold of "high-income". About half (51 per cent) of the country's salaried earn something between Sh30,000 and Sh100,000; another fifth (20 per cent) are in the much narrower band between Sh25,000 and Sh30,000. Put it this way – if you put together everyone in Kenya who has the privilege of a six-figure (in Kenyan shillings) salary, you wouldn't fill up Old Trafford, Manchester United's home stadium. That is a minority of astonishing proportions, for a country that speaks of being an upper middle-income country by 2030, especially if we are to guarantee decent livelihoods for all. It is easy to get there on paper – the one governments love the most is discovering a nice, lucrative natural resource like oil or diamonds that will keep coffers bulging and patronage networks happy. But jobs are not just about income, they are about dignity and making the most of a person's potential. It is not enough to have a wealthy country going by GDP and per-capita income figures. It has to translate into tangible dignity for the human person, which in adult life is inextricably linked to one's ability to be independent and have some form of social mobility. Kenya's informal sector jobs, with their inherent vulnerability and depressingly low demands for cognitive skills, are not the way to get there, particularly for a labour market that is the most educated and ambitious it has ever been. Still, here's where it gets interesting – especially if you are looking for a guest of honour for your next harambee, because that is the only form of social security accessible to most Kenyans if the public health system is not overhauled. Who are those lucky 71,800 people? What do we know about them? And where can you find them? (This excludes all the other non-salaried candidates for your harambee, such as "prominent businessmen" and "entrepreneurs" of all shades and sizes). The data shows that about two-thirds (63 per cent) of that salary group are men, and a third (37 per cent) are women. In fact, you could fit all of Kenya's "high-flying" women in Nyayo National Stadium and have nearly 5,000 seats left to spare.
Gender dimension
Even so, there doesn't seem to be a wage gap that is explicitly related to gender alone. In other words, women are not penalised specifically for their gender by explicitly being paid lower salaries, or being concentrated in lower income salary groups – that 63 per cent-to-37 per cent gender gap is the same all through the income bands. The data suggests that if a woman gets a job, she will be paid what people are paid at that level and in that sector. But there will just be fewer women in the room. Breaking it down by sector reveals even more intriguing insights. If you could take a representative sample of 100 of these 'high-income earning' Kenyans, 22 of them will be working in the education sector, for example school principals or university lecturers. Sixteen of them will be in banking, finance or insurance, and 14 of them will be in some form of wholesale or retail trade. Eight would be working in public administration and defence, and a similar number each in agriculture (8) and manufacturing (8). Just 5 of them will be doctors or health workers, and only 2 would be a technical or scientific field such as research. In other words, the richest Kenyans (at least those whose means of accessing wealth is through a monthly salary) are likely to be teachers, bankers or salespeople. But teachers are a special case, because the teaching profession is so large in this country, as a proportion of wage earners. Over half a million (507,700) people are employed in the education sector, the data shows. Even though they make up the highest percentage of Kenya's 'high-income' earners, these lucky ones are a very small proportion (3 per cent) of the teaching force itself. The same goes for those in wholesale and retail trade. It is already a huge sector, with 232,000 earning their salaries from trade (not including the millions in some form of informal self-employment such as hawking and market selling). Although traders make up 14 per cent of high-income wage earners, these few represent only 4 per cent of those employed in the sector as a whole. What is more comparable is those in banking, finance and insurance. They make up 15 per cent of the country's salaried, and 16 per cent of the high-income earners. So if you are looking for that guest of honour, you would work smarter calling up any banker in your phonebook, unlike the many teachers and traders you would have to sift through to find one with the heavy pockets that can come through for you. It's telling that the productive sectors – such as agriculture and manufacturing- are in the minority. But such is the nature of capitalism, where there is more money to be made in intermediary services than in actual production. But there is a silver lining here. This dismally small 'rich' group represents huge room for growth. Speaking of sub-Saharan Africa more broadly, if incomes in the region were to double, that growth in consumer spending could lift the world out of its current economic malaise. Most African homes, for example, don't have refrigerators. Now imagine a boom that makes 100 million homes order fridges – "the world would probably have to stop and make fridges for Africa only," in the words of one analyst. In other words, what the world needs right now is for Africa to keep rising. It represents a unique opportunity for growth found nowhere else in the world today.
A million babies
What's working in Kenya's favour in the next few years is its demographics. An example: There are about just under a million babies born every year in the country. By 2030, we are looking at more than 15 million babies having been born. If the families earning more than Sh100,000 double or triple in the next few years, one industry will be laughing all the way to the bank - diaper manufacturers. Diapers, along with deodorant and other basic beauty products are some of the goods that people quickly begin buying, just as soon as they get even a little extra income. In marketer-speak, these items enter the "hot-zone" fairly early – that's the place where people have some money to spend, and the product's price is favourable for their pocket. Assuming a child transitions to adult toilet habits at age 2, the average baby will use 4,000 diapers from birth to toddlerhood. And with a single diaper retailing at Sh25 in the Kenyan market for example, it means that diaper retailers can expect to make at least Sh100,000 per baby. Other consumer goods are expected to post the same roaring sales, on the basis of demographic growth alone, everything from mobile handsets and gadgets to refrigerators, washing machines and cars, and most of all, food. But nothing wipes out a family's fortunes in Kenya faster than a health emergency, even for 'high-income' households. The doctors have been adamant that they are not only agitating for better salaries, but they are fighting for a better healthcare system for all Kenyans. In a way, nothing would preserve and cement Kenya's dreams of upper-middle income status more than this. Otherwise, it just takes one diagnosis to leave a previously comfortable family struggling to make ends meet – not to mention those that don't even have the luxury of a dream.
—Christine Mungai is a writer, journalist and executive editor of Africa data visualiser and explainer site, Africapedia.com