Home
/
Health & Science
Why remove my womb, woman asks hospital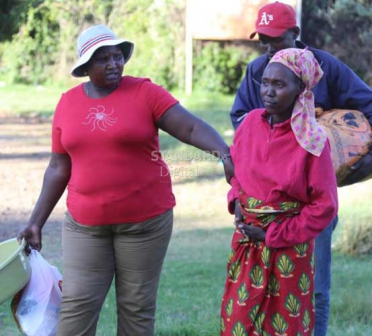 The family of a woman who lost her uterus under unclear circumstances in a hospital in Subukia, Nakuru County is seeking answers.
Caroline Chelagat, a mother of two, was rushed to Nyahururu County Hospital on June 23 to deliver and underwent a cesarean section. She delivered a bouncing baby girl.
From then on, things took a new twist. According to Chelangat, after delivery, a doctor informed her that a foreign object had been left inside her womb and therefore she had to undergo another operation. That was done.
But two weeks after she was discharged, she developed complications and was rushed back to the same hospital. Doctors recommended a third surgery to remove her uterus.
"The doctor only gave me a document to sign before I was wheeled back to the theatre for another surgery. I was never told what it was until I left the hospital two weeks later,'' she said.
Sought for comment, the hospital's administrator, Dr Roba Harake described the subject as sensitive and referred the matter to medical superintendent Dr Lawrence Kamande. However, Dr Harake declined an interview.
New twist
"I left the hospital and I am not coming back,'' said the medical superintendent on phone.
The family suffered another blow when the newborn died three weeks later, while its mother was admitted to hospital.
"What will I tell her now that she has lost her baby and uterus? Those responsible must be held accountable for their acts,'' said Joram Gakuo, Chelagat's husband.
According to a discharge summary, the woman went through the fourth surgery on July 25, 2016 to extract decomposed sections of the womb.
In an interesting twist, efforts by The Standard on Sunday to seek answers prompted the hospital administration to discharge the woman in a huff despite pending medical bills of Sh33,000. She had been detained at the hospital for three weeks.
"I pleaded and told them how I trekked for more than 30km daily to see her," Gakuo said.
He said his pleas to the hospital management to allow his wife go home after paying Sh30,000 from the original Sh63, 000 was declined.
"My father offered his land title deed to secure her release but we were chased away. It is surprising that the same people are now discharging her yet there is a pending bill,'' Gakuo said.
The woman who is yet to heal from the series of operations is in physical, emotional and psychological pain following the tragic turn of events and just want one thing done, justice.
Related Topics