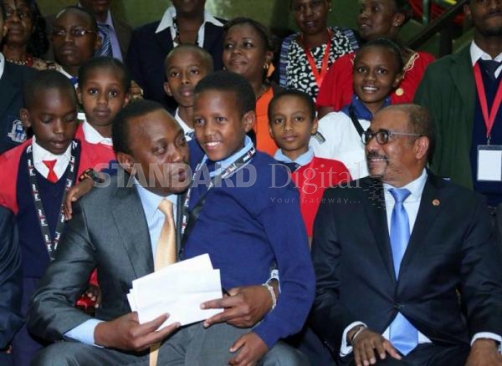 He stood bravely, unfazed by the world leaders facing him at the United Nations conference on Aids in New York.
Then in a clear penetrating voice, Elijah Zachary Lamaiyan Simel, 12, challenged these presidents to address the stigma that children living with HIV face.
"We must make sure that all children living with HIV always have drugs. We need to stop stigma," Elijah told an attentive plenary that gave him a standing ovation.
Later in an online interview with The Standard on Saturday from New York, Elijah recalled the moment he faced world leaders.
"I was excited that all presidents listened to me as I spoke on behalf of children living with HIV like myself," said the pupil.
Although he is still a child, Elijah is already thinking about the future.
"My dream is that by the time I am 27, there will be no more stigma, and I will be pursuing my doctorate."
Elijah was as charismatic as South African activist Nkosi Johnson who bravely advocated for non-discriminative association with HIV positive children before he succumbed to Aids in 2001 at the age of 12.
Like Nkosi, the Kenyan advances the global paediatric and adolescent HIV agenda.
Stigma and discrimination
"I want to end adolescent Aids and stop the stigma forever. I wish that one day all HIV positive children will live well and take their medicine," said Elijah. "When the stigma stops, they will not be afraid to take their medication so they will not die," he observed.
Elijah did not take over the advocacy mantle overnight.
Last year at the World Aids Day celebrations in Machakos, he provide great insight into the life of a child born and living with HIV. And in September, he was at the launch of a project to end adolescent Aids presided over by President Uhuru Kenyatta at what was called the Kenya HIV Situation Room
Elijah appreciates the benefits of knowing one's condition and thanks his mother Simaloi for disclosing his condition to him.
"Now I understand well what I need to do to protect the soldiers in my body from getting overthrown by HIV in this government I call 'my body'. I pay close attention to my eating, sleeping, reading and playing," he said in a speech that drew the admiration of his captive audience
Elijah has not been spared of stigma and discrimination and recalls an incident that involved his friend during play.
"When we quarrelled, he called me a virus in front of other children. It hurt me," he said. During such moments, Elijah looks up to his mother for assurance and when he cools down, uses the opportunity to talk to his peers about HIV.
"My role model is my mum because I have seen her speak on behalf of HIV positive people with so much love and care," says the boarding school pupil.
His mother also draws inspiration from her son, especially as she watches him talk about HIV to other adolescents.
"He always asks questions, wants to know and understand how things work, why they work that way," says Simaloi who also has a HIV-free two-year-old son from a discordant relationship.
She says Elijah's outspoken personality made it easier for her to tell him about his HIV status.
"I disclosed his status to him when he was just six years, old enough to read," Simaloi said.
Over time, she has used learning aids such as comics to help him understand how to stay healthy.
"My curious son wanted to read and ask questions about this green bug he saw in a comic book that was making the young boy weak," she added.
"And that was when I broke it down as simply as I could, then told him that I had that virus called HIV and that children also get it from their mothers if they breastfeed."
"So mum, do I also have this HIV?'" she remembers Elijah's response
And when she replied in the affirmative, she remembers the warm embrace from the then six-year-old reassuring her of his steadfast love despite the new knowledge.
"He asked me not to worry because God was watching over us," she said adding that this marked the beginning of a world of questions on HIV that she gladly responded to.
Elijah's curiosity prompted her to delve into further research to quench the lad's thirst about the condition.
Simaloi has advice for parents in a similar predicament.
Relevant information
"It is best to disclose the child's condition as early as possible using child-friendly language. One should always be honest and open with the child or children," she added. The child then begins to see the parent as someone to be trusted, said Simaloi who relies on local and international health organisations to provide her with relevant information.
"Organisations like Unicef, National Aids Control Council and UNFPA are critical in amplifying our concerns and assist us in our advocacy efforts," she said.
Simaloi has great hopes for her son. "My dream for Elijah is that he achieves his goals, lives his life honestly," she said.
Elijah seems well prepared for the life ahead and says: "My work is to advocate for children and as long as the people out there are listening to what I have to say then I will continue until the day the world understands that it was never our wish to be born with HIV. We are all children of God with equal rights."
Elijah's words echo those made by Nkosi Johnson during the 2011 HIV/Aids conference in Durban, South Africa.
"Care for us and accept us — we are all human beings. We are normal. We have hands. We have feet. We can walk, we can talk, we have needs just like everyone else — don't be afraid of us — we are all the same."