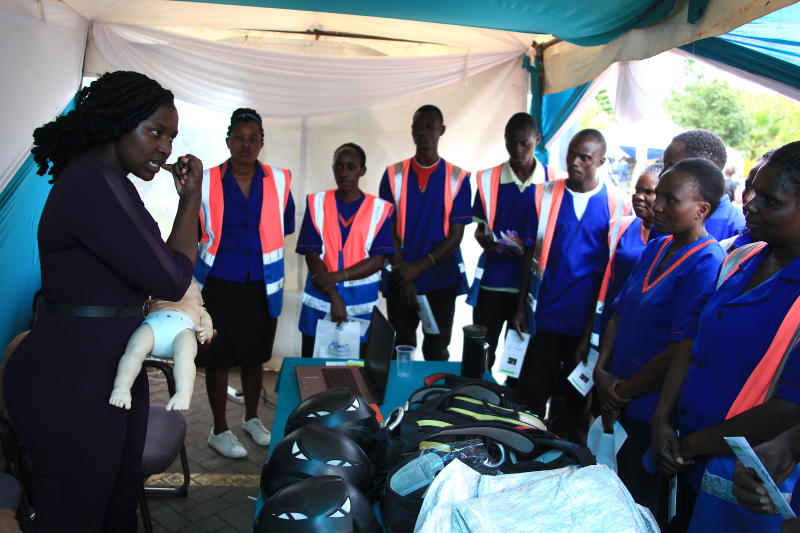 Caleb Otieno died after he was trapped inside a boiler at a steel manufacturing factory in Thika, Kiambu County.
It is believed the 34-year-old fell into the boiler after the gloves he was wearing got stuck in one of the metals he was pushing into the boiler.
His death is a reminder that this year's World Day for Safety and Health at Work is marked by the backdrop of the constant need to control elements that can cause harm, accidents and other negative outcomes at work.
Indeed, according to the Occupational Safety and Health Administration (OSHA), the main goal of safety and health programs is to prevent workplace injuries, illnesses, and deaths besides shielding families from suffering and financial hardship when they happen.
The Standard Group, for instance, dedicated this week to educating its staff about workplace safety at its headquarters on Mombasa Road alongside its partners; AAR, Flammatech, Diamond Defense Driving Academy and Serene Wellness.
Standard Group headquarters has demarcated footpaths, zebra crossing and reverse parking signs and Head of OSHA, Benjamin Masai, explains that the demarcated footpaths have reduced the number of minor accidents.
"When pedestrians and vehicles use the same paths, accidents are prone to happen," says Masai. "That is why we decided to separate pedestrians and vehicles, there are road bumps and the speed limit should be 10km/hr" to ensure the staff are safe in a healthy working environment/
"When the employee is unhealthy then the business will also be unhealthy," says Masai adding that OSHA began in 2017 considering that the Occupational Safety and Health Act of 2007 requires every company to have a safety department.
"Our responsibility is to make sure you go back home in one piece the way you came," he says adding that Standard Group has safety officers who check for areas to improve besides quick response to accidents.
Masai added that the Safety Week also sees staffers being encouraged to bring their nannies and house helps for first aid training in case of domestic emergencies.
Dr Susan Mburu from AAR HealthCare Kenya argues that most employees suffer from mental ill-health which is "a big issue and in AAR we are doing mental health assessments. Then we have diabetes, hypertension, and obesity. That is why during this Safety Week Awareness we have come with our full team to help assess the Standard group staff give healthy advice."
Fire safety is also paramount and Richard Nyaga from Flammatech which designs, installs and maintains new and existing fire equipment says he assesses and recommends the best option before installing them in big organisations.
"In data centres and studios we recommend equipment that does not require human intervention, there are detectors that release the gases or water depending on the level of heat and smoke," he explains.
Other forms of safety at workplaces including First Aid and Jeria Moraa from Kayleys Consulting emphasised the importance of preventing bleeding by tying the injured area before transporting the patient to the hospital.
Related Topics