Home
/
Health & Science
23-year-old woman gives birth to conjoined twins
Health & ScienceBy Rosa Agutu | Thu,Dec 02 2021 14:27:43 UTC | 2 min read
A woman gave birth to conjoined twin girls at Lenmek Hospital, Kisii County. Lilian Moraa, 23, delivered Tuesday through a C-Section after getting to the private facility in Sameta Sub County on a motorbike.
Moraa said she had a smooth pregnancy and was not aware that she was carrying twins. "I knew I was having twins when I got to the hospital, I was happy but now the twins are not okay," said Moraa.
Her husband, Vincent Haron Magati, 27, was also in shock that the twins, were conjoined as pre-natal clinics at Kenyerere dispensary hardly indicated his daughters were co-joined at the chest to the abdominal area.
"When the scan was done she delivered twin girls, but they need to be separated since they are conjoined. I am hopeful that they all will be well and I will hold my babies," said Magati adding that they have since been transferred to Kenyatta National Hospital for further observation.
Moraa who was moved to the County Hospital in an ambulance was weak and hardly audible.
Conjoined twins are born with their bodies physically connected and occurrence is one in every 50,000 to 60,000 births. Approximately 70 per cent of conjoined twins are female and most are stillborn.
The surgery that is expected to take place at Kenyatta National Hospital, will not be the first one as on November 2, 2016, conjoined twins, Favour and Blessing, were separated at the Referral facility in a surgery that took more than 50 medical experts and 23 hours. The groundbreaking surgery of the twins, who were conjoined at the spine, was the first in Kenya.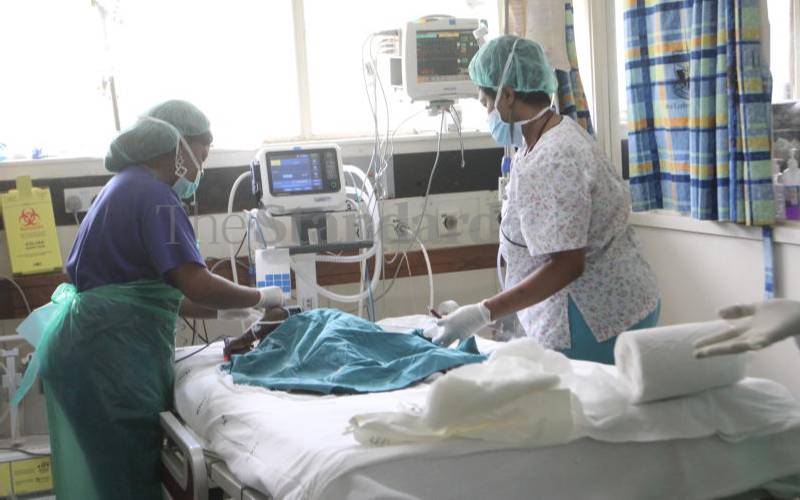 At a glance:
-1 in 50,000, the approximate rate of births resulting in conjoined twins.
-70 per cent, the Prevalence of conjoined twins who are female with most being stillborn.
-November 2, 2016, when conjoined twins, Favour and Blessing, were separated at Kenya National Hospital, a first in the country.
Related Topics