Home
/
Health & Science
Vaccination not a silver bullet but vital in fighting Covid-19 infection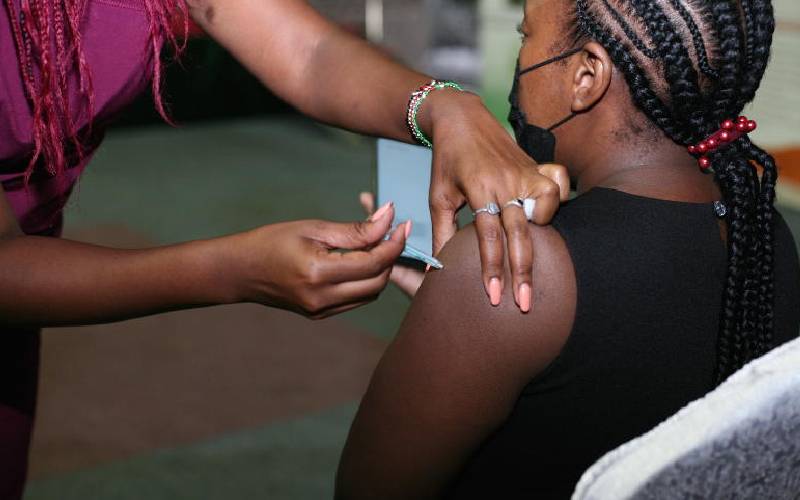 The high number of hospitalisation among unvaccinated adults has forced the Ministry of Health to revise its jab campaign to allow more Kenyans to be vaccinated.
Data from Kiambu and Nakuru counties indicate that critical Covid-19 admissions at the ICU are of unvaccinated people.
Dr Mwita Riro, a consultant physician at Kiambu Level Five Hospital said "most patients admitted have not taken the jab, leaving them in a critical state, after contracting the disease."
The same is the case at the Rift Valley Provincial General Hospital in Nakuru, where out of 110 admissions, 106 were unvaccinated as of August 1 to 25th, this year.
Of the four other patients who were admitted, two received the first dose and two were fully vaccinated.
Even with revamped vaccination measures, Acting Health Director-General, Dr Patrick Amoth noted that vaccination is not a silver bullet.
"It is however critical, in addition to public health measures. It's one of the key, proven elements in the fight against the virus and prevents severe disease, hospitalisation and death," he said.
Dr Amoth added that the vaccinated respond better to treatment and since the doses are not available to everyone, the unvaccinated must adhere to public health measures to prevent infections.
Prof Matilu Mwau, a virologist, said that though vaccination is not the main solution in containing the virus, it is key in creating herd immunity and reducing hospital admissions and deaths.
Prof Mwau, also the deputy director at Kenya Medical Research Institute (Kemri), said: "We are experiencing Covid-19 peaks, but vaccines are reasonably protective. However, in the future, we will need boosts to increase their efficiency due to the mutation of the virus."
Prof Mwau explained that while other diseases like yellow fever only need a single jab, with coronavirus, jabs are about stopping transmissions, hospitalisations and deaths.
Kenya has received more than five million doses of Oxford-AstraZeneca, Pfizer, Moderna and Johnson & Johnson Covid-19 vaccines.
However, according to the Ministry of Health, the proportion of adults fully vaccinated stands at 3.02 per cent.
To boost uptake, the ministry has expanded vaccination posts and outreaches, urging all eligible Kenyans to go for the jab.
Studies show that vaccines are not only effective against infections but reduce fatalities too.
A study conducted in Los Angeles, USA in May this year and published by the Centers for Disease Prevention and Control, shows that the unvaccinated are five times more likely to be infected with Covid-19 and over 29 times more likely to be hospitalised.
Another report by Public Health England, indicates that vaccine effectiveness ranges from 55 to 70 per cent after the first dose and "...individuals who become infected despite vaccination are also at reduced risk of transmitting because of reduced duration or level of viral shedding."
Public Health England added that Pfizer-BioNTech and Oxford-AstraZeneca are 70 to 85 per cent effective in prevention after the second dose.
The rate of hospitalisation and death within 28 days or within 60 days of a positive Covid-19 test increases with age and is substantially greater in unvaccinated individuals compared to fully vaccinated ones.
Related Topics