Home
/
Health & Science
Over 350,000 Covid-19 vaccines from Denmark land at JKIA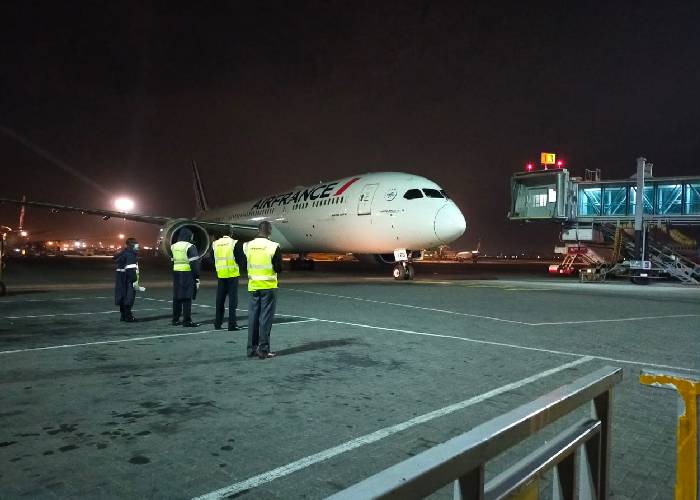 At least 358,700 doses of the AstraZeneca vaccine on Monday night arrived at Jomo Kenyatta International Airport (JKIA), in Nairobi from Denmark.
The Covid-19 vaccines were donated by the Government of Denmark and transported by UNICEF.
Speaking at JKIA when she led senior Government officials, Danish Ambassador to Kenya Ole Thonke and UNICEF Representative Maniza Zaman, Health CAS Dr Mercy Mwangangi praised the Danish government for the support, adding that the vaccines boost the ministry's vaccination programme.
"The Government is grateful to Denmark for this generous donation, which will support the further roll-out of our national Covid-19 vaccination programme," Mwangangi said.
Mwangangi said the vaccines have come when the country was running out of vaccines after the second dose rollout.
She said the new doses will be taken to various facilities and so that those who had taken the first dose can take the second dose.
"The vaccines will ensure our health workers and other persons playing a critical role in our country are protected, and that hospitals and health centres across Kenya will continue providing the much-needed care to people affected by Covid-19," she added.
The ministry said the vaccines have a life span of one month and will be safe until the end of July.
The ministry also said the country will receive 10 million Johnson and Johnson vaccine to boost the vaccination programme.
Thonke urged the government to ensure the vaccines are used before their expiry in late July.
"It is with immense pleasure and joy to receive the vaccine from Denmark, we have worked very closely with the government to get these vaccines," he said.
He said it was not easy to transport vaccines, but they managed to bring the vaccines to Kenya through international solidarity.
"UNICEF is delighted to once again be supporting the Government of Kenya in procuring and transporting these vital Covid-19 vaccines These will undoubtedly save lives," said Zaman.
The rollout of the national vaccination campaign is being led by the Ministry of Health, with support from GAVI, WHO, UNICEF and other partners.
The Ministry of Health recently announced the start of second doses for health workers, teachers, other essential workers and people aged over 58.
As well as procuring and transporting vaccines, UNICEF is providing support to the Ministry of Health in the areas of planning, cold chain capacity, risk communication and community engagement.
Related Topics