Home
/
Health & Science
Kagwe: 378,000 Kenyans have received Covid jab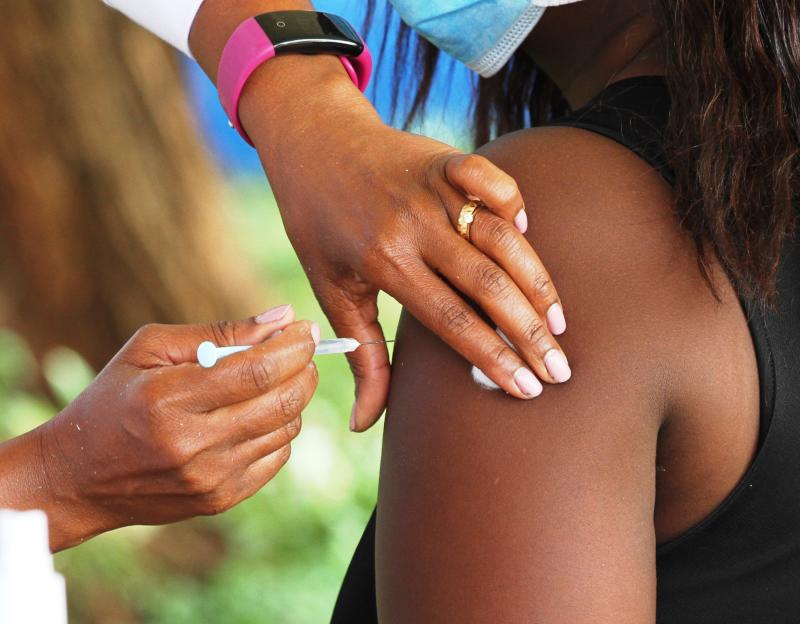 At least 378,000 Kenyans have received Covid-19 vaccine thus far, Health Cabinet Secretary Mutahi Kagwe said on Thursday, April 8.
In a press statement, the minister said a bulk of the vaccine receivers are frontline healthcare workers, teachers, security personnel and journalists.
The CS also stated that a significant number of ordinary citizens have also received the jab.
Out of the 378,363 vaccinees, 104,726 (28 per cent) were frontline healthcare workers, Kagwe said.
Teachers who have so far received the vaccine are 52,420, whereas security officers who are immunised against Covid-19 are 30,821.
Members of the public, including persons aged 58 years and above, who enrolled for the Covid jab are 190,396.
All the 378,000-plus vaccinees received AstraZeneca.
In terms of gender distribution, more male persons (213,971) enrolled for the program compared to their female counterparts (164,392).
On the Covid-19 situation in the country, Kagwe said 1,698 more carriers were confirmed to be Covid-19 positive from a sample size of 11,352, representing a 14.9 per cent positivity rate.
Out of the new patients, 1,591 were Kenyans, whereas 107 were foreigners.
Male carriers accounted for 926 of the cases, compared to 722 infections registered among female patients.
A 100-year-old person was the oldest to have contracted the contagion in the last 24 hours, while a 17-day-old infant was the youngest patient to be confirmed Covid-19 positive.
Kenya has, up to now (April 8), tested 1.54 million samples for Covid-19.
The country lost another 16 people to the disease, pushing nationwide death toll to 2,292, Kagwe revealed.
Persons aged 60 years and above (1,089) accounted for more than half the number of fatalities recorded. Victims aged 40 to 49 years old accounted for the second-most affected group, with 322 deaths registered. Those in the 30-39 years old age bracket recorded 205 deaths.
The CS announced that 456 more people recovered from the disease, pushing the country's recovery cumulative figure to 97,650.
The ICU wings of different hospitals across the country have booked in 235 patients, Kagwe disclosed.
Related Topics