Home
/
Health & Science
Don't treat side effects of Covid jab, say experts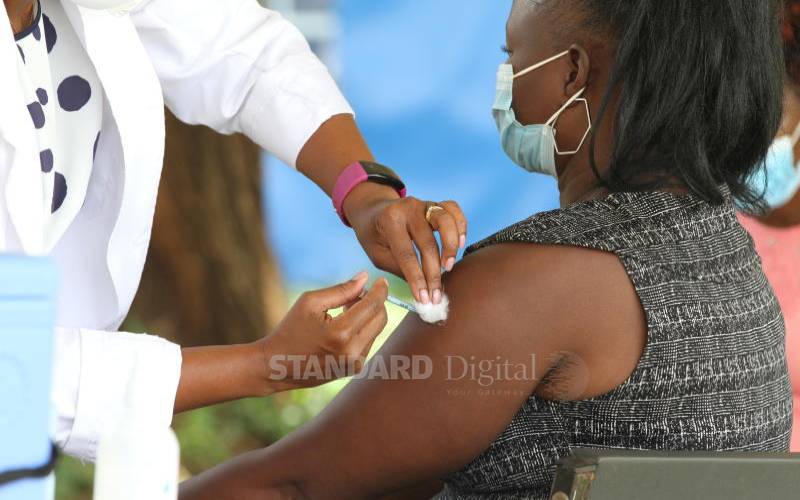 Kenyans who have been vaccinated against Covid-19 have reported mild to moderate side effects, four weeks into the countrywide vaccination exercise.
The side effects range from pain at the injection site, hunger, headache, fever and mild aches, but medics are warning people against trying any treatment as it might reduce the jab's efficacy.
Kenyans have reported using anti-inflammatory drugs and antihistamine to cope with the side effects.
However, Dr Geoffrey Kulabusia, an immunologist and lecturer at Egerton University, advises that the vaccinated brave the side effects unless they become severe.
"The vaccine is meant to elicit some response from the body. This may range from low grade fever, slight headache, general body malaise and reddening at the site of injection. It is only under severe reaction when one can seek medical attention," Dr Kulabusia.
He said haphazard use and self-prescription of drugs tend to reduce how the body responds, affecting the body's preparedness to fight the virus.
"The rate of production of antibodies greatly depends on how the body was affected by the weakened virus contained in the vaccine.
"If a drug is used to suppress the reactions, very few antibodies meant to guard the body are produced," said Kulabusia.
Dr Moses Masika, a virologist, said self-medication should always be avoided and not only in relation to Covid-19.
"If after vaccination one develops a condition they feel needs medication, they should have a doctor or clinician review them and make the prescription," he said.
Take a quick survey and help us improve our website
Take a survey
The Centres for Disease Control and Prevention (CDC) also advises that people consult their doctors first before self-medicating. It recommends home-made ways of relieving various forms of discomfort.
"To reduce pain and discomfort where you got the shot, apply a clean, cool, wet washcloth over the area, use or exercise your arm. To reduce discomfort from fever, drink plenty of fluids and dress light," says CDC.
Those who have so far received the first dose of the vaccine are expected to get the second dose after eight to 12 weeks.
Kulabusia said the production of antibodies after the first dose, also called the 'primer dose', is usually low and "the second dose is given because the antibodies keep diminishing.
"The second dose triggers a sustained production of antibodies but at times one may have to be given a third dose."
Some counties have already run out of their allocated doses and Kulabusia warns that failure to get the second dose leaves one at a high risk just as those who have not received the jab.
"The body will not have produced enough antibodies, which keep diminishing over time. Receiving half dose means you will be as much vulnerable as the person who has not received the first dose," he said.
"Administration of a second dose is supposed to be based on how much antibodies have been produced. However, our country currently lacks the technology to conduct such tests."
This comes at a time when vaccines other than the Oxford/AstraZeneca currently being offered for free in health facilities are finding their way into the market.
For those wondering whether they can receive a different second dose from the first one, Kulabusia says both doses should be of the same vaccine to ensure they develop the desired immunity against the virus.
Taking different vaccines, is thus not advisable as "they have different mechanisms which may not be compatible, hence effectiveness may not be realised."
The other major concern is that the virus has been mutating but Kulabusia says this should not be a cause for alarm.
"Mutation of a virus affects the effectiveness of a vaccine. We are, however, lucky that Covid-19 is a slow mutator."
Related Topics