Home
/
Health & Science
Doctors, clinical officers and lab technicians most receptive to jab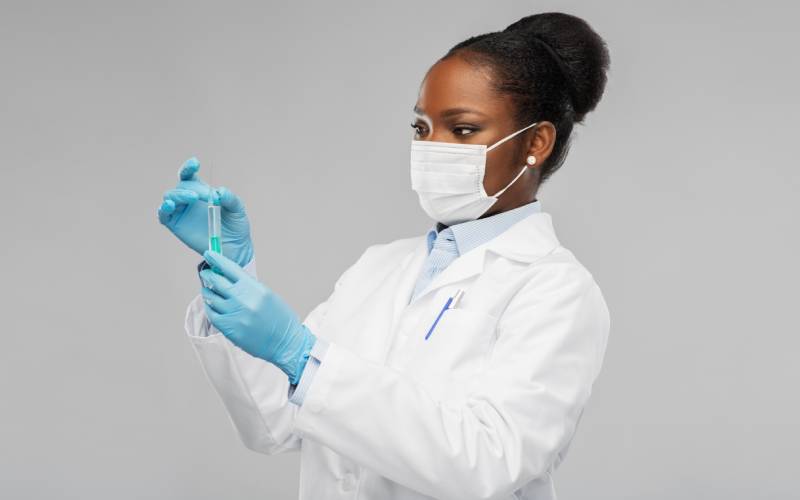 Nurses in Kenya still have low uptake of Covid-19 vaccine compared to other healthcare cadres, according to a recent research which found doctors the most receptive followed by clinical officers and lab technicians.
Their reasons ranged from fears of side effects, insufficient information and lack of trust in the government rollout plans on the jab.
The research, titled 'Acceptability of Covid-19 Vaccine among Healthcare Workers in Kenya', sought to find which cadre of medics would take the jab 'if it was free by the government.'
Doctors led by 76 per cent, followed by clinical officers at 72 per cent, lab technicians at 68 per cent while nurses came last at 64 per cent, reveals the finding led by Dr Moses Masika, a virologist from the University of Nairobi.
At least 14 per cent of those polled needed more information, whereas 11 per cent feared the side effects. Seven per cent had issues with the time it took to develop while six per cent raised issues of efficacy.
"A quarter had other concerns such as fear of the unknown, perceived low risk of infection, expectation of herd immunity and concerns why healthcare workers should be vaccinated first before politicians and other populations," added the report.
The study was conducted through a self-administered online questionnaire in January 2021 among 997 healthcare workers in Kenya to assess knowledge, preparedness and perception of risk for infection with Covid-19.
According to the Ministry of Health as of March 31, 2021, at least 161,771 people have been vaccinated in Kenya, 67,605 being healthcare workers. The numbers shot up after people above 58 years were included among the target priority group.
Dr Willis Akhwale, the chair of the Covid-19 Vaccine Development Taskforce, however, said according to the vaccination plan, in two years the government is expected to cover at least 30 per cent or 15 million people.
Kenya received a total of 1.02 million doses of Oxford/AstraZeneca vaccine in addition to 100,000 from the Indian Government.
According to a survey by the African Centre for Disease Control and Prevention (Africa CDC), 79 per cent of respondents in Africa would take a Covid-19 vaccine if it was deemed safe and effective.
The survey was conducted between August and December 2020, with 15,000 participants in 15 countries.
Related Topics