Home
/
Health & Science
Workers end three-month strike as 400 medics evicted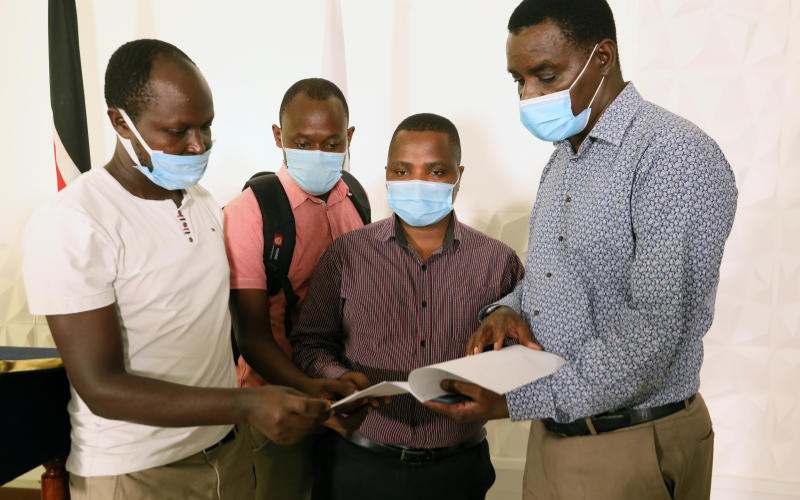 Mombasa County residents can now breathe a sigh of relief after health workers in four unions ended a three-month strike yesterday.
More than 1,000 members of the Kenya National Union of Nurses (Knun), Kenya Union of Clinical Officers (Kuco), Kenya National Union of Medical Laboratories Officers (KNUMLO) and Kenya Health Professional Society representing low cadre staff will resume work today.
The health workers downed tools on November 15, last year, paralysing services in public health facilities in the county.
Their demands
The were protesting lack of promotions, delayed salaries and failure to remit their statutory deductions.
Representatives of the four unions yesterday signed a return-to-work formula and directed their members to resume work immediately.
County Health Executive Godfrey Nato and County Secretary Joab Tumbo, who addressed journalists at governor Hassan Joho's boardroom, said they finally agreed on all the issues that sparked the strike.
"We have sorted all the contentious issues and normal health services will resume from tomorrow," said Dr Nato yesterday.
Tumbo described yesterday's deal as a breakthrough, adding that the county administration has already issued letters of promotion to the health workers.
He admitted the strike was a blow to the fight against Covid-19 pandemic but noted that "this is now water under the bridge."
Knun branch secretary Peter Maroko, whose union represents about 800 members, said the county government had agreed to release January salaries for his members in addition to addressing all the contentious issues.
Kuco branch secretary Franklin Makanga also said they had agreed to return to work after the deal yesterday.
Elsewhere, the process to evict more than 400 sacked health workers occupying government houses in Taita-Taveta County kicked off yesterday.
Knun branch officials said more than 60 members were evicted from the houses they have occupied for years for participating in the strike.
Health and Sanitation Chief Officer Philomen Kirote confirmed the affected health workers had been given up to February 5 to vacate the government houses.
Yesterday, Werugha MCA Jason Tuja, who is also a former majority leader, termed the eviction unfair.
"The workers should have been given a notice of three months to clear but the executive has decided to evict them," he said.
In Trans Nzoia, striking health workers stormed the county Assembly yesterday to petition MCAs to intervene over failed talks between them and the executive.
"For two months we haven't received our pay. The county government is adamant to address our concerns and we are here to seek your intervention," Willy Sifuna, the branch secretary of Knun, told County Clerk Ainea Indakwa.
The workers are demanding to be paid risk allowance.
Finance Execitive Boniface Wanyonyi said delayed disbursement of funds from the Treasury had caused financial crisis in the county.
He said the administration was in the process of reaching out the striking workers to agree on a return-to-work formula, a statement that the workers dismissed as public relations.
Related Topics