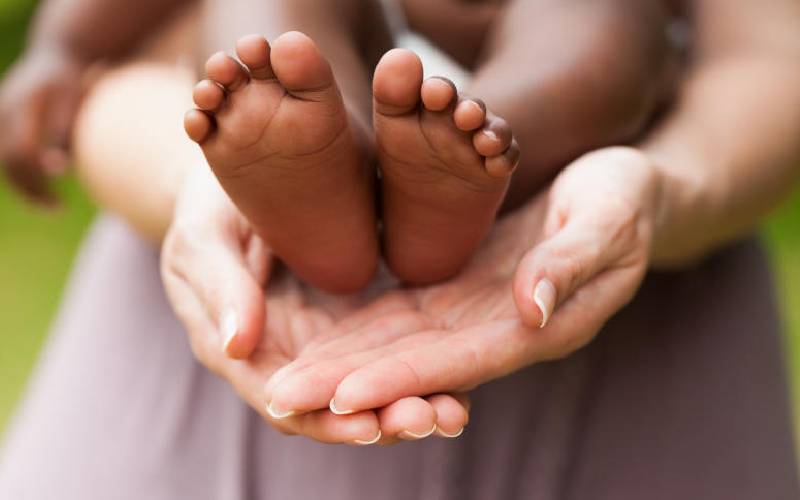 Adopting a child and learning that one was adopted has its own fair share of emotional and psychological challenges, which when not carefully handled can explode as it often does, into a thankless mess.
To tell or not to tell a child that he or she is an adoptee is another baggage often offloaded when the child is teased at school or told point-blank by baleful relatives.
Take Samuel Njoroge, now in his 40s. He was adopted at three but only learnt of the fact at 21. Despite having an absentee father, his late adoptive mother provided a great support system, but his childhood was plagued by doubts.
He recalls how "in primary school, kids made fun and called me names, they said I was bought. I didn't know how the information got to them but I am sure I must have been a topic of discussion on their dinner tables."
Being an only child was not easy either as "I always wondered why I am an only child. I was, however, able to build a wall around me."
Njoroge's life changed in 1986 when "someone came to school and told me she was my biological mother's sister. She came nine years later and told me my mother died during my birth. They put me up for adoption because they were poor."
His adoptive mother denied that he was adopted when he confronted her but admitted years later and "it was a painful moment for my mother and I. I broke down. She adopted me because she couldn't bear children. I was in college, so I understood," recalls Njoroge who tried retracing his biological parents at his former primary school in vain as "they told me they had no records at the children's home I was adopted from."
Njoroge, who runs New Creation, a youth mentorship programme, is sometimes torn between two worlds "knowing you have a family you have never known and being constantly in fear of what I would discuss if I met them."
Ant though in over 40 years he has charted his own path, and giving his life to Christ has also helped, "I always feel like there is this chapter of my life I am not done with, even as I identify with the family of my mother who raised me." He adds that "sometimes I wonder if my mother really died, or if she is alive and never looked for me. I ask myself a lot of questions. It is like a scar that never goes away" despite being in a support group for adopted children.
Mental torture
The life of Elizabeth Wainaina* also mirrors that of Njoroge as her adoptive parents "always avoided the topic, they were not willing to share this story" and she only got to know about it from third parties, mostly rumours from pupils in primary school where bullies often told her 'you were bought' when she didn't fully understand what it meant.
The mental torture it caused saw her get transferred to a new school where no one knew of her adoption "but some relatives would tell me 'huyo sio mama yako.'" (that's not your mother).
Elizabeth, now 28, lived in denial and confusion until KCSE exams when her birth certificate was required, and she did not have any.
"I asked my parents and all they gave me were adoption documents, that is when it dawned on me that what my peers and relatives had been telling me all along was true.
"I cried so hard," recalls Elizabeth, now an interior designer, adding that her parents never explained details of her adoption, driving her into depression.
"I told my mum, "you are not my mother" and she said "no! I am your mother" then my dad said "we have raised and taken care of you" and that was it," says Elizabeth balancing tears.
"I feel betrayed because I keep wondering why my parents had never talked to me about it."
Not knowing anyone else who was adopted makes her feel worse as "I always feel like I am alone... I wish there was a support group for people like me so that we could share our ups and downs."
Elizabeth has battled depression for the last 18 years via counseling sessions and feels that society is partly to blame for her predicament considering that "when you have infertility issues they judge you, when you adopt, they still judge you. I think this is why my parents could not face it and tell me about my adoption."
Family gatherings are even worse as most times they are turned into adoption topics behind her back or when she's listening.
Other challenges that adoptive parents and children face include reluctance to grant full inheritance rights to a child unrelated by blood, since for many African families, an adopted child may not be considered a full member of the family by the extended family system.
Many fear sharing adoption experiences
In as much as adopted children go through emotional upheavals, so do adoptive parents.
Grace Wanunda, the chair of Adoptive Families Association of Kenya, has also adopted two children and says besides scarce information on adoption due to stigma associated with infertility, there is also a general perception that it is for the rich, yet finances do not matter more than "the emotional and psychological weight you go through."
Wanunda says many people are not willing to share their adoption experiences and "I went through the process clueless," she says of her experience seven years ago. I was not sure whether I was being conned."
Adoptive parents, she says, are not allowed to choose a child, as only age and gender is required and though challenging and tricky, "adoption is the best thing that I have ever done," says Wanunda of the transformation it brought to her life considering "not even my siblings have the resemblance that my children have. They look like me."
On connecting to their new background, she says "it comes naturally, except for children who come from care homes which calls for intentional parenting for the kids to adapt, change and blend in."
Wanunda says she has maternal instincts despite not being a biological mother and "my children and I are embedded, I feel like they are a part of me" and her extended family treats them right because, "when you love something, people will also love it."
Others have biological children, but still choose to adopt. Like Catherine Katile who has two biological children but "my husband suggested we adopt because he didn't want me to go through the pain I had gone through during a miscarriage."
Catherine wanted a girl after hearing stories about how foster sons get sexually attracted to female siblings, but they were not required to choose as "we were advised it is only parenting that matters" and two months later, "we were eventually matched with a baby boy."
Catherine had a four-year-old firstborn daughter and "little did we know, I was pregnant (with a boy). I had all ranges of emotions. So my last born and my second born are literally like twins."
Introducing the adopted son to the daughter was not a challenge. She was only four and excited to have a brother.
They also psychologically prepared the extended family and what is more "for my adopted son and my last born son, you can't tell them apart from each other."
They plan to disclose to him that he was adopted when he comes of age and can understand what it means.